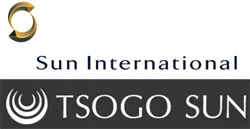 In May 2014, two of South Africa's biggest gambling groups, Sun International and Tsogo Sun Holdigns announced a lucrative business deal to the industry. According to the terms of the deal, Tsogo Sun Holdings committed to purchase a minority stake in two casinos run by its industry rival, Sun International, namely GrandWest Casino and Golden Valley Casino.
This week, however, Tsogo Sun Holdings announced that the deal was off and it was cancelling the plans to finalize the acquisition. In January this year, the government's anti-trust authorities said that the deal could not go through but at the time, Tsogo Sun said that it would appeal the authority's decision.
<!--more-->
While the Competition Tribunal has not yet heard the appeal, both Tsogo Sun and Sun International feel that the deal is no longer commercially appealing and have said that they are not interested in seeing it to fruition. A revised purchase deadline of August 31st will not be met.
The original plan, worth R2.1 billion, would have seen Tsogo Sun Holdings purchase a 40% stake in SunWest and Worcester Casino, both subsidiaries of Sun International, both which run Western Cape based casinos. SunWest runs the popular Cape Town GrandWest Casino, while the Golden Valley Casino is run by Worcester Casino.
Check out our South African Casino Resorts
The tribunal was worried about lack of competition in the Western Cape casino industry should the deal go through as three of the five casinos are already owned by Tsogo Sun Holdings. If the group acquired a stake in the other two casinos – Golden Valley Casino and GrandWest – as planned, it would essentially have had a hand in all five properties.
The authorities also expressed their concerns that the standard of services offered to patrons of these casinos had the potential to drop due to the business coordination between Sun International and Tsogo Sun and the result of blunted competition.
The decision to terminate the deal was a joint one, according to Tsogo Sun in a statement just before the weekend. The reason given was that the new deadline of August 31st could not be achieved.
The gambling industry already has limited competition among the major operators, especially since Sun International purchased the Peermont Group for the cost of R9.4 billion. Since that transaction, Tsogo Sun Holdings is Sun International's only major competitor, and authorities feel that there should be as much healthy competition as possible in the market.
About Playcasino.co.za:
Playcasino.co.za is the no1 guide for the best south african online casinos. If you're looking for the best no deposit online casinos south africa oriented, make sure to check our selection.