Choosing the Best Europe Online Casinos
Certain European countries like France, Spain and Italy have legalized online casino gambling and are licensing and regulating operators. These online casinos operate from within those countries and offers services only to players from those countries. There are other online casinos licensed from offshore jurisdictions like Malta and Gibraltar that offers services to most of the countries across Europe. The best of these online casinos cater to the different European countries.
The software is available in almost all the European languages. You have to select your language from the drop down list at the online casino web site and will be able to access the software in that language. This way you will not have any doubts about what you read and can be confident that you have understood the terms and conditions correctly. You will also get customer support in your own language. Most European countries have now adopted the euro currency. Our recommended Europe online casinos will allow you to deposit, wager and withdraw in euros. The best online casinos will additionally give you the choice of wagering in your own currency. This is particularly useful for players from Scandinavian countries, which is a big market for online casino gambling.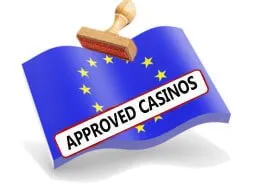 We recommend online casinos powered by the leading software providers like Microgaming, Playtech, Net Entertainment and IGT. The high quality software ensures images with sharp resolution, free flowing animations and clear audio. These software providers recognize that each player is unique and allow you to customize the playing area through a number of options for the audio, game speed and screen size. You will be offered the complete range of land casino games that include roulette, blackjack, baccarat and craps. In addition there are a number of video poker variants and online slots. New games are added every month.
At our recommended Europe online casinos the games are available on three different software platforms. The download platform requires you to download the entire software package on to your computer. This offers the largest collection of games but takes up hard disk space. The instant play platform allows you to play the games in your browser without the need for downloading, but usually offers a slightly smaller selection of games. The mobile casino platform allows you to wager from your smart phones or tablets while you are on the move. The selection is smaller, but the best games from the software provider's portfolio are included. Once you sign up at the online casino you can wager on any platform, switching from one to another as you want.
The best Europe online casinos offer freebies in the form of bonuses, cashbacks and comp points. Many of them continuously run online tournaments and mega promotions with prizes like exotic holiday packages or branded luxury goods. We have also considered this factor while making our selection. If you are a player from Europe check out our recommended online casinos and enjoy safe and exciting wagering.