Self-Exclusion in South Africa: Your Step-by-Step Guide
If you're considering self-exclusion from gambling activities in South Africa, you're taking a proactive step to protect yourself. Here's how you can go about it:
Choose Where to Self-Exclude

Decide whether you want to self-exclude from a specific casino, betting outlet, or online platform. In South Africa, certain bodies might allow you to exclude from multiple places with one application.

Contact the Gambling Operator

Most online casinos operating in South Africa will have a section dedicated to responsible gambling. Navigate there to find details on self-exclusion. If you're at a casino, find the customer service desk or ask a staff member for guidance.

Fill Out the Forms

Online casinos will have an online form or process for self-exclusion. You'll be asked for some personal details to ensure the exclusion is effective.

Choose Your Duration

Whether it's six months, a year, or longer, decide how long you want to be excluded. Remember, it's about what's best for you.

Understand Your Commitment

Make sure you're clear on the terms. Some venues might ask you to opt back in once your period ends, rather than it being automatic.

Seek National Support

South Africa is proactive about responsible gambling. There are initiatives and organizations, such as the National Responsible Gambling Programme (NRGP), that can assist you with self-exclusion and provide additional support.
What Happens When You Self Exclude?
Here's what generally happens when you self-exclude:
Restriction from Entry/Participation

Once you self-exclude, you're effectively telling the gambling operator (be it an online platform, casino, or other gambling venue) that you want to be prevented from gambling with them. They'll use the information you provide to block your access.

Removal from Marketing Lists

You should be removed from the operator's marketing lists, so you no longer receive promotional offers or communications.

Breach of Self-Exclusion

If you try to gamble while self-excluded and get caught, you'll be asked to leave and won't be able to collect any winnings. For online platforms, your account can be suspended or closed.

End of Exclusion Period

Once your self-exclusion period ends (if it's not a lifetime exclusion), you may need to take specific actions to return to gambling, like undergoing a cooling-off period or attending a responsible gambling interview.
Get Started with a Self-Exclusion Session

The National Responsible Gambling Programme (NRGP) backs the legally stipulated self-exclusion program in South Africa. This program allows individuals to take a deliberate break from all gambling activities.

If you're considering this route, the NRGP offers self-exclusion sessions at no cost. For registration or more information:

📞 Dial: 0800 006 008

📧 Email: Helpline@responsiblegambling.org.za.

Visit NRGP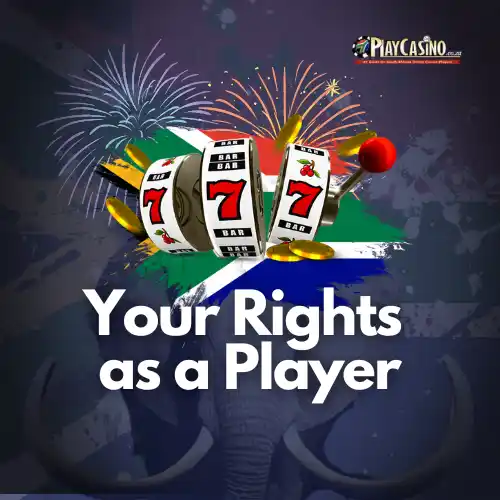 Players Rights at South African Online Casinos

Monitor Your Playing History

Underage Gambling Prevention

Get in on the action
Sign up now for the latest bonuses, promotions, and new online casinos.
Have You Found What You're Looking for?
Your feedback is paramount!