Pros
Great design
Mobile Compatibility
Expanding Wild feature
Ideal for beginners
Pays out often
Low minimum bet
Cons
No Bonuses
No Free Spins
Low volatility
Basic gameplay
How to Play Wealth Inn
If you're new to the world of online slots, fear not – the PlayCasino team is here to help! Just follow our handy step-by-step guide on how to play Wealth Inn and you might just find yourself face-to-face with Caishen!
Go to the HollywoodBets website and log in to your account
Click on the button SPINA ZONKE on the left-hand side of the screen
You'll now see a list of all the Spina Zonke games
You can find Wealth Inn by scrolling through all of the titles, clicking on Habanero to find all the games by this developer, or entering WEALTH INN in the search bar
Once Wealth Inn has launched, you can view the paytable
Set your bet level using the + and – buttons
To spin you can use the ▶ or Auto Play buttons on the screen or if you're using a keyboard, you can use the enter key or space bar
Forgot Your Password?
If you can't remember your password, click on FORGOT PASSWORD
An email will be sent to the email you registered with
Go to your email inbox and open the mail from HollywoodBets
Click the link in the email and you'll be taken to a secure page
Enter a new password that's memorable yet also unique
Enter your new password again to confirm it
Go back to HollywoodBets and log in using your new password
Wealth Inn Strategy and Tips
As far as slots go, Wealth Inn is one of the simplest games around. All you can really do is spin and hope for the best. However, that doesn't mean that there aren't a few simple things you can do to improve your chances and help you win.
Play the Wealth Inn demo. It'll give you a good feel for the game and help you get used to the controls and understand how the game works before you're risking any money. There's nothing worse than not knowing how to change your bet and watching your entire budget disappear in a few spins
Study the paytable! Before you spin for the first time you should know all of the different symbols in the game and what they mean. The paytable, which pops up when the game launches, splits the symbols into two categories – high-paying and low-paying. The table will also show what each symbol is worth.
Wealth Inn is a low-volatility game. This means that it'll pay out often but the payouts won't be that large. If you want to win big and remember – you can win up to R2 million playing Wealth Inn – you'll need to bet big! The obvious downside to betting big is that you'll spend more on each spin and your balance will go down faster.
You can always make things easier for yourself by using the auto-spin feature. Just click on AUTOPLAY and select how many times you would like the game to spin itself. You can auto-spin 10, 20, 30, 50, 100, or 500 times.
Wealth Inn Demo
Want to give Wealth Inn a go before playing for real money? Play for free with the Wealth Inn demo version below.
Wealth Inn Symbols
As you would expect of a game with just three reels and eight paylines, there aren't that many symbols.
The symbols in Wealth Inn are split into two categories – high-paying and low-paying…
The main symbol in the game is Caishen, the Chinese God of Wealth and Fortune. This is the symbol you most want to see. However, it's also the symbol that you'll probably see the least. Other high-value symbols in the game are a fruit, a jade ornament, and a gold statue.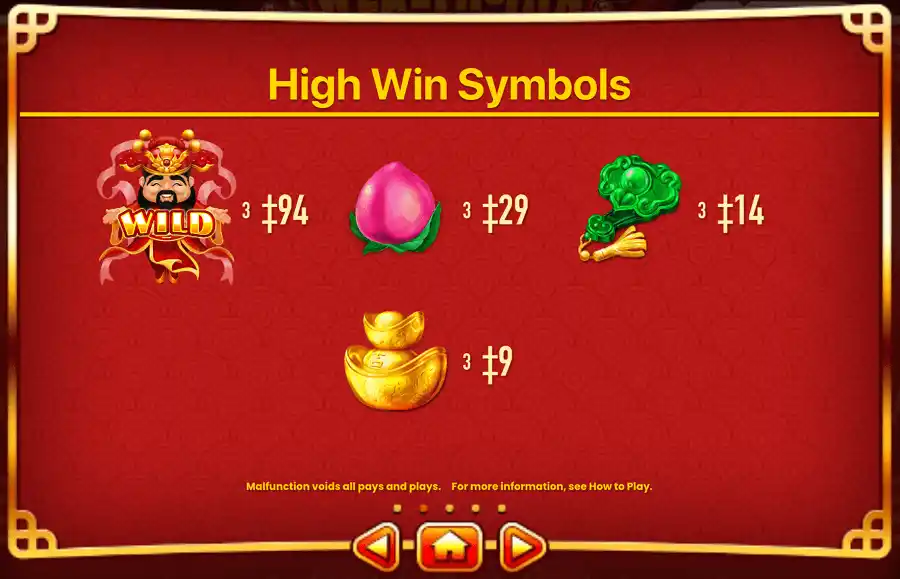 The low-value symbols are a golden knot, a red knot, a green knot, and combinations of the knots.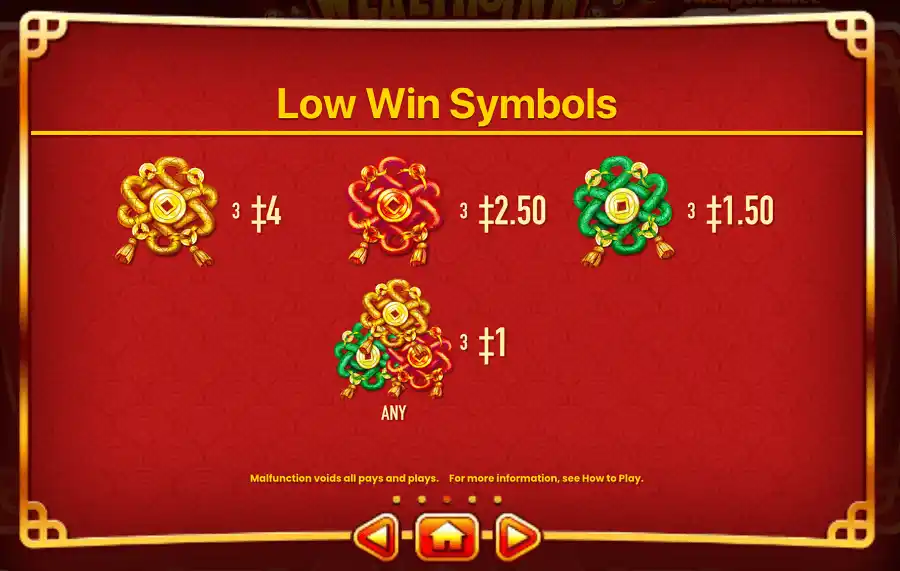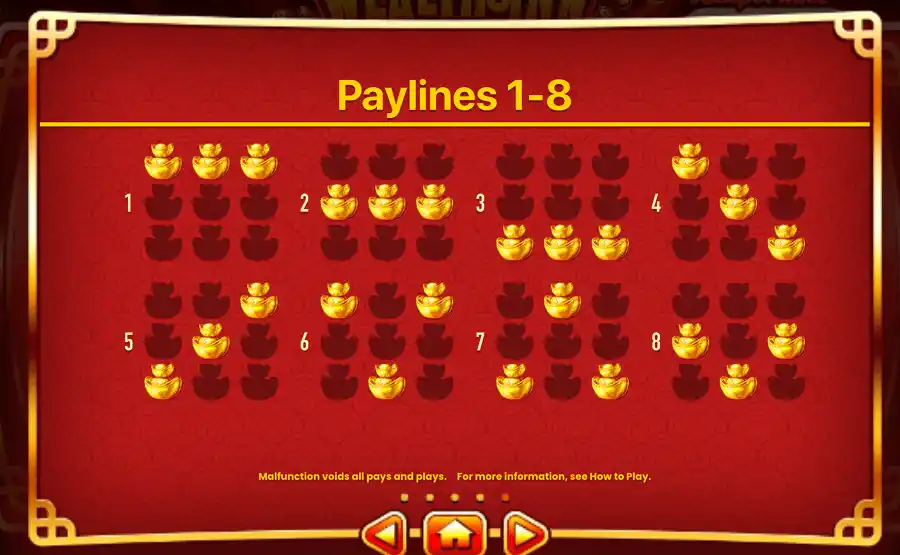 Wealth Inn Payout and Volatility
As you can see, not all the symbols in Wealth Inn are valued the same. The rarer the symbol, the more it's worth. Let's take a look at the value of the different symbols in the game.
| Symbol | Payout Multiplier |
| --- | --- |
| Caishen | x24 your bet |
| Fruit | x8 your bet |
| Jade ornament | x4 your bet |
| Gold statue | x3 your bet |
| Gold knot | x2 your bet |
| Red knot | x1.6 your bet |
| Green knot | x1.3 your bet |
| Knot combo | x1.2 your bet |
Wealth Inn is a low-volatility slot. This means that it pays out often but most payouts are relatively small. The RTP for the game is rather impressive 96.67%. this means that on average, you will get a return of R96.67 for every R100 spent playing the game. Just remember that this is an average and is not guaranteed. The average RTP for Spina Zonke games is around 95%.
Wealth Inn Graphics
Wealth Inn has an Asian/oriental theme and it's pretty apparent in its visuals and music. All of the symbols are immediately recognisable as being Chinese – the Chinese God of Wealth, jade ornaments, the gold statute, and the different knots.
We found the soundtrack to be pretty repetitive and it got annoying quite quickly. In fact, it wasn't even five minutes before we were looking for a way to turn down the in-game volume. The win sounds were pretty nice. But that might just be because every time we heard it, we won. So, take that as you wish.
Overall, the graphics, animations, and sounds are nothing special. But then that suits Wealth Inn pretty well since it's a simple game with simple mechanics.
Wealth Inn Special Features
The only bonus in the game is the Caishen symbol that turns into a wild and will fill the reel any time it appears. And that's it when it comes to features. It's not going to compare to the more advanced and complicated games but it was never meant to. Wealth Inn is a basic slot that's perfect for beginners or advanced players who want to take a break from the sensory overload of the bigger and flashier titles.
Wealth Inn on Mobile
The good news is that there is no need to download Wealth Inn. In fact, there's no app version of the game for local players. All of the local online casinos where you can play Wealth Inn have all been optimised for mobile screens. The mobile version of the game is identical to the desktop version. We enjoyed playing the game in portrait mode on our tablet. The graphics, sound, gameplay, animations, and options are all identical to the full desktop version.
Should You Play Wealth Inn?
Well… it depends on what you're looking for. If you want to play an advanced slot with tons of symbols, bonuses, reels, and paylines, then Wealth Inn is definitely not the game for you.
Wealth Inn is a simple game. In fact, it's about as simple as gets. Three reels, eight paylines, and one wild. That's it. But if you're a newbie who's still learning the ropes or are a fan of old-school games then Wealth Inn is the game for you. Given the fact that it's got low volatility, a good RTP, and one of the lowest minimum bets around, this is a must a must-play for all beginners!
Best Casinos to Play Wealth Inn for Real Money
Other Online Slots You May Be Interested In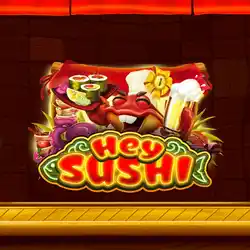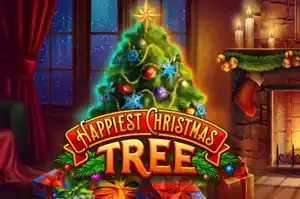 FAQs
Do I need to download Wealth Inn?
Nope, you don't need to download Wealth Inn in any form. There is no software or app. In fact, all that you need to do to play Wealth Inn is go to one of the South African online casinos that have the game (HollywoodBets, LottoStar, or Betway), log in or register, and search for the game. It really is as simple as that!
What is the best time to play Wealth Inn?
Whenever you want! You'll often find people saying a certain is the best time to play the game because another player won big at that particular time but the truth is that there is no best, or worst, time to play Wealth Inn or any other slot or Spina Zonke. That being said, we do suggest that you play qualifying Spina Zonke games at HollywoodBets between 20:30 and 22:30 on Wednesdays, Fridays, and Saturdays so that you're entered into the HollywoodBets Spina Zonke Jackpot Race and stand a chance to a huge cash prize!
Spina Zonke is a collection of over 400 slots from several industry-leading developers that you can play at HollywoodBets. The best thing about these games is that playing certain titles enters you into the HollywoodBets Spina Zonke Jackpot Race where you can win big.
What is the RTP for Wealth Inn?
Wealth Inn boasts a fairly impressive RTP of 96.64%. This means that for every R100 you spend playing the game, you can expect a return of R96.64. The average RTP for Spina Zonke is around 95%. Just remember that this rate is just an average. Sometimes you will win significantly more and sometimes you will end up losing all of your money. RTP is just a good indication of what you can expect.
How much can I win playing Wealth Inn?
The good news is that you could win up to R2 million! But remember, that's just the jackpot and those don't come around very often. Wealth Inn is classed as a low-volatility game. This means that you can expect to score several wins while you're playing but most of those wins will be relatively small.
Get in on the action
Sign up now for the latest bonuses, promotions, and new online casinos.
Have You Found What You're Looking for?
Your feedback is paramount!