Online casinos are always looking for ways to make their user experience better. Recently, casinos have introduced different payment methods, like cryptocurrencies and e-wallets. One of the latest to emerge in South Africa is Ozow.
Ozow is a provider of secure and swift electronic funds transfers (EFT), which simply means sending money from one bank account to another.
Given that it's newer to the online casino market, we wanted to give our fellow South Africans a detailed Ozow review. We cover everything from how Ozow payments work to whether it's a safe platform to use.
Let's dive in.
What Are Ozow Payments?
Ozow was founded in 2014 in South Africa by Lyle Eckstein, Mitchell Adams and the aptly named Thomas Pays.
Ozow is a payment method built upon speed, security and ease of use — perfect traits for a South African online casino payment method. For example, merchants can initiate payments through options like QR codes, SMS messages, and traditional methods.
Customers using Ozow benefit from its automated features, allowing you to make payments in 30 seconds or less. They achieve this through a hassle-free, simplified system that's designed to support a modernised version of EFT payments.
The security aspect is perhaps the most appealing feature of Ozow payments in South Africa. Their security measures guard against identity theft using advanced features such as 2FA and end-to-end encryption. This is particularly useful for those of us playing online casino games, because don't have to store your payment information directly on those sites.
How Does Ozow Work?
Ozow works by using EFT payments or digitally transferring between bank accounts. These payment systems are a modern take on traditional EFTs, offering a faster and more convenient way to transfer funds.
By automating certain steps, such as a reference number or amount entry, transactions can be completed easily and quickly. All you need to do is input information not already stored on the system. This includes the recipient's account number and a one-time pin for that added layer of protection.
Ozow's digital approach also reduces the costs involved in the process by eliminating physical exchange. These savings are then passed onto the customer, which makes them a popular choice for individuals and businesses like online casinos.
Is Ozow Safe for South Africans?
When it comes to online casino payments, security is of utmost importance. After extensive testing, we can confirm that Ozow is a safe and secure method. The platform uses advanced encryption and security measures to protect users' personal and financial information. This ensures that your sensitive data stays private and protected — perfect for online casinos.
🔔 Advertising Disclosure: playcasino.co.za contains affiliate links to partner sites. By clicking these links and making a deposit PlayCasino may earn a commission. This does not impact bonuses or result in extra charges for players. Our reviews and recommendations remain impartial.
Ozow is also a licensed payment services provider in South Africa, meaning it's regulated by the country's financial authorities. It's held to rigorous security and data protection standards. This gives users the all-important comfort that their transactions aren't going to go awry.
While Ozow provides robust security measures, it's still important for users to take their own precautions to protect their personal and financial information.
We recommend using strong passwords and keeping devices and software up to date. Always stay vigilant against phishing scams and other types of fraud.
All in all, if used responsibly and with proper security measures in place, Ozow is a safe and secure payment method for online transactions.
How to Create an Ozow Account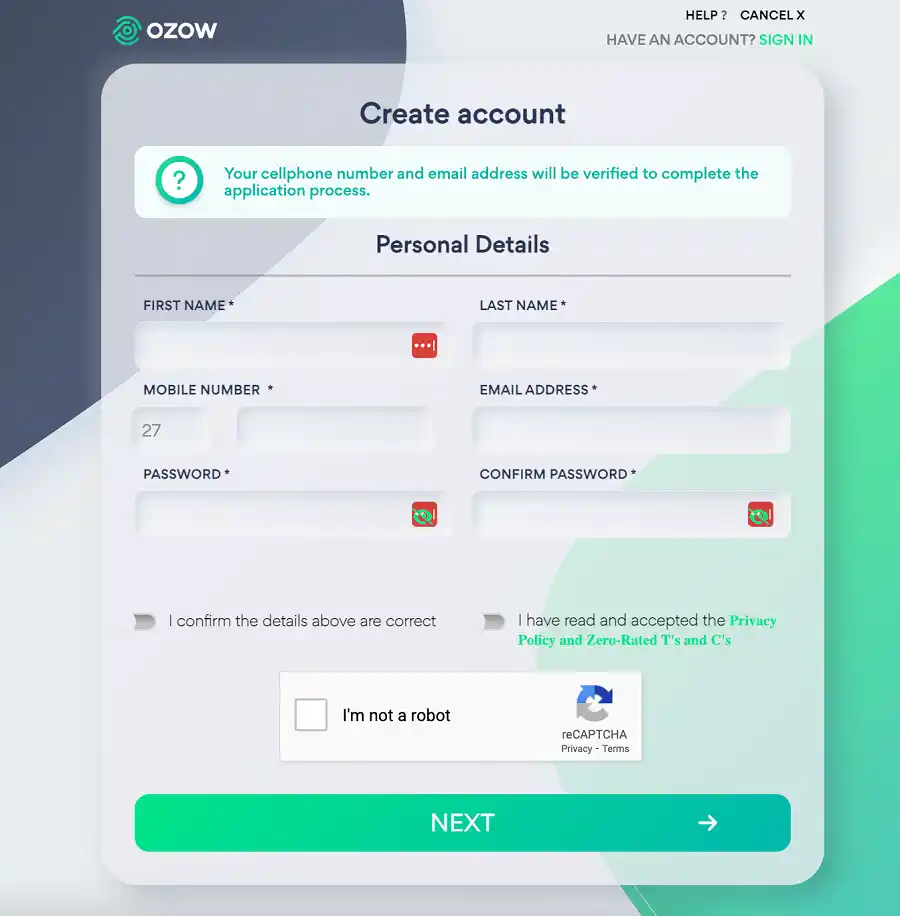 Setting up an Ozow account is remarkably easy. Simply head to their Sign Up page and enter:
Your name
Mobile number
Email address
Then create a password. Once signed up, you need to connect your bank account. And voila! You can begin making transactions.
How to Download the Ozow App
The Ozow app is available to download on both Apple and Android devices.
Simply search for the Ozow ME app in either the Google Play or Apple App Store and follow the instructions to complete the download.
How to Login on Ozow
Logging into Ozow is easy:
Head to the Ozow Sign Up page.
Enter your email address.
Enter your password.
Click the reCaptcha button to confirm you're not a bot.
Click sign in.
How to Pay with Ozow Instant EFT
To make a deposit in an online casino, you can complete the payment using Ozow Instant EFT. With this method, you'll need to log in to your online banking account separately to agree to the transaction. Depending on your bank, you may also need to verify payment via a one-time password or prompt on your mobile app.
Ozow Capitec
The important thing to note about Ozow Capitec, is that Ozow is only available on Capitec via the "Capitec by Ozow" option, which is different to other banks.
However, once you find the option, the process is the same. Select your deposit amount, enter your account number or username, and then confirm the transaction.
Ozow FNB
Using Ozow with the FNB app or website is a similar process to Capitec. Again, simply look for the "Ozow" option. Remember, you must also do this on an casino website too. From there, follow the same steps outlined above.
Ozow Standard Bank
The service with Standard Bank again follows much the same process as above. However, it uses a one-time password with each transaction. This is usually sent to your mobile number.
How to Deposit with Ozow at Online Casinos
To deposit with Ozow at an online casino, follow these steps:
Sign up for an account at the online casino of your choice.
Navigate to the "Deposit" section of the casino's website.
Select Ozow as your preferred payment method.
Enter the amount you wish to deposit.
Click on the "Deposit" button to initiate the payment process.
You will be redirected to the Ozow payment page, where you will need to select your bank from the list of available options.
Follow the prompts to log in to your online banking platform and authorize the payment.
Once the payment is processed, you will be redirected back to the casino's website and your account will be credited with the deposited amount.
It's important to note that the exact steps may vary depending on the specific online casino you are using. Additionally, make sure that you have enough funds in your bank account to cover the deposit amount.
Ozow vs Other Online Casino Payment Methods
Ozow has been around for nearly a decade and operates in a competitive market. In that time, it's grown in popularity and become a preferred payment method for many South Africans.
Let's see how it stacks up against other South African payment methods:
| Payment Method | Transaction Fees | Payment Speed | Safety & Security | Customer Support | Casinos Accepting Payment Method |
| --- | --- | --- | --- | --- | --- |
| Ozow | R1.20 per transaction | Up to 3 minutes, usually instant. | Very safe. Complies with all PCI-DSS Level 1 processes. | FAQ, Email, Helpline, Livechat | Commonly accepted by South African casinos. |
| Bitcoin | None | Instant | Total anonymity and very secure. | None. Decentralised currency, so wallet provider will vary. | Commonly accepted by South African casinos. |
| SID Instant EFT | No transaction fee, but service charge. Check provider. | Up to 3 minutes, usually instant. | Very safe. Complies with all PCI-DSS Level 1 processes. | FAQ, Helpline, Email, Livechat | Commonly accepted by South African casinos. |
| PayPal | Between 0.2% and 2% of your transaction | Up to 3 days, but often instant. | Globally trusted and safe, top-end encryption. | FAQ, Helpline, Livechat | Extremely common. |
| Easy EFT | None to consumer, though casinos may charge. | Up to 3 minutes, usually instant. | End-to-End encryption and anonymised payments to casino. | Help only available on app. | Less common as a casino payment method. |
Our Rating for Ozow: 4/5
During our testing, completing a payment on Ozow only required a few clicks. We also loved that the payment was immediately reflected. Ozow aims to process transactions within 30 seconds, though of course each online casino in South Africa will vary. We're big fans of the fast payment process, which eliminates the need to input credit card information or wait for payment confirmation.
Ozow's payment gateway is also mobile-friendly, which benefits users who frequently use their devices to make transactions and payments on the go.
One notable feature of Ozow is its utilization of two-factor authentication (2FA), where a one-time password is sent to the user's phone to authorize a payment. We appreciate this additional security measure and gives you peace of mind that your money is safe and secure.
As well as our own Ozow review, we researched other users' experience. In general, the feedback suggests that South Africans find Ozow to be dependable payment method. It's accepted by many merchants in South Africa, as well as a growing number of online casinos.
However, some users experienced payment confirmation delays and payment gateway technical difficulties. Additionally, integrating Ozow into e-commerce platforms has been challenging for some merchants, making it difficult to accept customer payments.
Overall, Ozow provides fast and secure payment processing that both merchants and customers in South Africa can trust. Despite a few reported issues, most users have had positive experiences with Ozow, which is why we have scored it a 4 out of 5.
Benefits and Drawbacks of Zapper for Online Casinos
Pros
Widely available
Prompt and hassle-free transactions
Robust security measures
No need for a credit card
Affordable transaction costs
Cons
Not all banks and online casinos support it
Requires a bank account
Benefits of Ozow for Online Casinos
We've spoken throughout this guide about the numerous benefits that Ozow can offer users.  Here's a handy summary:
Prompt and hassle-free transactions - Ozow processes deposits and withdrawals in real-time, enabling players to start playing games straight away.
Robust security measures - Ozow uses state-of-the-art encryption and security features to safeguard users' personal and financial details. This helps guarantee that all transactions are safe and secure.
No need for a credit card - Unlike other payment methods, Ozow doesn't require players to own a credit card, making it a very useful alternative. You can simply connect your bank account to Ozow and start using it.
Affordable transaction costs - Compared to other payment methods, Ozow's transaction fees are relatively low, making it a cost-effective option for online Casino gaming.
Widely available - Many South African online casinos accept Ozow, providing players with a vast range of choices.
Drawbacks of Ozow at Online Casinos
While Ozow has many benefits, there are also a few drawbacks.
Arguably the biggest limitation is that not all banks and online casinos support it. The technology is relatively new, but despite that, a significant portion of major South African banks now accept it.
This gives extra credibility to the Ozow payment method as a whole, which may encourage more South African online casinos to accept it soon.
For those casinos that accept Ozow, it's important to check each online casino's Ozow options. For example, you may be able to make instant deposits with Ozow but unable to withdraw funds.
Another downside is that Ozow requires a bank account. This is because it relies on the EFT system. If you're one of the many South Africans that don't like having a bank account or using your bank for online casino gaming, so this could be a barrier.
Why Trust Our Ozow Review?
Trust is very important when it comes to reviews. As a potential user of Ozow, you need to be sure that the information you're reading is true and accurate. Here at PlayCasino, we take this very seriously.
That's why we thoroughly check and review each payment method, and only suggest ones with a positive track record and provide a secure service.
We also ensure that the payment methods we feature on our site are fully licensed. Tied to this, payment methods must undertake independent auditing and checks from their industry regulators for safety and fairness. We do our own checks on these too, to ensure our review is truly accurate.
Our testing stretches to trying out the platform itself to get a sense of its user-friendliness and features. We also check out reviews from third parties to see if what they say matches up with our own experiences.
You can click here to read more about our rating guidelines.
List of South African Casinos Accepting Ozow Payments
After conducting thorough research and analysis of various online payment platforms, our experts have compiled a list of the best Ozow casinos for you. These online casinos are trustworthy, secure, and fully compliant with legal regulations, ensuring a safe and enjoyable gaming experience.
Betway Sports
Supabets
Betfred
Playabets
SportingBet
World Sports Betting
Hollywood Bets
Millionaire Gaming
LuckyBets
PlayBet
Gbets
Ozow FAQs
Here are answers to some frequently asked questions about Ozow.
Which banks are supported by Ozow?
The banks that currently support Ozow include Capitec, Investec Bank, Bidvest Bank, African Bank, FNB, Standard Bank, ABSA, Nedbank, and Tymebank.
Ozow was founded in South Africa in 2014 by three business partners, Thomas Pays, Lyle Eckstein and Mitchell Adams.
Why is my Ozow payment not reflecting?
If your Ozow payment is not reflected within the 30-second processing period, double-check that you definitely submit your transaction request. If you're certain you did, contact Ozow customer support, who are there to assist with any payment issues.
How do I buy an Ozow voucher?
Ozow and The Shoprite Group have partnered together to launch a service that enables its customers to send Money Market vouchers instantly. You can now send vouchers directly to their mobile phone number. To buy one, just head to the Ozow website.
Should I use Ozow for online gambling in South Africa?
Ozow is a useful payment method for online gambling in South Africa because it's safe and trusted and allows for fast payments using the EFT system.
Get in on the action
Sign up now for the latest bonuses, promotions, and new online casinos.
Have You Found What You're Looking for?
Your feedback is paramount!