Typing out your card number, entering your personal information, and waiting for an OTP every time you want to play casino games? Aikona! Reduce the hassle of depositing and withdrawing money at the South African casinos we rate tops when you use 1ForYou Vouchers.
1Vouchers work via an app but you can do a lot more with this one. You can play your favourite slots for real money, get more data, buy tickets, fund travel, or access VOIP services.
When you buy 1ForYou Vouchers online or from partner stores, you'll be using the services of a member of the Flash Group. This company has the largest informal retail network in all of Africa. It's a tech-driven firm committed to making life easy for the communities it serves.
We were hugely impressed with the efficiency and speed of this payment method. It truly does make playing for real money so much easier.
You can buy your 1Voucher online using the dedicated app or Avo, MoMo, Nedbank, or TymeBank. Or choose from 1Voucher stores like Ackermans, Checkers, Flash, PEP, SHOPRITE, and Usave, among many others.
What Is a 1ForYou Voucher?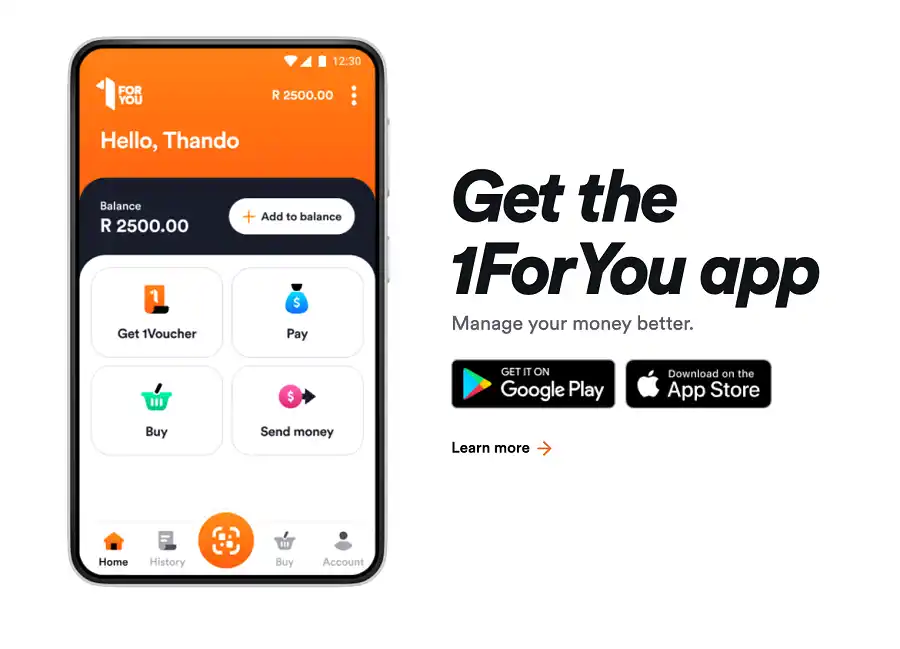 1ForYou is a useful, reliable, safe way to make real money transactions online or using your phone. Say howzit to instant access to your cash and sha'p sha'p to waiting in ATM queues or having to go into the bank. These vouchers are also a great option for South Africans who don't have a bank card or don't like using them online. Getting your cash online, making payments, and topping up your wallet has never been easier.
When you buy 1ForYou Vouchers online or at a participating retail outlet, your money becomes digital currency. All you need to transact is to enter your PIN number. And there's even more good news! Some of the finest online casinos in South Africa accept this payment method.
How Does 1Voucher Work?
Haibo! Who has time to learn a whole new method of payment? Not you and not us. That's why we're all lining up to use 1ForYou. It's as easy to use as topping up your phone with a voucher for airtime or data.
Download the app and then buy your 1Voucher online or ask for one at one of the retail suppliers that stock it. Enter the PIN number into your app and choose where to spend it. When you get to the partner app or website, you'll enter your PIN, press SUBMIT or REDEEM. Your account will receive the money owed to you or your payment will go through.
It's so kiff because it's so easy. The team at PlayCasino found out how to buy 1Vouchers online and we've been using them nonstop ever since.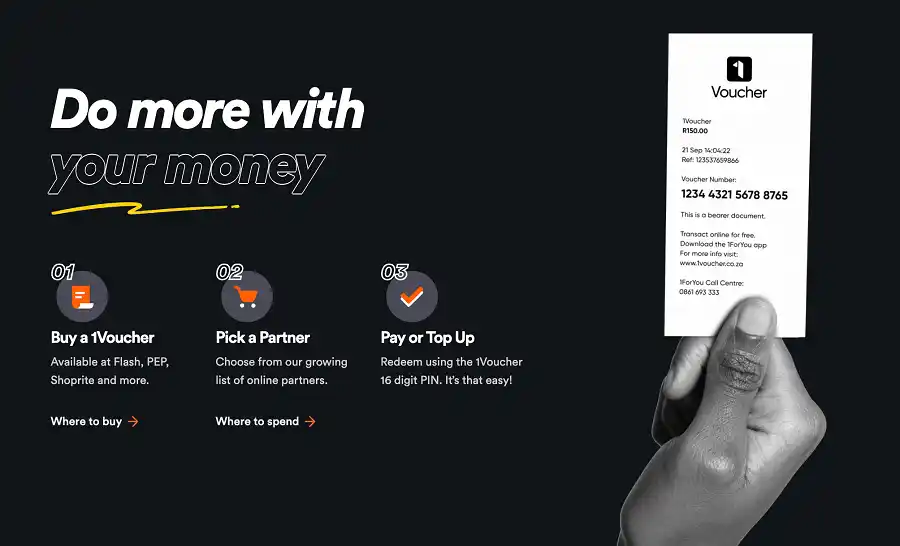 Are 1ForYou Vouchers Safe for South Africans to Use?
You don't have to worry about skebengas with 1Voucher purchases. This payment method is 100% protected. Just take a quick look at the places where you can buy these vouchers – you'll recognise them straight away. All the 1ForYou partners are reputable names in the South African market.
🔔 Advertising Disclosure: playcasino.co.za contains affiliate links to partner sites. By clicking these links and making a deposit PlayCasino may earn a commission. This does not impact bonuses or result in extra charges for players. Our reviews and recommendations remain impartial.
1ForYou Vouchers vs Other Online Casino Payment Options
We've compared using the 1ForYou Voucher online or in person with other top banking methods available to South Africans. As popular as bank transfers, debit and credit cards, Easy EFT, Neteller, and Skrill are, they're just not as flexible as vouchers. For most, you need to have a bank account. But there are other important differences as well.
Sure, more South Africans are using cryptocurrencies at the casinos that accept this payment method. But Bitcoin, Doge, Ethereum, Litecoin, and Ripple have unstable markets. Your thousands of rands of crypto today may not be worth as much next week, but you won't have this problem when you're using your 1ForYou Voucher code. The rand's current value determines its worth, so you won't have to guess how much you've got available.
Our 1Voucher Flash Rating: 4.6/5
It's safe to say that the 1ForYou app and voucher system really impressed the PlayCasino team. We put the system through its paces and found it straightforward, easy to use, and effective. It actually ranked better than many of the other banking methods available to South Africans at online casinos. Partner brands accepted our PIN numbers instantly and we were betting and playing quicker than ever.
Learning how to recharge our 1Voucher accounts was very simple and we had no problem finding outlets online or in person. This banking option is a really great one if you prefer keeping your personal information offline when you play casino games.
What are the benefits of using 1ForYou Vouchers?
Using the 1ForYou app is straightforward
You can easily buy 1Vouchers online if you're not close to a store that stocks them
None of your personal information gets shared with online casinos or anyone else you're transacting with
It's a fast, reliable, safe process
You don't need a bank account to use this payment method and 1ForYou withdrawals are possible
Drawbacks of 1ForYou Vouchers at Online Casinos
Flash 1Vouchers are not accepted everywhere just yet
Replacement of vouchers isn't possible.
Why Should You Trust Our 1Voucher Review?
At PlayCasino, we take our casino reviews, gambling guides, and payment method assessments very seriously because we're on your side. Our team is made up of experienced players and sports bettors and we believe in thorough research and honesty. Every guide and review we publish is about a site, game, or banking option that we've tried and tested. We check everything, including convenience, fees, popularity, transaction times, and user-friendliness so that you can make an informed decision. 
We hold our review process up to a stringent set of guidelines and test processes. This is how we can guarantee that our recommendations are fair. If something's not to our liking, you'll know about it. If we're impressed, we'll tell you why.
Do yourself a favour and have a look at the other reviews we've published. These will give you a great idea of how trustworthy and impartial we are and may help you find a great new banking method or fantastic Rainbow-Nation-friendly online casino to play at.
Where Can I Buy 1Vouchers?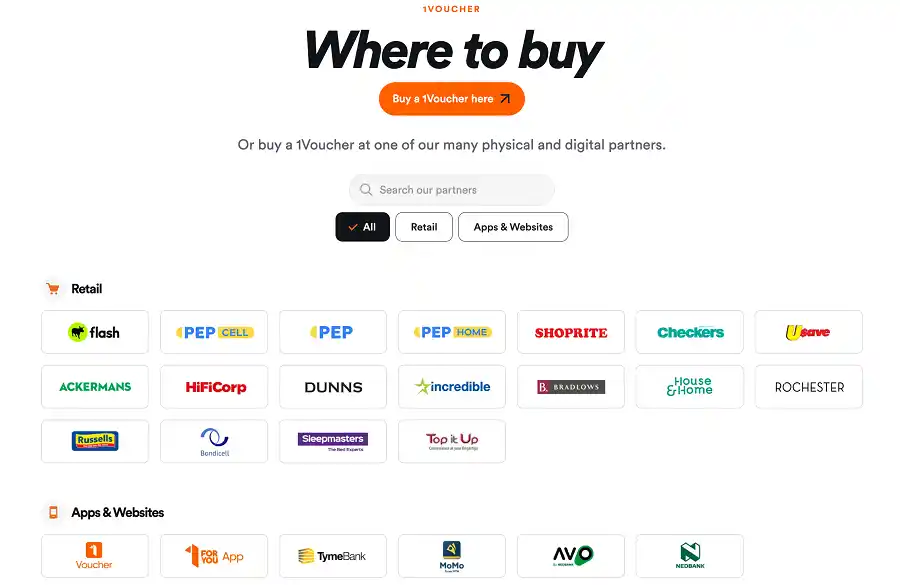 You can buy your 1Voucher online or at one of the nearly 20 1Voucher stores, including Dunns, HiFiCorp, House & Home, Incredible Connection, and Rochester. 1ForYou Voucher Betway options are available, and purchases from the 1ForYou app, Capitec, Hollywoodbets, Lotto, and Flash site itself are also possible. We'll detail how to buy 1ForYou Voucher using airtime from MTN and Vodacom for you, or you can ask a SPAR cashier to help you out. BetXchange also has 1ForYou vouchers available. These are just a few options; there are many ways to get hold of these vouchers.
How to Buy 1ForYou Vouchers Online
It's very easy to buy your 1Voucher online. Follow these steps and you'll be in the money in no time:
Using your bank card, navigate to the 1ForYou Voucher site, select the type you want to purchase, and hit NEXT.
Choose how much you'd like to buy, choosing an amount between R50 and R4, 000. Indicate whether you want to receive your voucher via email or SMS.
Enter your cellphone number or email address and click on NEXT STEP.
Select PAY WITH CARD and then press PLACE ORDER, where you'll fill in your details.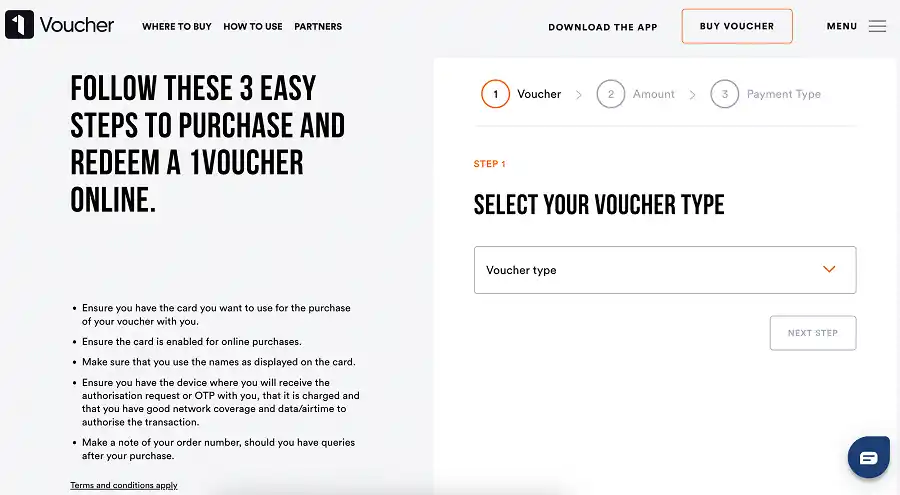 How To Buy 1ForYou Vouchers At Different Sites
Let's look at how to buy 1Vouchers with different betting sites:
1Voucher: Betway Voucher
Complete your 1Voucher Flash top-up at one of these traders or any of the others offering this banking method.
Visit Betway, log in to your account and select the Deposit option.
Choose the 1ForYou deposit method and enter your voucher code.
Your funds will be available the instant you tap the Redeem button.
1ForYou Voucher: Hollywoodbets
Using 1ForYou Voucher at the Hollywoodbets site is very simple:
Login to your Hollywoodbets account and click on the green TOP UP button.
Choose FLASH VOUCHER.
Select 1ForYou.
Enter your voucher code and press SUBMIT.
Your money will be available straight away.
How to Buy 1Voucher at Capitec
Use your Capitec account to buy your 1ForYou Voucher on the banking app:
Login to your Capitec account and select Transact.
Click on BUY VOUCHERS.
Choose 1Voucher.
Select which account you want to make the purchase from.
Choose how much you want to spend.
Enter your cellphone number.
Tap Buy Now.
Yebo yes! Now the real money games can begin.
1Voucher Flash top up
There are several ways to top up your 1Voucher:
Using the app:

Get a Flash 1Voucher from a retail location and load this into the app.
Choose MENU.
Pick TOP UP.
Enter your voucher number.
Select REDEEM.

Making an ATM deposit
Use ABSA, CAPITEC, FNB, or NEDBANK to deposit money directly into your 1ForYou Voucher account.
Make an EFT payment
Absa EFT
Account Name: FLASH
Account Number: 4072416316
Branch Code: 632005
Use your Flash number as the reference number
FNB EFT
Account Name: FLASH Mobile Vending (PTY) LTD
Account Number: 62544397492
Branch Code: 250655
Use your Flash number as the reference.
Nedbank EFT
Account Name: Flash Mobile Vending
Account Number: 1195253826
Branch Code: 198765
Use your Flash number as the reference.
How to Convert Your Airtime to a 1VOUCHER
You don't have to have a bank account to use 1ForYou Vouchers. It's easy to learn how to convert MTN airtime to 1Voucher, and the same goes for VODACOM users. Select transfers from the main menu of your cellphone purchase point and then choose 1FORYOU. Choose one of the fixed amounts available or the value of how much you want to spend. Press OK when everything is correct.
Which South African Online Casinos Accept 1ForYou Vouchers?
The PlayCasino team has got you. We recommend:
Europa Casino
Punt Casino
Springbok Casino
Yebo Casino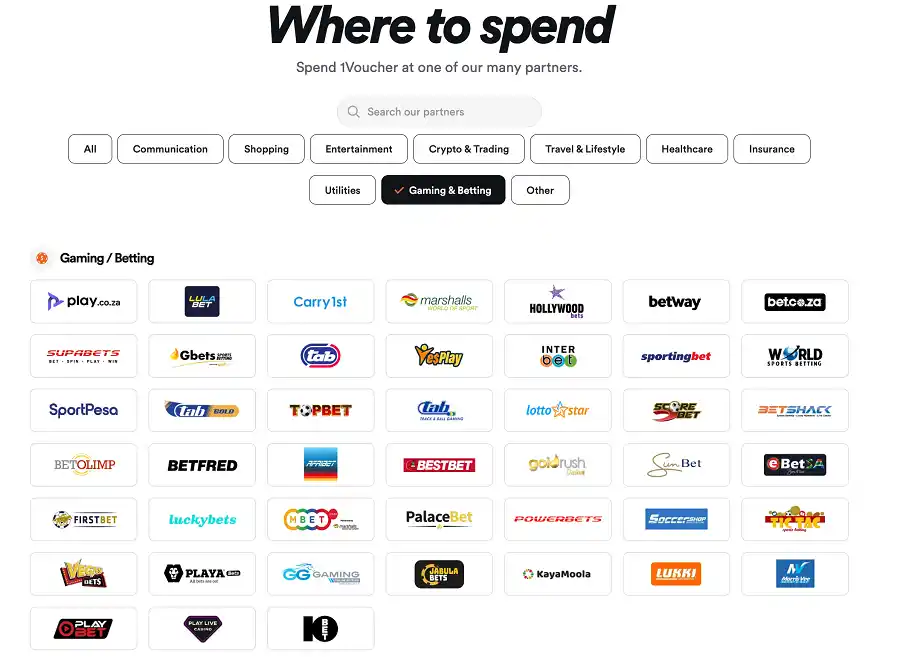 1Voucher FAQs
If you've got questions, we've got the answers.
I bought a 1Voucher online but haven't received an email or SMS with the voucher number. What should I do?
Send an email with your full name, the transaction amount and date, and the order number to hello@1voucher.co.za and support staff will be able to track your voucher number.
I purchased a 1ForYou Voucher using the app but haven't received my voucher number. What should I do?
Contact the 1Voucher Call Centre on 086 169 3333. A representative will assist you in tracking your voucher number down.
When I enter my PIN number to redeem my voucher, I get an INVALID message. What should my next step be?
If retyping your PIN number doesn't work, then contact the FLASH Group call centre at 086 169 3333
My 1ForYou voucher isn't working. What must I do?
Stay calm and contact the call centre on 086 169 3333 or hello@1voucher.co.za. One of the friendly, well-trained, professional assistants will get you on the right track.
Where can I purchase a 1Voucher?
You can buy your 1ForYou Voucher online with a bank card at 1voucher.co.za, in store with cash at Checkers, PEP, Shoprite, spaza shops, Usave, and more, or you can use the dedicated app.
Where can I redeem my 1ForYou Voucher?
The list of partners on the 1Voucher site is always expanding and you can check it very easily. Along with a host of the finest South African casinos, there are many shops that accept this banking method.
What if I don't use the full value of my 1Voucher?
You'll get a change voucher via SMS or through the partner's platform.
I used my 1ForYou voucher at a recommended betting site/online casino but there's no value reflecting on my account. What should I do?
Contact the Customer Care division of the partner site directly. They'll then escalate the matter if necessary and 1Voucher will help resolve the issue.
Get in on the action
Sign up now for the latest bonuses, promotions, and new online casinos.
Have You Found What You're Looking for?
Your feedback is paramount!