Aviator Overview and Theme
The theme of Aviator is just what the name of the game suggests. It's about a plane in flight. Both the design and gameplay are very simple. In fact, the only graphic on the screen is the plane, and it is a line drawing. The gameplay consists of placing one or two bets when the plane is about to take off. As the plane increases its trajectory and altitude, both your bets start multiplying. 
The plane will fly away, or disappear off screen, within 8 to 30 seconds. You can cash out anytime before that. The game uses a Random Number Generator (RNG), which decides the time when the plane will fly away in each round. Each game round lasts for a maximum of 30 seconds, after which new bets are placed, and the plane flies again.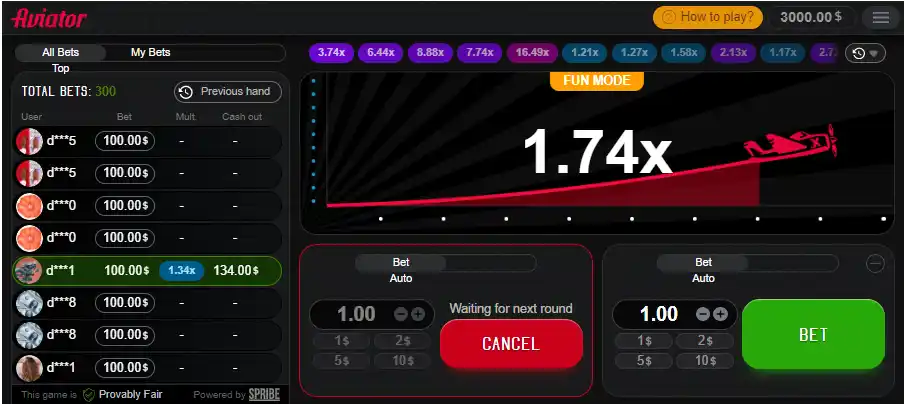 How to Play Aviator
The first thing to do in Aviator is placing a bet; you can place a maximum of two bets, and your betting window is 5 seconds, while the plane is waiting for take-off. You will see two bet buttons at the bottom of the screen. Both the buttons have + and – buttons. 
You can also select a specific value for your first bet. You can make two different bets, or increase or decrease your stake. The minimum you can bet is $0.01; the maximum is $100.
Once the plane takes off, you can even place bets for the next round, while you're deciding whether to cash out or wait a little more. Both the bet buttons now become 'Cashout' tabs. Click on these buttons to get the payout before the plane flies off the screen. Your win amount will be displayed on the screen. 
Play Aviator in Demo Mode for Free
If you're new to Aviator, then you should first practice the game in demo mode. You can get a feel of the game; you can see how long the betting window lasts and how fast it takes for 8 to 30 seconds to zip by. You can also see where you can adjust your bets, and see the bets of other players. 
You can also decide whether you want to play the game for real money. Demo games are available on most of the sites that review the game. You can also play the demo version in most of the online casinos, which feature the game. 
Where to Play Aviator
Aviator is available at many online casinos. You can find it in the casual, speciality or 'other' games sections. You can play the game at Crash Casino, Parimatch Casino, Bitcasino, Sportsbet Casino, 1Win Casino, 10CRIC Casino, Lotto Star Casino, and many others. 
Play Aviator at This Casino
Aviator Features
Aviator is not a slot game. Don't expect any bonus features or bonus games. The features in this game comprise aspects, which make up the game, including the configuration, math, and others.
The Concept
As mentioned, Aviator is part of a new category of arcade games or crash games being adopted by online casinos. These are simple games, which do not offer much flash. Crash games comprise of making a bet, and waiting to cash out before an event occurs. The design is also minimalistic because you need to focus on your next move.
Multiplayer Game
Aviator is a multiplayer game. Just like you, there can be many players sitting at their consoles and playing the game. But they are placing bets on the same game rounds as you. You can see the bets of other players and when they cash out. You can also see how much they won or lost. This makes it a bit of an interactive, social game. There is also a chat feature in the game, in case you want to reach out and communicate with another player.  
Randomized Results
The result in every round of Aviator is backed by a Random Number Generator (RNG). The RNG is a software algorithm, which triggers 'chance' or randomized results. The plane will fly away randomly anytime between 8 and 30 seconds. The more you wait, the higher your win. But you must cash out before the plane flies away off the screen, or you lose your bet. 
Auto Cashout
This might be the best option for players who cannot decide when they should cash out. The auto cashout button can be found at the bottom of the screen. Simply select a multiplier you want to reach. If the multiplier level is attained before the plane flies off, you collect automatically. Of course, if the plane flies off before the multiplier is reached then you lose your bet. 
Play the Aviator Game for Free Right Now!
Tips to Win at Aviator
Tips cannot guarantee winnings, but they can make it easier to win. You can get better at playing the game. Follow one or more of the following guidelines, which can increase your chances of winning.
Practice in Demo

Demo games are made available as a marketing tool, but you can also use them for practice. Practice placing bets, and see gauge how long the plane will fly onscreen, before flying away. Practice your reflexes. See how it feels when you wait longer and lose your play money bet. It's better than losing your own money. Play as many rounds as you want, till you feel you are ready to play real money.

Study Others

You can see how top players are betting and cashing out on your console. Wins are displayed as 'Huge', or 'Biggest' wins. So, watch how they are doing it for a few rounds. See how they are betting and how long they wait before collecting. Some players will have their own strategies; some may cash out at lower multipliers; others may wait too long and lose their money.

Auto Collect

You just don't have to press the Cashout button, but you still have to select the multipliers you want to reach before collecting. Set a reasonable multiplier, and let the RNG take over. Lower multipliers and steady wins will slowly boost your balance. Auto cashout can also relieve some anxiety. Of course, the plane can fly off at even low multipliers. Just try and strike a balance.
Our Verdict on Aviator
Aviator is a new category of games called crash games. These games offer a different gaming experience. There is little entertainment per se; it's just about betting, waiting, and winning or losing. We think game categories are dependent on personal choices. 
However, within the category, Aviator does all that it is meant to do. The flight takes off every few seconds, so you can play multiple rounds pretty fast. The game allows you to take risks, cool off if the balance dwindles away, and then try and recoup your losses. 
FAQs
Can I Play Aviator on Mobile?
Sure you can. The game is coded with HTML5 as well, which creates the mobile interface. It is compatible with cellular operating systems like Android, iOS, Windows Phone, Blackberry, etc. You can play the game on practically all mobile devices, which run on these platforms.
Is Aviator Game of Chance or Skill?
Aviator is primarily a game of chance. Each round has randomized results. However, the risks you want to take are up to you. Crash games are games of intensity and reflexes. You need to place bets in a short time and decide how long you want to wait before the eventuality occurs and you lose.
How Do You Win at Aviator?
The best way to win at Aviator is to avoid being too greedy. You can take risks, but you must balance them with prudence. Another tip is to select some multipliers and auto collect. You may also want to cool off for a few rounds and study how other punters are betting and winning.
Get in on the action
Sign up now for the latest bonuses, promotions, and new online casinos.
Have You Found What You're Looking for?
Your feedback is paramount!