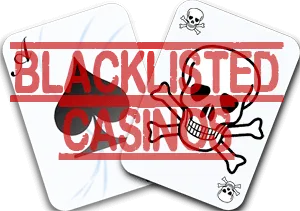 Being dedicated online gamers ourselves, we would never recommend anyone to avoid online casinos in general. Let us be honest, anyone who has ever tasted the thrill and anticipation that casino games give us is likely to try his or her luck again.
As long as you play responsibly, there will be no harm. However, that is not entirely true. Due to some bad apples, you can come across the unexpected problems, lose your nerves and time, and eventually, your money.
Make sure you visit our Blacklist Casino page before signing up with any online casino and thus avoid the dark side of internet gambling.
A constantly growing industry, which online gaming certainly is, usually draws the bad guys who try to make some quick money and then disappear. Additionally, the very nature of the internet is sensitive to all kinds of frauds.
People from all over the world are connected in real-time, but not all of them are subjects to same jurisdictions, making it harder to complain about the mistreatment or even seek justice in a court of law.
Therefore, the best thing you can do is to get around the worst online casinos and stick to the proven ones. As we like to introduce you to reputable casinos, we will not hesitate to point our finger at those that are not up to standard as well.
Our Blacklist is a product an impartial reviewing process and you can regard the casinos listed below as rogue ones.
Blacklisted Casinos
| Online Casinos | Major Problem |
| --- | --- |
| Slots Zoo Casino | Failure to pay their players & advertisers coupled with poor customer service |
| Crazy Winners Casino | Failure to pay their players & advertisers coupled with poor customer service |
| City Club Casino | Failure to pay their players & advertisers coupled with poor customer service |
| Crown Europe Casino | Failure to pay their players & advertisers coupled with poor customer service |
| City Tower Casino | Failure to pay their players & advertisers coupled with poor customer service |
| Class 1 Casino | No Payments to players and advertisers – No responses |
| African Palace Casino | Slow payments – Bad Casino Practice |
| Indio Casino | Non-Payment / Crooked Operators |
| Euro Fortune Casino | No Payments to players and advertisers |
| Golden Palace Casino | Unethical Business Practice |
| Giant Vegas Casino | Slow payments – Bad Casino Practice |
Why These Are Blacklisted Casinos?
Labelling an online rogue casino  is not an easy task. We have many experienced gamers among our staff, but we also gather information from the player community and then check minutely all details about the casino before putting it on our Blacklist.
Everyone can make a mistake once and a while, but if a casino continuously spams your inbox with their advertisements, offers but then denies a bonus or even asks for wager requirements that never existed, delays a payout or does anything else that can be considered a bad business practice, we will worn you about it. Every single casino on our Blacklist has well deserved its place among other worst online casinos.
Spam Adverstisement
With so many gaming establishments popping up like mushrooms after rain, one of the biggest issues for casino owners is making the world aware of a casino's existence. The first step is the hardest, and casinos can make serious fouls at the very beginning.
Firstly, some casinos will drown players' inboxes with their advertisements, saying how big they are, promising huge awards and offering the best games ever and so on.
Secondly, since players frequently rely on other people's experiences, casinos may try to occupy various gaming forums by employing stubborn writers (pretending to be regular players) to praise the greatness of their casino.
Thirdly, casino spammers can try to broaden their territory and hack third party websites in order to position the casino in search engine results.
Spamming Bonuses
When using the spam barrage fire, online casinos usually accentuate the bonuses they offer. Do not be surprised if one day you find a bunch of messages in your phone, sent from the same number, promising unbelievable welcome bonuses, while all they ask you to do is registering with their site and placing the initial deposit.
If you decide to ignore the messages, they will not give up and you will be receiving the same or similar messages every single day. As you can see, sometimes your email will suffer, sometimes your phone will be working over time, but they will not let you breathe until they squeeze some money out of you.
Spamming campaigns may pay off eventually (although we are not sure about it), but they will rise the red flag for our personnel and ensure them a place on our Blacklist. Bottom line is – how can we trust a casino that does not respect our time, our privacy and our decisions and behaves like a bully? We can not, period.
Payment Delayed
Online gaming is based on trust and the best way for a casino to waste it is to prolong the payouts. We know most of you enjoy the games regardless of the money, but the spice that gives a special flavour to all games is a chance to win some cash. And once you hit it big, you would like to see the money in your account as soon as possible.
Although withdrawal procedures may take a while, payouts should be processed in a matter of days or weeks, not months. Some casinos tend to come up with new obstacles every time a player requires a withdrawal. Copies of your personal IDs, bank accounts and other documents will be asked in reputable casinos as well, but many Blacklist casinos show more creativity in avoiding their payouts than creating their websites.
Unbelievable Terms and Conditions, unfulfilled wagering requirements for bonuses you have never claimed and hundreds of other excuses are used to ensure that no money leaves a casino. We cannot punish them, but the most and the least we can do is glue such scam casinos to our Blacklist.
Frequently Asked Questions (FAQs)
Absolutely not! Our biggest concern is the satisfaction of our visitors and we will make sure every single casino that goes through our reviewing process gets the place it deserves.
That is entirely up to you, but we do not recommend signing up with any of the casinos from the Blacklist. No matter what a particular reason for blacklisting them is, an immoral behaviour is a clear sign to avoid that casino.
Yes, but under some conditions. Firstly, they need to prove they have changed, which usually includes new management and/or new owners. Secondly, they need to pursue a straight course for quite a long time to convince us they are a trustworthy place.
No. While most of casinos offer games with random number generators, some rotten apples were found to create non-random games in order to increase their profits. Fair gaming is our priority and Playcasino.co.za will include every unfair casino in our Blacklist.
The most obvious answer we can give you is – check our reviews and follow our instructions. We employ first-class professionals who know how to recognise a reputable gaming establishment. On the other hand, we will mark each rogue casino as well. Check our Blacklist before deciding to join any online casino.