SnapScan Payments for Online Casinos South Africa: Is It Safe?
SnapScan is a state-of-the-art, original mobile wallet that's a proudly South African invention! Developed by a company called Firepay and launched back in 2013, Standard Bank acquired this payment method in 2016 when it bought a majority share in the development company.
Nowadays, SnapScan payments are possible with all South African banks. This means that whether you have an account at ABSA, Capitec, FNB, Investec, Nedbank, or Standard Bank, you've got access to an easy, trusted way to deposit money into your online or mobile casino account.
The PlayCasino team was super impressed with this banking option. Continue reading our comprehensive SnapScan review to find out more about how simple it is to use and why this payment method definitely got our vote.
Recommended Online Casinos In South Africa Accepting SnapScan
From the list of top online casinos for SA players, we're happy to tell you that the following trusted sites accept SnapScan payments. These are the best SnapScan casinos for 2023 according to your favourite experts, the PlayCasino team:
Best Online Casinos for SnapScan
🔔 Advertising Disclosure: playcasino.co.za contains affiliate links to partner sites. By clicking these links and making a deposit PlayCasino may earn a commission. This does not impact bonuses or result in extra charges for players. Our reviews and recommendations remain impartial.
What is SnapScan?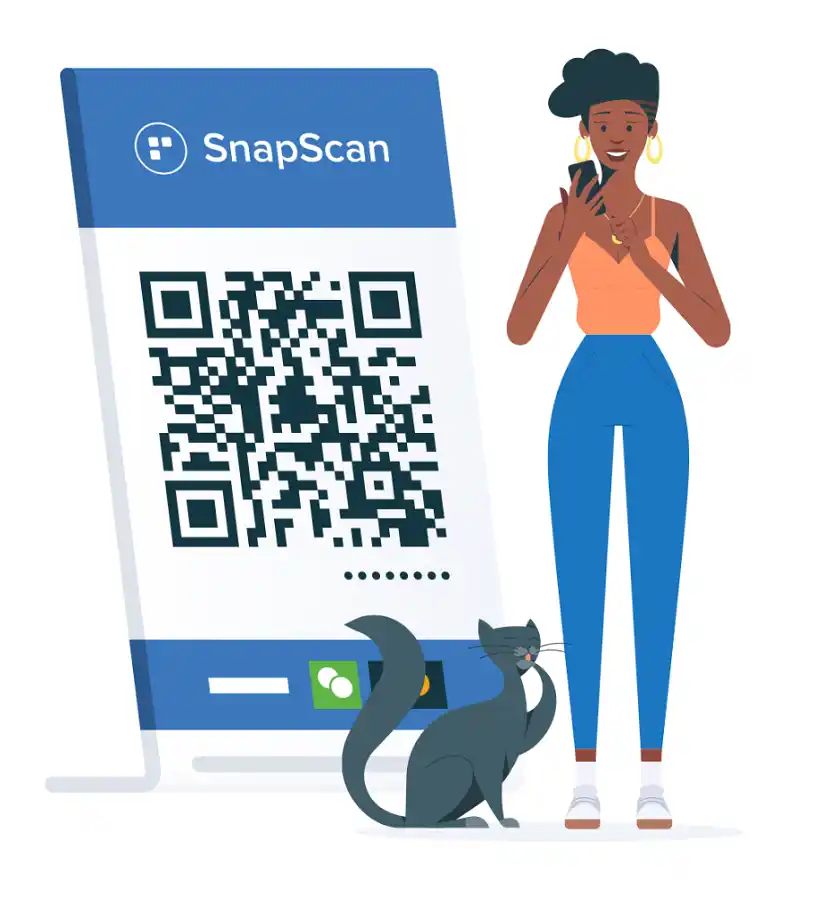 SnapScan is an app that removes the need for you to enter your card details every time you want to play slots, bet at the roulette table, or beat the blackjack dealer to 21 at one of our recommended online casinos. It allows you to use your tablet or smartphone to make payments by simply scanning a QR code or following a SnapLink and approving the transaction.
Once you've downloaded the SnapScan app, you'll be able to benefit from its state-of-the-art safety features that ensure your details are always encrypted using the most up-to-date technology. Your bank won't have any access to the personal or financial information this app contains and neither will the casino you want to deposit at. Now that's lekker!
SnapScan is also very easy to use. All you have to do is download the SnapScan app and then follow the instructions to link your debit or credit card to it. You can't beat it for convenience.
Besides, it's free. You won't be charged anything extra when you use it to fund your real money online casino gameplay!
Is SnapScan Safe for South Africans?
Yebo! Your identifying details are 100% encrypted and stored securely on your smartphone or tablet. Neither the casino you're using this payment method at nor SnapScan store anything. The app needs a pin, or a thumbprint if you've got a Touch-ID-enable iOS device to be entered before any transaction goes ahead.
Your job is just to play the real money games you love at online and mobile casinos that are trustworthy, fair, and secure. And your mates here at PlayCasino are more than happy to help you check this off the list! Our site reviews have all the information you need to decide where you're going to play next. We only recommend safe, licensed and fair casinos. Anything else just isn't lekker.
SnapScan VS Other Online Casino Payment Methods
Let's have a look at how SnapScan stacks up against other lekker local banking methods available to players in SA:
| Payment Method | Transaction Fees | Payment Speed | Safety & Security | Customer Support Available | Usability |
| --- | --- | --- | --- | --- | --- |
| EasyEFT | 1% | 3 - 5 business days | Good | 24/7 | Good |
| Maestro | 2% | 7 business days | Excellent | 24/7 | Good |
| Neteller | 2.5% | 3 business days | Excellent | 24/7 | Excellent |
| SnapScan | 0 | N/A | Excellent | 24/7 | Excellent |
| Visa | 2.65% | 5 business days | Excellent | 24/7 | Good |
How Does SnapScan Work?
Download the app, install it, and open your account. Then, whenever you want to use it, complete the SnapScan login process and scan the QR code at the casino you want to play at. This will take you to the payscreen for the site, where you'll need to enter the amount you wish to make available.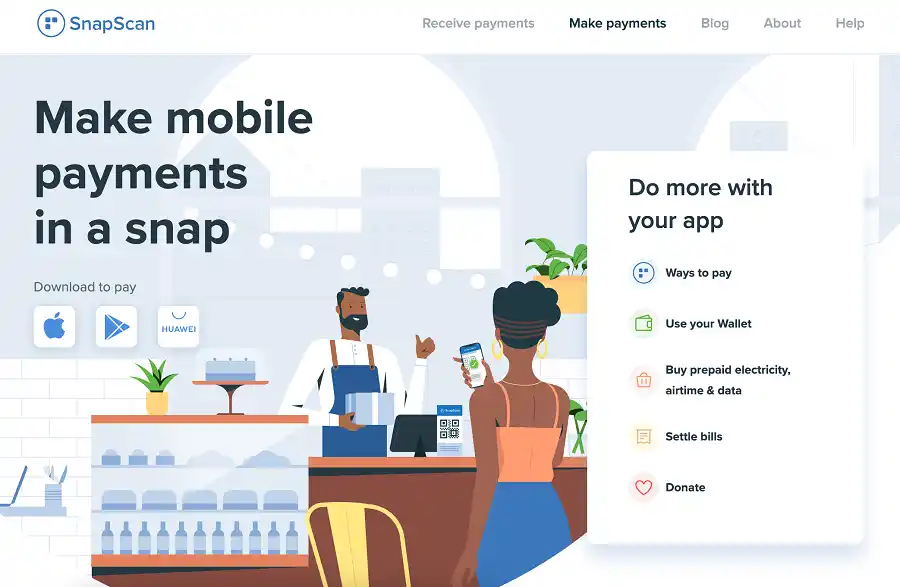 After that, it's a simple matter of using biometric authentication or your pin to okay the payment.
Alternatively, you can use SnapLinks to complete your SnapScan payments. These bypass the scanning requirement, allowing you to pay directly from your device. Clicking on the SnapLink using your tablet or smartphone, you'll be redirected to the payscreen automatically. The page will display the SnapCode, making scanning and paying with your phone quick stix.
Online and mobile casinos for South African players may share these SnapLinks using email, SMS, social media platforms, or even WhatsApp. This ensures that your SnapScan payments always stay 100% straightforward.
How to Create a SnapScan Account
Android users will need to head over to the Google Play Store. If you're using an iOS smartphone or tablet, it's the App Store for you. Download the free SnapScan app from there and you're on your way.
Follow the on-screen instructions to create your new SnapScan account, a quick process that shouldn't take you more than a minute or two. Fill in the information as you're asked for it and you're one step closer
Connect your credit or debit card to your SnapScan wallet and load your new account with the funds you've earmarked for playing real money casino games at one of our recommended sites.
You'll need to authenticate every transaction which is great because it means that you won't be hit with unexpected charges. Depending on your device, the Snapscan login process will be pin-based, or you'll use a fingerprint or face scan to use the account. Without your say-so, nothing can happen using SnapScan.
How to Pay with SnapScan Instant EFT
Complete the Snapscan login process.
Tap Wallet.
Tap Send.
Tap on the online casino you want to send the SnapScan Instant EFT payment to.
Fill in your reference. Maybe Big Win 777? We're sure you will come up with something as relevant and informative as it is inspiring and cool.
Fill in the amount you want to pay.
Tap Send Money.
Get started betting and playing at one of our top-rated online and mobile casinos!
How to Deposit With SnapScan at Online Casinos
Navigate to the online casino you've selected to play at.
Head to the Cashier or similar Banking section of the site.
Select SnapScan as your preferred banking method.
Specify how much money you want to make available in your player account.
Confirm this amount.
Scan the generated QR code with the SnapScan app on your Android or iOS smartphone or tablet. This finalises the payment.
Authenticate the payment using the app.
Your funds will instantly be available in your casino account, and you can start playing and winning.
Benefits and Drawbacks of Using SnapScan for Online Casinos
Pros
Keeping track of your spending at online casinos is easier because you can only use preloaded funds if SnapScan is linked to your debit card.
Downloading the app and installing and using it is very simple and anyone with a cell phone or tablet will have no problem doing this.
The safety and security of this banking method is impeccable. No outside parties ever have access to your details, bru. It doesn't get much safer than that and that's how the PlayCasino team prefers it.
There are no deposit limits from the app. However, your online or mobile casino might have limits in place, so double-check this if you run into an issue.
There are no fees for the SnapScan app download or to use it thereafter. Again, the site you're playing at may have costs associated with using SnapScan, so just do your homework before you start using it. This is the only way to make sure you don't have to deal with any surprises.
Cons
You can only make SnapScan payments. Withdrawals from your online casino account will have to be made using a different banking method.
Our Rating for SnapScan: 4/5
The reason SnapScan lost a point is because, at this point in time, you can't make withdrawals using it. However, the PlayCasino team is impressed by the fact that it doesn't cost anything to use, and that help is available all day and all night!
Several of our PlayCasino experts have tried the SnapScan payment method and found it reliable, easy to understand, and super-fast. Say goodbye to the days of waiting endlessly for your deposits to clear. This option is instant and you'll be playing, betting, and landing a win before you can say real money win.
Why Trust Our SnapScan Review?
There's a reason so many South African players think that PlayCasino is the one-stop-shop for finding the best real money gambling sites in the country! Whether it's the nitty gritty of the latest bonuses, the details on the newest games released, where to play them, or how to deposit and withdraw your winnings, we don't hold back. We tell the truth whatever it may be so our readers can trust our decisions and be guided by our recommendations.
We've been in the game - get it? - for 15+ years now and the PlayCasino team are experts in anything and everything related to casinos. We've reviewed more than 300 sites and almost 400 games and bring our experience and honesty to every article published on our site.
When we say we investigate everything, that's exactly what we mean. From the legitimacy of licences to safety protocols and third-party audits, we never say anything we can't prove. If you haven't bookmarked our site yet, don't wait! Do it now and save yourself precious time and money by avoiding scam sites and skelms and sticking with the real thing.
Everything you're reading in this SnapScan payment review has been certified by a member of our team who has followed every step you will to use this banking method. That's the only way we can guarantee the correctness of the information we're providing. The same goes for our casino and game reviews. Basically, we do what you'll be doing so we can tell you what you can expect.
SnapScan FAQs
The PlayCasino team has put together this list of frequently asked questions. If there's anything you're still wondering about, give this list a squizz:
Yup. As long as you're using this banking method at an online or mobile casino that is properly licensed and regulated, you're not in gevaar when you deposit with it. Check out our other payment reviews to find the best way to withdraw.
Think of the SnapScan Wallet as a digital bank account that allows you to top up and send money using a SnapLink or QR code scan, to a list of first-rate online and mobile casinos.
Which online casinos accept SnapScan deposits?
The PlayCasino team has made a list of 10 casinos accepting SnapScan. Look out for sites like Yeti Casino, Spin247 Casino, Swift Casino, Tusk Casino, and YesPlay Casino.
Are there any fees associated with using SnapScan at online and mobile casinos?
There is no cost from the app provider, but the casino may charge a nominal fee for using this banking method. Check in with the online casino's customer care to determine whether you will be charged for using SnapScan.
What is SnapScan's withdrawal and deposit processing time?
At the moment, you can't withdraw your winnings using SnapScan. Deposits are usually instant but be sure and check in with the Customer Care agents at your casino site if you run into an issue.
What is SnapScan payment's minimum and maximum deposit and withdrawal limit?
The app developer has no limits in place regarding minimum or maximum deposits and withdrawals are not possible. However, always check with the online or mobile casino you're playing at to see whether they've imposed their own requirements.
Get in on the action
Sign up now for the latest bonuses, promotions, and new online casinos.
Have You Found What You're Looking for?
Your feedback is paramount!