Top 5 Highest Paying Casinos South Africa
ZAR Casino — Best Payout Casino With Fast Withdrawals
ZAR Casino is the best payout online casino for real money in South Africa. Its massive payouts ensure its players receive worthwhile returns on their wagers. A variety of games, from classic table games to exciting slots, keep players engaged. Bonuses are competitive, and their rewards program is solid. However, there's a noticeable lack of e-wallet payment options.
As well as being the highest payout casino, ZAR Casino is one of the country's fastest-paying casinos. Once you submit your withdrawal request, there is a pending period of just 48 hours to process the details.

ZAR Casino offers over 200 real money casino games for you to play with an incredible 98% win rate, giving you some of the best chances to win big. Read our full ZAR Casino review.
ZAR  Casino

Payout Rate
98%
Payout Speed
1 hour - 7 business days

Number of Games
200
Bonus
Pros
High payouts across all games
Comprehensive selection of games
Competitive bonuses and loyalty program
Cons
Limited e-wallet payment options
Could improve on bonus terms and conditions clarity
Springbok Casino — Best Payout Casino With No Deposit Bonus
The reputable Spring Casino is another top South African online casino with the highest payout, boasting an impressive 98% payout rate. To make it even better, Springbok Casino's no deposit bonus is one of the best in the country. Use the bonus code PLAY500, and you'll get a whopping R500 free without having to make a deposit. Just like that.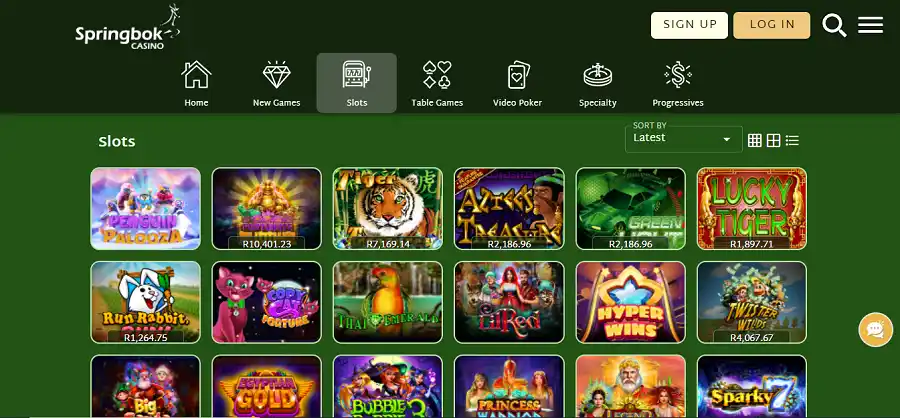 Springbok Casino leads the market owing to its variety of online slots, high RTP table games, and secure, prompt payouts. Another standout feature is its rewarding VIP program with betting limits designed to accommodate high rollers. Play real money games to earn enough player points, and you'll get access to the exclusive Springbok Casino VIP Room with incredible perks and benefits.
It's no wonder Springbok Casino has earned a reputation as the best online casino in the country. Read our full Springbok Casino review.
Springbok Casino

Payout Rate
98%
Payout Speed
2 - 3 business days

Number of Games
250
Bonus
Pros
Excellent no deposit bonus
Established, reputable brand
User-friendly interface and local theme
Cons
No live dealer games
Low withdrawal limits
Yebo Casino — Best Payout Casino For High RTP Slots
With its impressive selection of slots and a focus on high payout rates, Yebo Casino stands out as a paradise for slot lovers looking to maximize their winning potential.
You'll find a vast collection of slots that boast high RTP percentages, carefully selected to provide players with the best possible chances of winning. With titles like Mega Moolah, Gonzo's Quest, Starburst, and Book of Dead, your gameplay experience is not only enjoyable but also potentially lucrative.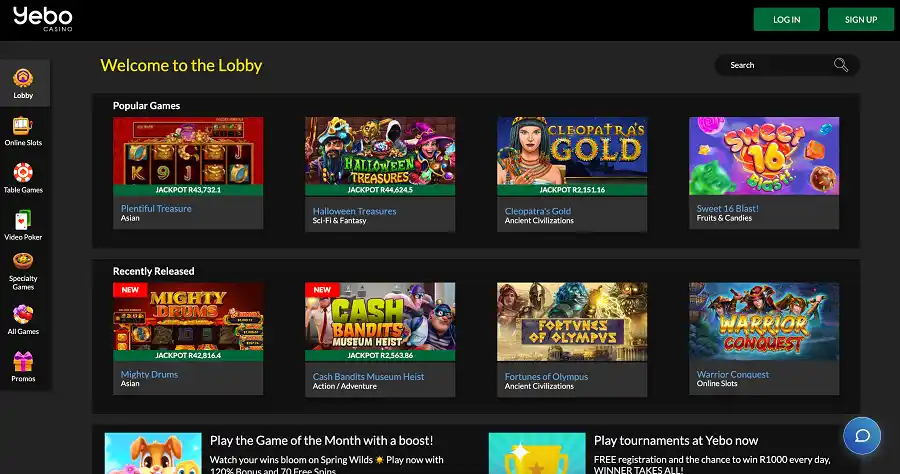 Yebo Casino provides a secure and trustworthy gaming environment for its players. The casino holds a license from Curaçao, a reputable jurisdiction, ensuring that all games are fair and transparent. Additionally, they utilize advanced encryption technology to safeguard players' personal and financial information, providing peace of mind while enjoying exciting slot games. Read our full Yebo Casino review.
Pros
Excellent selection of slot games
Generous bonuses
Accepts a wide variety of banking methods
Cons
Not a huge selection of bonuses and special offers
No live dealer games
SilverSands Casino — Best Payout Casino For Mobile Gaming
SilverSands Casino is one of the best payout online casinos for players looking to have some fun and win big. With a sleek and easy-to-use interface, SilverSands Casino offers a wide variety of games to suit every player's taste. From classic slots to table games like blackjack and roulette, there is something for everyone here. And with new games added regularly, you'll never get bored.
You won't find a SilverSands Casino mobile app available for download, but don't worry - you can still enjoy all the action on your phone. The mobile version is optimized for smaller screens, providing a seamless and streamlined experience for players who prefer to play on the go. You don't need to worry about compatibility either, as the mobile casino is supported on all major mobile operating systems, including Android, iOS, and Windows.

But what really sets SilverSands Casino apart is its commitment to fast payouts and high payouts. And with an impressive range of payment options available, including credit cards and e-wallets, you can choose the method that works best for you. Read our full SilverSands Casino review.
Pros
Superior mobile gaming experience
Wide variety of games
Good range of payment options
Cons
Could use more live dealer games
Bonuses and promotional offers lack variety
Thunderbolt Casino — Best Payout Casino for Table Games
With its extensive collection of table games and video poker options, Thunderbolt Casino stands out as a premier destination for players seeking impressive payouts and thrilling gameplay.
While many casinos keep this a secret, Thunderbolt Casino proudly offers video poker games with an astonishing payout rate of around 99%. This makes video poker one of the highest payout games available at most online casinos.

The selection of video poker games is nothing short of impressive, with the ability to play up to 52 simultaneous hands from a single hand. Whether you're a fan of classic card games or prefer to try your luck at unique variations, the possibilities for big wins at Thunderbolt are abundant. Read our full Thunderbolt Casino review.
Pros
Excellent live dealer games selection
Attractive bonuses
Quality customer service
Cons
Limited e-wallet payment options
Game loading times could be improved
How We Selected The Highest Payout Casinos
Payout Rates

We focused on casinos with high payout rates, which indicate the percentage of total money wagered that is paid back to players as winnings. We took into account the Return To Player (RTP) for each casino's collection of online casino games.

Game Selection

Casinos offering a wide variety of games were favoured, as this provides players with more opportunities to win.

Withdrawal Times

Casinos that offer quick and hassle-free withdrawals were given preference, as players should be able to access their winnings promptly.

Reputation and Licensing

We chose casinos with strong reputations for fairness and those regulated by respected gaming authorities to ensure player safety.

Customer Reviews

We also considered the experiences of real players, as this provides valuable insights into the casino's performance and reliability.
What Casino Games Have the Highest Payout?
The PlayCasino team has played South Africa's most lucrative online casino games and slots for real money. We've meticulously curated this list of casino games with the biggest RTP, helping you claim your big casino payout.
Highest Payout Online Slots
With so many online slots available, it can be difficult to know which ones offer the highest payouts.
Fortunately, we've done the research for you and have compiled a list of the highest payout online slots available in South Africa. These slots offer a great chance of winning big payouts, and they're all available at reputable online casinos.
Slot Game
RTP
Slot Type
Description



Blood Suckers

98%
Video Slot
This vampire-themed slot has a high return to player percentage (RTP) of 98%, making it one of the highest-paying slots available. It also features a bonus game that can lead to big payouts.

Book of Dead

96%
Video Slot
This popular slot has an Egyptian theme and features free spins and expanding symbols that can lead to big payouts. The game also has a high RTP of 96.21%.

Gonzo's Quest

96%
Video Slot
This slot is known for its innovative gameplay and high payouts. It features cascading reels, which means that winning symbols disappear and are replaced by new ones, increasing the chances of winning. The game also has a free spins bonus round that can lead to big payouts.

Mega Moolah

94%
Progressive Slot
This is one of the most popular progressive jackpot slots in the world, and for good reason. It has paid out some of the largest jackpots in online casino history, including a record-breaking €18.9 million payout in 2018. The game has an African safari theme and features four progressive jackpots that can be won at random.

Jackpot Giant

94%
Progressive Slot
This progressive jackpot slot features a giant who can award players with a life-changing payout. The game has five reels and 50 paylines, as well as a bonus game that can lead to big payouts.
Highest Payout Table Games
In table games, the RTP can vary depending on the rules and the player's skill and strategy. Here are a few table games with high RTPs:
Blackjack
This is known for having the highest RTP among casino games, often ranging from 99.5% to 99.6%. However, this is dependent on the player employing the correct strategy.
Baccarat
The RTP for this game can range from 98.94% to 98.99%, depending on whether you bet on the player, the banker, or a tie. Betting on the banker typically offers the highest RTP.
Craps
The RTP in craps varies significantly depending on the type of bet you place. The 'Don't Pass/Don't Come' bets offer an RTP of around 98.64%.
Three Card Poker
This game typically offers an RTP of around 98.24%, provided you play with optimal strategy.
Video Poker (Jacks or Better)
Depending on the variant and strategy, video poker can have an RTP up to 99.54%.
French Roulette
If played with the 'La Partage' rule, the RTP can be as high as 98.65%. However, without it, the RTP drops to 97.30%.
How Is Casino Payout Calculated?
Casino payouts are typically calculated based on the specific rules and odds of the game being played. Each casino game has its own payout structure, which determines how much money a player can expect to win if they are successful.
In games like slots or electronic gaming machines, the payout is determined by the specific combinations of symbols that appear on the reels. Each combination has an associated payout value, and the overall payout rate is predetermined by the game's design. For example, if a slot machine has a payout rate of 95%, it means that, over time, the machine will pay out 95% of the money wagered on it, while retaining the remaining 5% as profit for the casino.
In table games like blackjack or roulette, the payouts are based on the rules of the game and the bets made by the players. For instance, in blackjack, the payout for a winning hand is typically 1:1 (also known as "even money"), while getting a natural blackjack (an ace and a ten-value card) usually pays 3:2. In roulette, the payout depends on the type of bet placed and the specific odds associated with that bet.
It's important to note that casinos have a built-in advantage called the "house edge" or "house advantage," which ensures that, in the long run, the casino will make a profit. The house edge is calculated based on the mathematical probabilities of the game and varies depending on the specific game being played.
Overall, casino payouts are determined by the rules, odds, and payout rates of the casino game, as well as the inherent advantage held by the casino.
Tips To Choose the Highest Payout Casino Games
Choosing casino games with the highest payouts can significantly enhance your potential winnings. Here are some useful tips to help you make informed choices:
Understand the RTP (Return to Player)
The RTP is a percentage that tells you how much of all the wagered money a slot or a casino game will pay back to players over time. Choose games with a high RTP, typically over 96%, as they are likely to give you a higher payout.
Check the Volatility of the Game
This is essentially the risk level of the game. High volatility games pay out less frequently but the wins tend to be larger. Low volatility games pay out more frequently but the wins are smaller.
Go for Progressive Jackpots
Fixed jackpots have more consistent payouts but may not have the same potential for massive wins as progressive jackpots. Progressive jackpot slots can offer huge payouts. As players make bets, the jackpot increases until it's won, often resulting in life-changing amounts. Keep in mind that these games often come with lower RTP and high volatility.
Opt for Games with Bonus Rounds
Some slots and other games offer bonus rounds which provide an opportunity for extra winnings. These rounds are not only exciting but can also significantly boost your payouts.
Understand the Game Rules
Even with high RTP and good bonuses, you won't be successful if you don't understand the rules of the game. Take the time to learn the rules, strategies and nuances of any game you play.
Try Table Games
Games like Blackjack and Baccarat often have higher RTP percentages than slots. Mastering the strategy for these games can significantly enhance your chances of walking away with a profit.
Play Free Games First
For the highest real money payout, you need to play at play for real money at online casinos. However that doesn't mean you can't play for free first. Many online casinos offer free versions of their games. You can use these to practice and get a feel for which games you're most comfortable with and which have the highest payouts.
Always remember, while the aim is to win, gambling should primarily be about entertainment. It's essential to have a budget, stick to it, and never chase losses.
You May Also Be Interested In
Online Casino Payout FAQs
What is the volatility of online slots?
The volatility of a slot game is all about how risky it is and how often you win. High volatility slots give you big wins, but they don't happen very often. Low volatility slots give you smaller wins, but they happen more often.
For example, imagine you're playing a high volatility slot and you win a lot of money, but it takes a long time before you win again. On the other hand, if you're playing a low volatility slot, you might win smaller amounts more frequently. When you choose a game, think about how much risk you're comfortable with and how often you want to win. That way, you can have more fun playing and know what to expect.
What is the biggest casino win in South Africa?
In 2019, a fortunate individual from Gauteng struck it rich at Silverstar Casino in Krugersdorp, securing a remarkable R20 million jackpot. The player, who opted to maintain anonymity, struck gold while playing the slot machine game Mighty Cash.
What happens if you win big at a casino?
Depending on your jurisdiction, you may have to pay taxes on your winnings. The casino will also confirm the win to ensure there are no malfunctions or errors involved. This could involve checking the machine or game you were playing, verifying your bet, and confirming no rules were violated.


Which casino games have the best odds of winning?
Blackjack is the casino game you're most likely to win in most regular, walk-in casinos. This is because the casino's advantage, or "house edge", is only 1%.
But if we talk about online casinos, things are a bit different. Online video poker is the game where you have the best chance of winning. This game gives back 99.54% of all the money bet on it over time, leaving only 0.46% for the casino. So, in simple terms, your chances of winning are better with online video poker compared to other games.
What does "win rate" and "payout rate" mean?
Win Rate: This is the percentage of games or rounds a player wins over a certain period of time or over a number of games. It is a measure of a player's success at a particular game. For example, if you play 100 rounds of a game and win 50, your win rate would be 50%. However, this doesn't account for the amount of money won or lost, just the number of games won.
Payout Rate: Often referred to as the Return to Player (RTP) percentage, payout rate is the percentage of stakes a game returns to players over many plays. For example, if a game has an RTP of 96%, this suggests that, on average, for every $100 wagered, the game would return $96 to players. The remaining 4% represents the house edge, the advantage the casino holds over players.
Which online casino in SA has the highest payouts?
ZAR casino is the highest payout casino in South Africa, with a 98% RTP. This means that for every R1000 wagered, the casino pays out R980 on average. However, it's important to note that RTP rates can vary depending on the game, so it's always a good idea to check the specific RTP rate of the game you're interested in playing. ZAR casino offers a wide variety of high RTP games from top software providers, as well as a generous Welcome Bonus for new players.
Get in on the action
Sign up now for the latest bonuses, promotions, and new online casinos.
Have You Found What You're Looking for?
Your feedback is paramount!