South African casino players have great confidence in using SID, because it was created especially for the South African market.
SID is an electronic funds transfer (EFT) method which is available to those with or without a credit card. SID allows you to transfer funds directly from your online banking profile. No credit card required. SID will direct you to your existing internet banking facility to make the payment and your correct banking details will already be loaded for your convenience. Money is then transferred from your bank account to and from the chosen online casino.
Banks such as ABSA, First National Bank (FNB), Nedbank and Standard Bank all support SID online payments to South African casinos.
When using SID, all your personal banking details are kept confidential from the online casino, ensuring even greater security. SID also protects against unauthorised payments of up to R5000.
Each time you use SID, your bank will provide you with a one-time PIN to use in that transaction, making this an extremely secure payment method.
How to Open an Account
SID is an EFT payment method and therefore relies on you having a functioning bank account. Each time you use it, you enter your banking details. There is no need to separately open a SID account. This is actually another brilliant advantage of choosing to use SID when playing on online casinos & you can use SID as often or rarely as you wish, combining it with other payment options, as long as you have sufficient funds in your bank account. For example, if you are concerned about overusing your credit card, you may choose to use SID until the credit card statement for that month arrives.
Deposits and Withdrawals
You can easily make deposits into your casino account using SID instantly. All you need to do is choose this method on the online casino's banking page. You will need to fill in your usual online banking username and password, and the details of the deposit. The deposit will be made automatically and immediately.
Withdrawing with SID may require a 2 day wait for your funds to be transferred to your bank account, depending on the online casino's banking terms and conditions. There may also be a need for confirmation via fax of the amount withdrawn when it is a large amount of money.
How to make a deposit via SID Instant EFT?
1. With no need for registering another account, SID Instant EFT allows you to transfer your money from your existing bank account to the casino of your choice. Visit the Cashier's to make your payment.

2. Under the Deposit tab choose SID Instant EFT as a means of payment.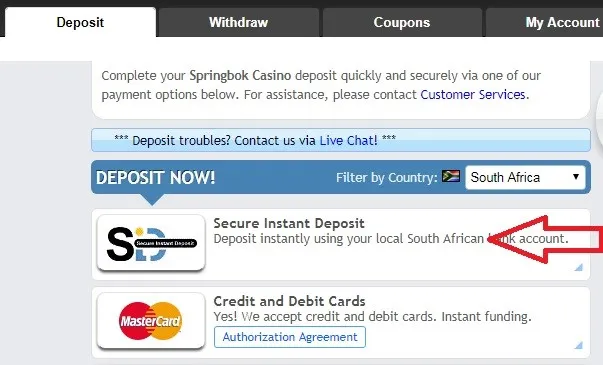 3. Enter an amount you want to send to the casino and click the Next button.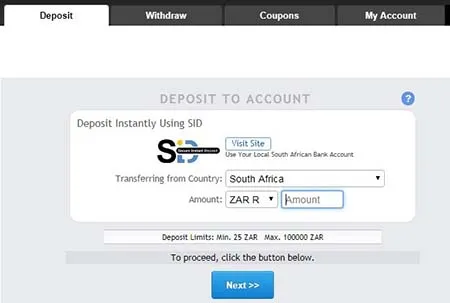 4. On the next page press the Continue button and you will be redirected to the SID Instant EFT platform to complete your payment.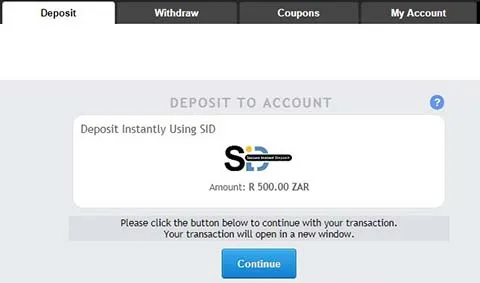 Frequently Asked Questions (FAQs)
As a banking method created by South Africans for South Africans, SID Instant EFT allows you to make transactions in ZAR.
All you have to do to cash out with this method is to select SID as a withdrawal method at the Cashier's under the Withdraw tab and follow the required steps.
With a proven track record of more than 10 years, SID Instant EFT is a completely reliable and safe banking solution.
You won't be charged any additional transaction fee by the online casino itself. However, services provided by SID may come at a certain cost, so for more information visit the provider's official website.
Deposits carried out via SID are instantly processed. When it comes to cashing out your winnings, processing withdrawals may take up to 72 hours.