Hollywoodbets vouchers make betting on soccer, horse racing, cricket, and other favourite sports safe, simple, and accessible to everyone over 18. 
An award-winning online sports betting site that welcomes bettors from South Africa, Mozambique, and as far afield as the UK, Hollywoodbets has a reputation for excellent service. Hollywoodbets top up vouchers are just another way this betting brand makes wagering to win easy. When you buy a voucher for Hollywoodbets, you can make a deposit and start betting in just a few minutes.
Our guide tells you everything you need to know about buying and using these vouchers to enjoy a premium Hollywoodbets betting experience on your desktop computer or mobile.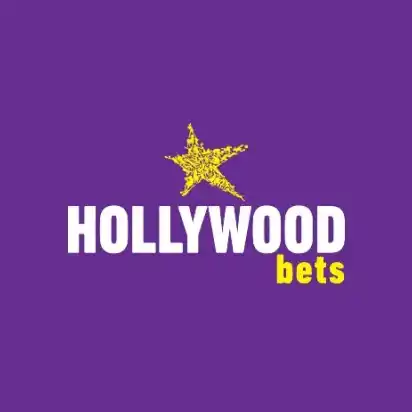 Play Now
What is a Hollywoodbets Voucher?
Hollywoodbets vouchers are like prepaid airtime for your online betting account, only they load real money and not talk time! When you buy a top-up voucher for Hollywoodbets, you're buying real money betting credits. 

You will load your voucher onto your Hollywoodbets account and get credited with the amount you purchased. This means that you can load real money credits without providing any banking details, and you can purchase vouchers for yourself or for your friends and family. Safe, secure, and simple, the voucher system allows anyone who has the voucher to load the value to their account. 
Pros and Cons of Hollywoodbets Vouchers
Pros
You can buy Hollywoodbets vouchers online or at land-based outlets.
You don't need a bank account to buy a voucher or bet real money.
There are no transaction fees; the amount you buy is the amount you get!
Your voucher is immediately credited to your account.
Cons
If you lose your Hollywoodbets voucher and haven't used it, anyone can use it.
Hollywoodbets vouchers are available in denominations of R5, R10, R20, R50, R100, R200 and R500. If you want to load a large sum of money, you'll need to enter several PINs.
You can't make a withdrawal with a Hollywoodbets voucher.
How to buy a Hollywoodbets Voucher
You can buy Hollywoodbets vouchers online at the betting site or at OTT using your banking app. Alternatively, you can head to a retailer that sells these prepaid vouchers.
Here's how to do both:
How To buy a Hollywoodbets voucher using your banking app:
Choose the amount you want to deposit.

Enter your value. 

Enter your phone number. 

Choose to pay using Ozow or CallPay. 

Click Pay Now.

Confirm your transaction.
How to buy a Hollywoodbets voucher at a retailer:
Head to the till or counter selling prepaid products.

Ask for a Hollywoodbets voucher.

Tell the cashier what value you want.

Pay cash or use your debit or credit card.

You'll receive a till slip with your 16-digit voucher PIN.

Once you have your Hollywoodbets top-up voucher you can get online and go to the site to load your money. Log in and click on the Top Up button on the homepage. Then, enter your voucher PIN and submit – your account will reflect your new balance immediately.
Just remember that Hollywoodbets requires that you confirm which provider you purchased your voucher from. You can choose from OTT, HollyTopUp, Blu Voucher, and 1ForYou. You'll find this information at the top of your voucher slip, but if you don't know the answer, there's an option for that, too.
Where to buy Hollywoodbets Vouchers
There are an ever-growing number of places where you can buy Hollywoodbets vouchers. You can buy Hollywoodbets vouchers online on the betting site and at the OTT website. If you want to buy top up vouchers for Hollywoodbets at spaza shops, petrol stations or retailers, you can do so wherever you see the sign. And, of course, every Hollywoodbets branch sells these vouchers at their help desk, too.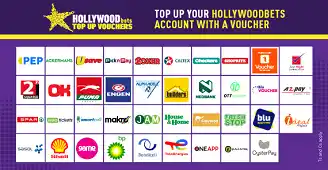 Some of the retailers across South Africa include:
SPAR

Shell

PEP

Engen

Makro

JAM

Game

OK 

Checkers

BP

Ackermans
Vouchers To Redeem at Hollywoodbets
Other vouchers you can redeem at Hollywoodbets include:
OTT Voucher: You can buy single-use OTT vouchers online and at selected retailers.

1ForYou/ 1 Voucher: 1ForYou vouchers for Hollywoodbets are available at spaza shops and outlets across SA.

Kazang: Available at selected outlets across SA.

Blu Voucher: Purchase these vouchers at SPAR or other selected retailers.
What happens if you win?
A Hollywoodbets voucher is only for making a deposit. If you play and win real money games, the money is loaded to your Hollywoodbets player account, and you need to use one of the many other withdrawal options available at the site. These include EFTs to ABSA or Standard Bank, FNB ewallet, Nedbank Send, Instant Money and Imali transfer. 
You can also make a cash send withdrawal at certain ATMs by asking for an SMS with a voucher number to be sent to your cell phone number.
More Payment Options at SA's Online Casinos
Hollywoodbets voucher FAQs
How does a Hollywoodbets voucher work?
Hollywoodbets vouchers work the same way that prepaid airtime works. You buy a single-use prepaid voucher online or from a retailer.
How do I redeem my Hollywoodbets voucher?
Login to your Hollywoodbets account, head to the banking page, select deposit and enter your voucher PIN. The value of your voucher is immediately credited to your Hollywoodbets account.
How many numbers are on a Hollywoodbets voucher?
Hollywoodbets top up vouchers all have 16-digit PINs.
Get in on the action
Sign up now for the latest bonuses, promotions, and new online casinos.
Have You Found What You're Looking for?
Your feedback is paramount!