Crazy Time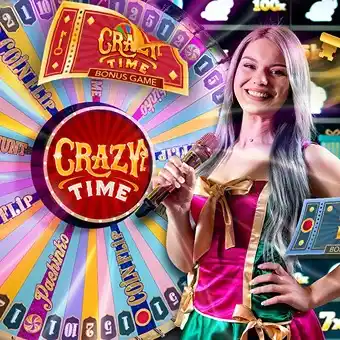 Welcome to the carnival of your wildest dreams! Crazy Time is an electric and vibrant game show, overflowing with delightful bonus rounds and outlandish multipliers. The primary game centers around a money wheel with tantalizing segments. But hold onto your seat, because landing on one of the bonus triggers transports players into a world where anything is possible. From the dizzying heights of the Pachinko walls to the wacky worlds of Coin Flip and Cash Hunt, there's a universe of fun awaiting every spin.
Dream Catcher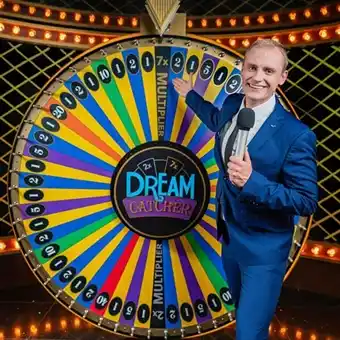 Step into a world of dazzling lights and high energy! Dream Catcher, one of Evolution Gaming's pioneering masterpieces, presents a mesmerizing, giant, vertically mounted money wheel. With each suspenseful spin, overseen by a charismatic live dealer, players are on the edge of their seats, wagering on which glittering segment the wheel will gracefully come to rest upon. This game is pure, unadulterated excitement at its finest.
Deal or No Deal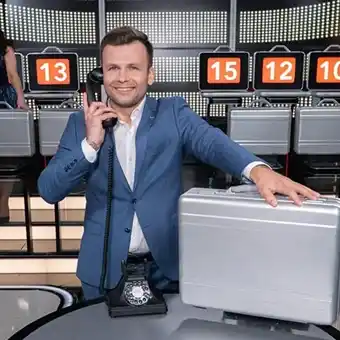 Dive headfirst into a nail-biting game of nerve, strategy, and potential fortune! Based on the globally renowned television game show, Evolution Gaming's Deal or No Deal brings the tantalizing dilemma of briefcases and banker offers to the live casino. Every heart-pounding round challenges players to beat the banker and answer the age-old question: "Deal or no deal?" With exclusive prize multipliers and a tension that's palpable, this is the kind of game that keeps players returning for just one more deal.
Monopoly Live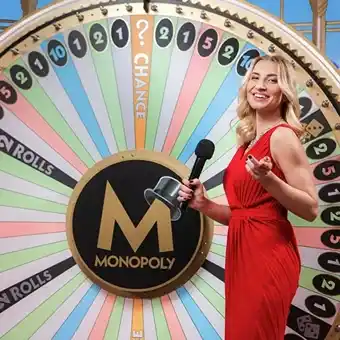 Step onto the iconic Monopoly board and prepare for a fusion of the world's best-loved board game and the thrill of live gaming! Monopoly Live is not just a game; it's an enthralling experience. As the giant wheel turns, hosted by an engaging live dealer, players eagerly anticipate the chance to trigger the mesmerizing 3D bonus round. Here, Mr. Monopoly himself springs into action, leaping around the board, collecting prizes, and dishing out multipliers. Boardwalk, Park Place, or perhaps Jail? Where will he land? There's only one way to find out!
Mega Ball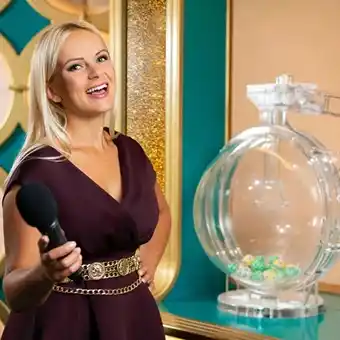 Bingo and lottery lovers, rejoice! Mega Ball is a dazzling fusion of bingo-style number drawing with pulse-quickening multipliers. Set in a futuristic, neon-lit environment, this game's heart resides in its ball drawing machine. As the balls are drawn, players' cards get filled. But the real magic happens with the last ball – the Mega Ball, which brings with it the chance for mammoth multipliers and jaw-dropping wins. It's a race against time, a dance of numbers, and the perfect blend of suspense and surprise.
Evolution Gaming, the trailblazing powerhouse behind some of the most exhilarating and visually stunning live casino game shows, has forever transformed the digital gaming landscape. Their immersive, real-time games give players the sensation of being at the center of a glamorous TV show, delivering a rush of adrenaline with every spin, roll, or flip.
These are just a few examples of their best live game shows, and the genre is ever-evolving, with other software providers continuously coming up with innovative and engaging games to attract players. If you're interested in trying them out, always make sure to play responsibly and choose one of the legit online casinos we've reviewed.
What are Live Casino Game Shows?
Live Online Casino Game Shows are a relatively new category of live dealer casino games in the South African online gambling industry. They combine elements from popular TV game shows with traditional casino gaming, offering an interactive and engaging experience for players.
Instead of the standard table games setup like live blackjack or roulette, these game shows often have a charismatic host, luxurious set designs, and game mechanics that can be easily understood by a wide range of players, not just seasoned gamblers.
Some characteristics and features of Live Casino Game Shows include:
Live Hosts

Most game shows have live hosts, some of whom are entertaining and add a personal touch to the gaming experience. They guide players through the game, make announcements, and sometimes interact with players.

Interactive Gameplay

Many of these games are built to be interactive. Players may have the option to make decisions during the game, select various options, or even participate in bonus rounds.

Broad Appeal

These games are designed to be entertaining and appealing to a wide audience. The rules are usually simple, making them accessible to players who might be new to casino gaming.

High Production Value

The set designs, graphics, and overall production quality of live casino game shows often rival that of real TV game shows.

Variety of Games

From wheel-based games to lottery-like draws and even adventure games, there's a wide range of themes and game mechanics available.
Play Evolution Live Casino Gameshows at Hollywoodbets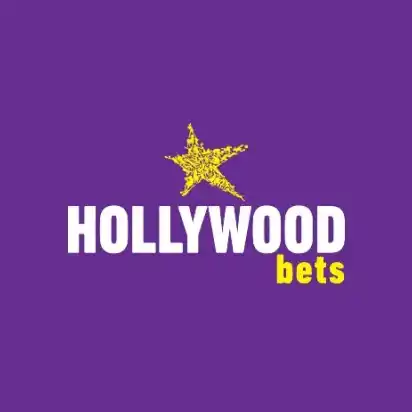 Play Now
Tracksino for Live Casino Game Shows
In the vibrant world of live casino game shows, there's a platform that stands out for its dedication to offering players an enhanced gaming experience: Tracksino. This ingenious tool acts as a real-time tracker for a slew of popular live games, providing enthusiasts with valuable insights and historical data that can shape their gameplay strategy.
Crazy Time fans will be thrilled to discover that Tracksino Crazy Time provides a meticulous breakdown of past wheel results, bonus rounds, and multiplier trends. Given the unpredictable nature of Crazy Time's myriad of bonus rounds, having access to this data is like possessing a treasure trove of insights.
Roulette lovers are not left out either. Tracksino presents a comprehensive analysis of previous Lightning Roulette numbers and their respective multipliers. The sheer unpredictability of the lightning strikes means that having a systematic record can be invaluable for seasoned and novice players alike.
Dice game enthusiasts, too, have reasons to celebrate. Tracksino comes to the rescue by giving insights into dice roll patterns and trends for Lightning Dice and Sic Bo. For players looking to decipher the mysterious roll of the dice, these tools can prove indispensable.
Let's not forget the game that started Evolution Gaming's journey into game shows: Dream Catcher. Players can delve into a world of wheel segments, multipliers, and spin outcomes, offering a deeper understanding of the game's rhythm.
Get in on the action
Sign up now for the latest bonuses, promotions, and new online casinos.
Have You Found What You're Looking for?
Your feedback is paramount!