What Is Mega Ball?
Mega Ball is an exciting live game show that combines elements of Bingo and a fast-paced casino game. Players can buy cards with various values and select up to 200 numbers per game round. During the live game, 20 balls are drawn out of 51, and the player's aim in the game is to match the cards they buy with the 20 balls drawn from the drum. The more balls you end up matching with, the better your chances of completing a line. And the more lines you get, the bigger your payout will be.
After the main game, one or two Mega Ball bonus rounds occur, generating multipliers from 5x to 100x. A Mega Ball is drawn, and if it completes any line on the player's cards, their payout is multiplied by the Mega Ball multiplier. The game is all about collecting lines on the cards to increase the chances of winning more.
How To Play Mega Ball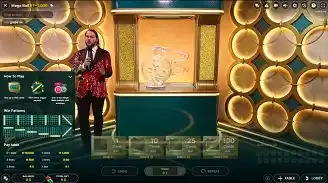 When you play Mega Ball at Betway or anywhere else, you'll need to:
Select how many cards you want to buy for the draw and how much you want to spend on each one. There are 24 numbers on each card, laid out in a 5x5 grid, with the centre square left blank.
You can choose to spend anything from R1 to R1 000 per card. Think of the cards as the value of your stake. The amount you're spending on each card is how much you're betting on it to contain winning lines.
You have to buy at least 1 card to play, and 200 is the most cards you can buy per round.
The host will tell you when bets close and the draw is about to begin. 20 balls will be drawn at random from a possible total of 51, numbered from 1 to 51.
The numbers on your cards need to match the balls drawn, and then all the matched numbers need to form at least one complete line composed of 5 numbers. How much you win is determined by the size of your bet or the value of your card and how many complete lines of drawn numbers you get.
As the game unfolds, the numbers drawn will be shown above your cards, along with how much you stand to win. After the first 20 balls are drawn, the final one, the Mega Ball, gets picked. Your presenter will spin a slot, with Multipliers ranging from 5x to 100x.
Whichever number the slot lands on is then the Multiplier for the Mega Ball, and if this number completes any of the lines on any of your cards,your payout will be multiplied by that number.
After that, all bets will be settled. If you have been lucky enough to create any winning lines, the amount you've won will be credited to your account.
You can also play First-Person Mega Ball 100x. It's a simulated version of the game with the same betting options but no live presenter, which means you can play at your own pace. First-Person Mega Ball may not be as exciting as the live version is, but it's ideal for you if you don't want to stick with someone controlling the tempo of the game.
Mega Ball Bonuses
The Mega Ball Multiplier is the 1st Bonus to be generated. A selection wheel, displaying Multiplier values ranging from 5x to 100x, is spun in the centre of the studio, and when it stops, whatever value it's landed on becomes the Multiplier.
Then a Mega Ball number gets chosen from the remaining 31 balls in the machine after the first 20 have been drawn. If that number completes a line on your card, your payout for that card will get boosted by the Multiplier.
If a 2nd Mega Ball gets drawn, and this one also completes a winning line on the same card as the 1st, you'll only get paid out for the card with the higher of the 2 Multipliers.
Is There A Mega Ball Demo?
As is the case with most live games, there is no Mega Ball demo play available due to the costs of running this game with a live presenter.

But check out this video to get a feel for the game and to see how Mega Ball works. Alternatively, if you claim a Welcome Bonus that covers live casino games, you can give it a go.
Where To Play Mega Ball in South Africa
If you're ready, you can play Mega Ball at Hollywoodbets right now! There is also an option to enjoy Mega Ball at Betway.
Pros and Cons
Pros
The studio is very visually appealing and will put you in a good mood with its colourful setting
It's a Lottery-based game with some excellent added extras
You can buy more than 1 card per round of Mega Ball
The betting limits are wide enough to suit most people's preferences
Cons
No Mega Ball free play is available
There's no Mega Ball demo play option
Mega Ball Strategy
Mega Ball 100x is a luck-based game, so the only aspects you can control are how much you bet, the value of the cards, how many chances you have to win, or the number of cards you have active.
Depending on your general style of betting, you'll either want to bet bigger on fewer cards or bet smaller on multiple cards. Either of these approaches to Mega Ball 100x strategy is viable. Other tips include:
Watch the Game Before You Start Betting and Playing
The PlayCasino team always recommends that you sit on the sidelines for a few rounds of any game you're interested in so you can get a good feel about how it works. Plus, you may come up with a marvellous Mega Ball 100x strategy as you watch things unfold!
Decide on Your Budget per Round Early On
Choose how much you're going to be spending on your Mega Ball gameplay session before you go anywhere near the launch button. Then you can divide up how much money you've got available by how many rounds you want to play to give you an idea of what your bets should look like. Always gamble responsibly and only play with what you can afford.
Consider the RTP Percentage
While there are more ways to win when you have multiple cards, the Return to Player percentage is higher when you've got just 1 card in play, at 95.40%. As soon as you buy more than 1 card, the RTP percentage drops to 95.05%.
Remember the Maximum Payout and How It Affects Your Bet
You stand to win an eye-watering total of 100 000x your bet per card in Mega Ball, so don't bet more than R100 per card. If you hit a Mega Ball 100x, there's a chance you won't get the full amount due to you if you do.
Mega Ball Payout and Volatility
When it comes to payouts, there's no best time to play Mega Ball! Your wins will depend purely on how many cards you buy, the value of these, and the size of the Mega Ball Multiplier. Then it's about how many lines you get on your cards, be they horizontal, vertical, or diagonal. The more lines you complete with 5 numbers on your cards, the more money you'll win.
Because Mega Ball is such a high volatility game, your wins could be through the roof. There are no Mega Ball cheats, however. You'll just have to leave it to Lady Luck!
These are the payouts you can expect from Mega Ball 100x:
| | |
| --- | --- |
| Lines | Payout |
| 1 | 1:1 |
| 2 | 5:1 |
| 3 | 50:1 |
| 4 | 250:1 |
| 5 | 1,000:1 |
| 6 | 10,000:1 |
Let's say, for example, that you buy a card for R10 and get 2 lines completed in a round of Mega Ball. You'll win R50 because you're paid out at 5:1 for 2 lines. But, if this same line is completed with a Multiplier of 20x, your return goes up to R1 000!
Mega Ball Experience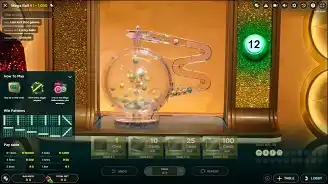 The colourful, gorgeously designed Mega Ball studio will cheer you up no matter what mood you're in, and the friendly presenter's chatter is very entertaining. The music is upbeat, adding to the general good vibes, and the sound effects are so realistic you'll swear you were in the studio too.
Mega Ball On Mobile
You can easily enjoy Mega Ball on the go at South Africa's mobile casinos as long as you have a stable internet connection. Your Apple or Android smartphone or tablet will be able to handle the game with no problems.
Mega Ball Stats
You'll be able to search Mega Ball statistics online and see many sites tracking every action in the game. During gameplay, the presenter will also comment on any patterns they pick up and talk about how many times a certain number comes up, for example.
Should You Play Mega Ball?
We loved playing Mega Ball at South Africa's online casinos, and we're sure you will too. Although it's the first Lottery-style game Evolution has ever designed and released, it's evident from the moment you start playing Mega Ball that the studio has put a lot of time and effort into it. There are 2 modes, 1 for beginners and 1 for more advanced players, and the Multipliers really make it worth playing. The PlayCasino team found Mega Ball to be an exciting game that Bingo and Lottery fans will particularly enjoy, and we suggest you give it a try.
Other Live Casino Games From Evolution
Your live casino game adventure won't end when you finish playing Mega Ball! Check out our reviews on other incredible live game shows from top software provider, Evolution.
FAQs
How do you play Mega Ball?
You purchase a card/cards like you would in a Bingo game, featuring 24 numbers, or 25 with the Wild, in a 5X5 grid. 21 numbered balls and up to 2 Multiplier balls will then be drawn, and you need to complete at least 1 line on your cards to collect a win.
How much does it cost to play Mega Ball?
The minimum bet is a mere R1, and the maximum is a hefty R1 000.
What's the most I can win?
You stand to collect a return at 100 000x the triggering bet.
Mega Ball is a luck-based game, so there's no guaranteed way to win. This is true of all the best gambling games!
Where can I play Mega Ball?
You can play Mega Ball at either Hollywoodbets or Betway.
Get in on the action
Sign up now for the latest bonuses, promotions, and new online casinos.
Have You Found What You're Looking for?
Your feedback is paramount!