Pros & Cons
Pros
4 bonus rounds deliver entertaining, high-energy gameplay
No special skills needed
A massive 20,000 x Multiplier is available
Cons
No demo version is available
What Is Crazy Time & How Does It Work?
Who Owns The Game Crazy Time?
Formerly known as Evolution Gaming and one of the top casino software providers, Evolution is the true leader in live casino games. Crazy Time is their invention, and it's one of their best!
How Do You Play Crazy Time?
The Crazy Time Live money wheel has 54 segments made up of the numbers 1, 2, 5, and 10, along with 4 different bonus rounds. Your aim is to predict where the wheel will stop, and you have 13 seconds to make this call before the party begins!
At the same time the main wheel is spinning, hosts will also spin a Top Slot with 2 reels. These reels determine which Multipliers will apply to the main round. For the Top Slot spin to activate, both reels need to line up. If this occurs successfully, the Multiplier on the right reel gets applied to the Bonus Round or number on the left reel.
Hosts keep everyone entertained with witty banter as you wait for the wheel and reels to stop spinning. If the wheel stops on a number you bet on, your cash payout will be credited to your account immediately. If you predicted a bonus round correctly, then it's off to the mini-games for you!
Crazy Time Bonuses
9 of the 54 segments on the Crazy Time Live wheel are Bonus Rounds:
Cash Hunt
This Bonus Round features a shooting gallery with a large screen displaying 108 Random Multipliers. They're covered in random symbols and get shuffled before you take aim as the countdown timer begins. You need to choose the target that you think is hiding the biggest Multiplier.
Coin Flip
The coin flip determines which Multiplier will be added to the player's bet. Before the flip, 2 Multiplier values will be generated, 1 for the blue side and 1 for the red.
Crazy Time
In this game, the red door will swing open, and you'll enter a crazy, fun virtual world with a gigantic virtual money wheel! Select a flapper, blue, green, or yellow, and the game's presenter will start the wheel spinning by pushing an oversized red button.
When the wheel stops spinning, you'll win the Multiplier that the flapper is pointing at. If yours points at a DOUBLE or TRIPLE value instead, all Multipliers will be doubled or tripled, and the wheel will start spinning again. Only players who chose this colour flapper will be able to take part in this round. The wheel can be respun until the Multipliers have all reached the maximum of 20 000x.
Pachinko
Featuring a large Pachinko wall filled with pegs, the game's host drops a puck into it, and players win whatever Multiplier it lands on at the bottom of the wall. If a DOUBLE value is landed on, all the available Multipliers double in value, and the puck will be dropped again. This continues until a Multiplier is won.
Crazy Time Strategy & Top Tips
Follow these tips and tricks to give your Crazy Time wins a boost:
Play Both Bonus Games and Dice Rolls
On average, Bonus Rounds should appear after roughly every 6th spin of the wheel, but naturally, there are no guarantees. It may help to keep your balance up by betting half your stake on a Bonus Round and the other half on either number 1 or number 2.
Pay Attention to the Timing of Your Bonus Round Bets
If a Bonus Round hasn't come up in 10 or so Crazy Time spins, it may well be coming up soon. There's no way to be sure, but the game can only go on for so long without one, so the further away you get from the last one, the higher the chances it will appear soon.
Choose 1 Bonus Round and Stick With It
As tempting as it may be to bet on all the Bonus Rounds simultaneously, it's not an excellent strategy. Your bets will probably be too small to make much of a difference if you do win! It's much better to choose just 1 Bonus Round for a few spins and stick with it.
Bet on numbers 1 and 10
Because number 1 is the most common segment on the wheel, betting on it will help you win almost 40% of the time. Increase your chance of winning by betting on the number 10 at the same time because doing so will help you cover big areas of the Crazy Time wheel.
Crazy Time Stats on Tracksino
Crazy Time statistics on Tracksino are updated all the time and are 100% free. When you use Tracksino Crazy Time data, you'll be able to find out about Crazy Time results with a simple glance at the easy-to-understand page. You'll be able to view Crazy Time history and the latest top Multipliers. You'll also be able to see the latest top Multipliers, Top Slot Matched Wheel results, and biggest win videos, and you'll even be able to watch Crazy Time Live.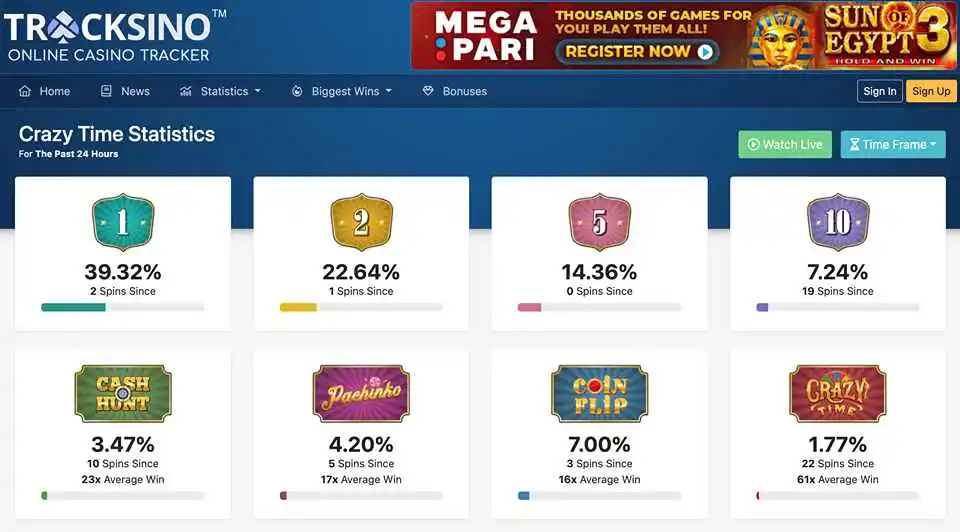 What Is The Chance Of Winning In Crazy Time?
Like all casino games, there's never any guarantee that you're going to win a round of Crazy Time. But someone has to, and it may as well be you!
The PlayCasino team recommends that you only play Crazy Time Live for entertainment value since that's the responsible way to approach any gambling game. It's a very exciting game, even without the big wins, and the hosts are great at keeping the chat going and making you laugh.
Crazy Time has an average Return to Player rate of 95.40%. This means that, over the long term, you can expect to get just over 95 cents back for every R1 you bet. This, combined with the minimum bet requirement of only 10 cents, makes Crazy Time Live a game you can play for a long time, no matter how limited your bankroll is.
The average RTP in Crazy Time may be 95.40%, but this amount will rise or decrease depending on which bets you make. The RTP for each individual bet are as follows:
| Bet Type | RTP |
| --- | --- |
| 1 | 96.08% |
| 2 | 95.95% |
| 5 | 95.78% |
| 10 | 95.73% |
| Cash Hunt | 95.27% |
| Coin Flip | 95.70% |
| Crazy Time | 94.41% |
| Pachinko | 94.33% |
Crazy Time Odds and Payouts
So, how much can you actually win playing Crazy Time Live? The payout structure is very straightforward, but as soon as Multipliers come into play, the odds and payouts will change accordingly:
| Segment | Number of Segments | Payout |
| --- | --- | --- |
| Number 1 | 21 | 1/1 |
| Number 2 | 13 | 2/1 |
| Number 5 | 7 | 5/1 |
| 10 | 4 | 10/1 |
| Pachinko | 2 | Up to R5 million |
| Cash Hunt | 2 | Up to R5 million |
| Coin Flip | 4 | Up to R5 million |
| Crazy Time | 1 | Up to R5 million |
Top 5 Biggest Crazy Time Wins
Where to Play Crazy Time in South Africa
Our Verdict On Crazy Time
In a way very similar to its money wheel counterpart, Dream Catcher, Crazy Time Live is really interactive. The hosts are very entertaining, the main game and bonus rounds will keep you on the edge of your seat, and the Multipliers make it a very attractive option. The PlayCasino team loves it, and we are sure you will too.
More Evolution Live Games
Since its founding in 2006, Evolution has gone on to truly revolutionise the world of online casino games. They've released many incredible games since then, with highlights including:
MONOPOLY Live

Created in partnership with the board game owner Hasbro and available only from Evolution, MONOPOLY Live combines great game show fun with the world's best-loved board game.
Mega Ball

Mega Ball is a ground-breaking and highly entertaining game show that features 1 or 2 Mega Ball Bonus Rounds where you can win more with Multipliers! You need to get as many lines filled on your cards as possible because the more you get, the more you'll win.
Dream Catcher

Dream Catcher is a lekker game of chance that players enjoy with an oversized money wheel that features Payout Multipliers of 2x and 7x. There are chances to increase wins many times over if the wheel stops on a Multiplier segment on consecutive spins.
Lightning Roulette

A pioneering live dealer game that offers players the chance to cash in on truly massive payouts of as much as R5 million, Lightning Roulette is a must-try.
Deal or No Deal

In this multi-layered game, you can be part of the famous game show. Deal or No Deal allows for an unlimited number of players and great cash prizes.
FAQs
How do I play Crazy Time without losing money?
There are no tried and tested Crazy Time cheats. But if you take the game seriously, understand the odds and probabilities, and focus on having fun, you could win big.
How do I make money on Crazy Time?
Although you get to bet on as many as 8 spaces, with payouts depending on which space lands, the safest bet is on the 1 as it occurs the highest number of times.
What is the maximum multiplier in Crazy Time?
The maximum is a 20,000x Multiplier.
What is the trick to winning Crazy Time?
We can't give you any Crazy Time cheats, but we can advise you to focus your bets on outcomes with the highest probability and cover as much of the wheel as you can within your betting budget.
Get in on the action
Sign up now for the latest bonuses, promotions, and new online casinos.
Have You Found What You're Looking for?
Your feedback is paramount!