Asgard Deluxe Slot Free Demo: Check It Out Online or on Mobile
If you have tried the original Asgard slot, you will know well enough what to expect from this revamped edition. Moreover, you may recognise some of the game's features and mechanics from other top Norse mythology hits. However, if you have not played these types of slots before, then there is a great way to become acquainted with Asgard Deluxe – play it for free, on your computers or mobiles.
Asgard Deluxe was launched in June 2021, so it has all the mod-cons when it comes to mobile-friendly wagering menus, easy to read paytables, crisp graphics and top features. Moreover, its HTML5 design ensures that you do not need apps or software to enjoy the game on the go. Whether you wish to play Asgard Deluxe for real money or as a free-to-play demo, you can expect to have a crack at the slot using nothing more than any mobile or tablet's browser.
Play Asgard Deluxe for Real Money at One of These Top Online Casinos
Game Features & Bonuses
Quickplay and Autoplay Modes
Asgard Deluxe allows you to use unique options when wagering. There is a thunderbolt symbol located on the wagering menu. One Thunderbolt indicates that average spin speed is in play. However, if you alter it (by clicking on it) to two thunderbolts, then you can speed up the rate of play, with the reels rapidly coming to a halt on each spin.
At the same time, you can opt to place consecutive bets at the same stake. The play/arrows button allows you to choose between five and one hundred automatic spins for the same stake. Alternatively, you can use the infinity button to play automatically until you either run out of funds or until you give the game the command to stop auto playing.
Note that neither option alters the wagering range in Asgard Deluxe, which stretches from $0.30 up to $7.50 a spin.
243 Ways to Win
Some may just consider the 243 ways to win payline structure a feature. The reason for that is this – having 243 ways to win essentially means that there are no paylines in play – not in any real sense. You only need to acquire three or more identical symbols on adjacent reels (starting with the first reel) to bag prizes.
Randomly Triggered Progressive Jackpot
You can trigger a progressive jackpot at random in this game. The progressive prize has a starting value of $100,000 and can be added to any previous winnings you have won. This is one of the critical differences that help Asgard Deluxe stand out from its similarly themed competition.
Multiplier Wilds
Multiplier wilds can appear as green "W" symbols, and they will double the value of any winning combo they star in. There are also plenty of further wilds, and these have their own perks. We will look at those in the following sections.
Scatters
All it takes is three Yggdrasil (tree) symbols to activate a Picking Bonus. It is also worth noting that scatters double up as the best-paying symbol in the game, save for the progressive jackpot prize, of course, delivering wins of up to 2,000x a bet.
Four Free Spin Rounds
Once three scatters appear, a Picking Bonus will let you pick from four free spin rounds. This is considerably different from the original slot, where they were unlocked progressively whenever you triggered the feature so many times. Your choices include:
15 free spins with 3x multipliers applied to all wins.
20 free spins with Bursting Wilds appearing on the third reel and spreading to random symbols.
25 free spins with random multipliers wilds appearing on the second to fourth reels. The multipliers can range from 2x to 6x and multiplier against one another.
30 free spins with cascading reels and win multiplier mechanic.
Landing additional scatters on the reels will add further free spins to your tally in the bonus round you selected.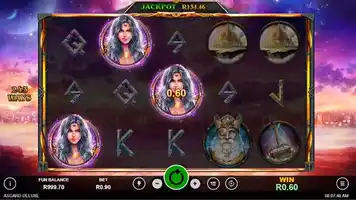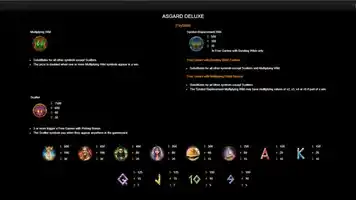 How to Play Asgard Deluxe
On the face of it, Asgard Deluxe is little different to playing any conventional five-reel slot. The added perk is that you do not have to worry about paylines, as merely landing identical symbols on adjacent reels is enough to promote wins. If you are not sure where to begin, follow these short steps to start betting on Asgard Deluxe today:
Open Asgard Deluxe in your browser when visiting any casino supporting RTG software.
Use the plus and minus buttons to adjust your stake from $0.30 up to $7.50 a spin.
If you want, you can opt to use the Autoplay button to wager on up to 100 consecutive spins or the thunderbolt button to speed up gameplay.
To land a win, you only need three identical symbols to appear on adjacent reels, starting with the leftmost first reel.
You can check the Asgard Deluxe paytable to find out what prizes are available.
Any win you land will automatically be added to your balance.
Main Prizes to be Won
As with most video slots, there are thematic symbols and high playing card icons appearing in Asgard Deluxe. Landing three-of-a-kind combos consisting of 9s through aces will result in a way worth no more than 150 coins.
The Norse deities are worth substantially more. Up to 500 tasty coins can be won if you acquire three-of-a-kind combinations utilising Freya, Loki, Thor, or Odin. Oddly, the scatters represent the best-paying icons in Asgard Deluxe, dishing out wins worth up to 2,000x a bet if five appear on the reels (anywhere on the screen) at once.
Naturally, the best prize is the progressive jackpot, which starts at $100,000. However, this is won at random, and it does not appear as though there is anything you can do to necessarily trigger it any quicker. Fate or luck will run the show in Asgard Deluxe.
Why do South African Players Enjoy Playing the Asgard Deluxe Slot?
Real Time Gaming has a great presence across the online casino world. However, they have a particular following in offshore casinos catering to players in South Africa, but also the USA, Australia and beyond. Asgard Deluxe is not the only progressive available to South Africans, with other popular options including Jackpot Cleopatra's Gold and Jackpot Piñatas, amongst others.
The use of the 243 ways to win payline structure, coupled with four free spin bonuses (and the option to choose between them), cheap stakes, and a progressive jackpot, will make any player sit up and take notice and South Africans are no different.
Betting Range
Many RTG developed video slots are notable for being cheap to play, and this game is no different. It utilises the same wagering range as the original Asgard slot. You are looking at an absolute minimum bet of $0.30 per spin, with maximum stakes capped at $7.50 a turn. This makes Asgard Deluxe affordable for all players, doubly so when you consider that it has a progressive prize up for grabs.
Mobile Friendly
Admittedly, the original Asgard slot was not what we would call mobile friendly. Its buttons were designed for an earlier era of computer-based users. The deluxe edition has finger and thumb-friendly wagering options. Moreover, it has been designed in HTML5. This ensures that you will not need to download cumbersome casino apps or software to play the game on the go – your browser will do nicely.
Progressive Jackpot
Asgard Deluxe has a progressive jackpot with a base value of $100,000, is uncapped and can be won at random. There is no indication that wagering larger sums of cash gives you an increased chance of landing the progressive prize.
Instant Play
As touched on, Asgard Deluxe is a modern remake (and enhancement) of the original Asgard slot. However, the remake and its predecessor have always been designed as instant play titles, with no downloads necessary. This means irrespective of which games you want to play, or the device you want to play them on, you can expect to do so using nothing more than your computer, tablet, or phones' web browser. Playing this game literally involves nothing more than opening your casino and tapping (or clicking) on the game.
Similar Slots
With so many video slots available in the online casino world, it is no surprise to see many of them have similar themes. Norse mythology-themed slots are not new, and they have been popular for a few years now. NetEnt's Vikings is loosely based on the hit television show of the same name, and Yggdrasil has won over the crowd with their Vikings Go series. However, thus far, the frontrunner in the business has been Microgaming's Thunderstruck II.
Asgard makes an impression on RTG players, who often cannot play games from those other providers listed above. However, it lacked behind Thunderstruck II in terms of how it worked. It is no exaggeration to say that Asgard Deluxe (with its added and redesigned features and jackpots) is not just capable of being on par with Thunderstruck II but can certainly give that Microgaming title a run for its money as one of the best Norse-themed slots on the market.
About Playcasino.co.za: 
Playcasino.co.za is the no1 guide for online gambling sites in South Africa. If you're looking for the best free spins no deposit casinos, make sure to check our selection.
Why Should You Trust Us? 
When it comes to the gambling online South Africa, Playcasino.co.za has gathered a team of experts: SA gambling industry veterans to provide you with unbiased and well-informed opinions on the online casinos. We want you to be able to sit, relax, and enjoy your favorite casino games, so we've thoroughly researched, tested, and analysed everything that counts in the world of online gambling: reliability, safety, user experience, bonus offers, promotions, customer support, etc.
Therefore, you can rest assured knowing that we've done the legwork for you so you can safely enjoy your favorite casino games online.
Check out our full list of online casinos' reviews, and have fun!
Other Slot Games You Might Like
FAQs
Does the Asgard Deluxe Slot Have a No-Deposit Free Spins Bonus?
This will ultimately depend entirely on the online casino you play at. Many RTG casinos regularly support no deposit and free spin bonuses, so your odds of finding one that is compatible with Asgard Deluxe are reasonable.
Is a Free Play Version Available?
All RTG slot games can be played for free and with real money wagers, and this one is no different.
Can I Play the Asgard Deluxe Slot for Real Money?
Of course. Any online casino supported by Real Time Gaming software should let you play Asgard Deluxe with real money. They would not be much of an online casino if they did not.
How Much Money Can I Win Playing the Asgard Deluxe Slot?
Officially, the non-progressive jackpot is capped at 2,000x a bet in Asgard Deluxe. However, as the game carries a progressive jackpot, the true figure you can win is theoretically limitless.
Yes. Asgard Deluxe has a randomly triggered progressive jackpot. That prize has a base value of $100,000 and can only get higher.
What's The Theme of This Slot Game?
Asgard Deluxe is a Norse mythology-themed slot. For those not in the know, this is a theme loosely based on the deities and gods worshipped by the Vikings and Norsemen of history.
What are some of the best features in this game?
The 243 ways to win feature makes it easier to win, and the progressive jackpot is always welcomed. However, the ability to choose from four free spins bonuses rather than unlock them as you had to in its predecessor is clearly the standout thing in Asgard Deluxe.
Get in on the action
Sign up now for the latest bonuses, promotions, and new online casinos.
Have You Found What You're Looking for?
Your feedback is paramount!