Exploring Refund Policies and Terms
The first step in getting money back from an online casino is to view the casino's refund policy. Most casinos have firm rules about refunding players in their Terms & Conditions. These usually include conditions for refund eligibility, time limits, and amounts. You need to understand these Ts & Cs before you proceed.
If you made a deposit into your South African online casino account and want to cancel it, you'll be allowed to. These types of withdrawals are straightforward. There may be limits on how much you can withdraw at a time, however. You will also have to prove your identity. This is to stop unauthorised chargeback claims and fraudulent withdrawals. If you follow the required steps, you should have your money back in your account in one to three days.
But if you've deposited money, lost it playing, and want a refund, this chargeback claim will be rejected. This doesn't mean that there aren't ways to get your money back if you've been cheated, however.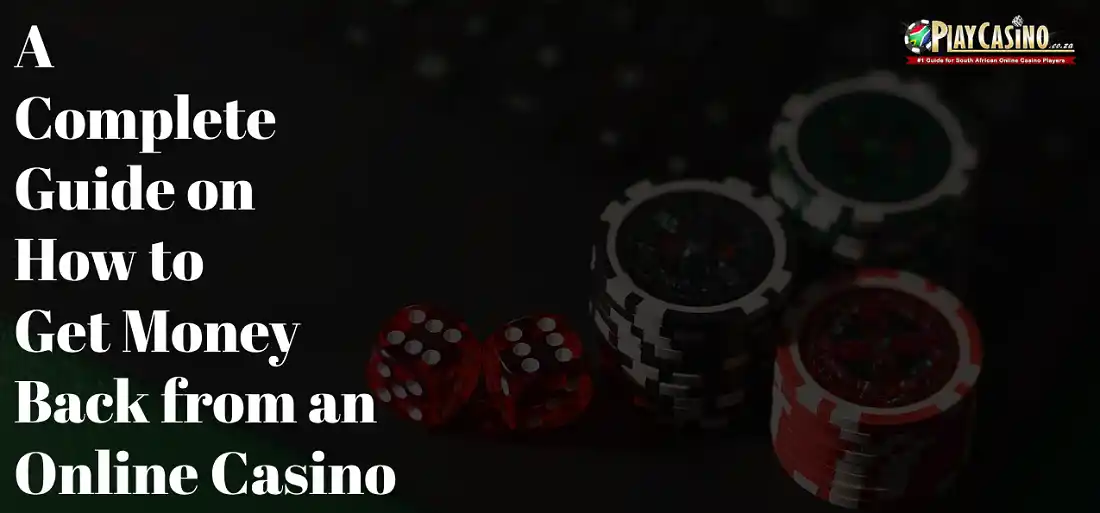 Validating Accounts and Transactions
If you want to make a normal withdrawal or get the casino to give you your money back, you'll need to provide certain information. This includes:
A Copy of Your ID
Your ID book/smart ID card or passport.
Your Personal Information
Contact details, date of birth, and full name.
Proof of Address
A recent bank statement or utility bill showing your full name and physical address.
You can then request the operator to cross-check your bets and transactions if you think there's money missing. This will be the best way for the online casino to find discrepancies and mistakes.
Documenting Issues and Complaints
As soon as you notice a problem, contact Customer Support. This is how you can find out how to get money back from an online casino. Log whatever payment or withdrawal issues you're having with Customer Care. We also suggest that South African players capture errors and/or technical glitches with their cameras. This is an excellent way of keeping record of what's happened.
Leveraging Chargebacks
Every player has the right to request a chargeback if they feel they've been handled unfairly. The procedure for doing this involves:
Reading the Terms & Conditions to find out about the site's chargeback policy.
Contact the casino's Customer Care team to explain why you feel you deserve a refund.
Waiting for resolution if you qualify for the chargeback.
Seeking Mediation and Arbitration
If you're convinced you have a case and the casino is wrong, it's recommended that you explore Alternate Dispute Resolution. This option is not as expensive and takes less time than court processes.
You can also contact the casino's regulator for support. Along with the National Gambling Board, international gambling jurisdictions take disputes very seriously. This list includes:
Curaçao Gaming Control Board
Gibraltar Regulatory Authority
Kahnawake Gaming Commission
Malta Gaming Authority
UK Gambling Commission
Online mediation services are also a good option but mediators may charge a fee for their services, and this may be in a foreign currency, and not ZAR.
Complying with Anti-Fraud Measures
Online casinos use Know Your Customer (KYC) protocols to verify your identity. Like FICA, KYC processes also prevent fraud and track transactions. When you sign up for an online account and prove your identity and age, you'll have complied with the KYC requirements.
You should also make sure that you meet all wagering requirements if your online casino refund is related to a bonus. By making sure you are who you say you are, casino operators prevent South African players from abusing bonuses and minimise fraud risks too.
Utilising Online Casino Watchdogs
Did you know that one of the best ways to avoid an online casino chargeback is by using sites like PlayCasino? Our researchers thoroughly investigate casinos so that you're safe from dodgy dealings. Do your research before you sign up and deposit any money to avoid being scammed.
While PlayCasino won't be able to help you on the legal side, if something does go wrong and you contact us, we can blacklist the casino. This helps other players avoid making the same mistake and it's a powerful weapon against casinos that aren't treating their players properly. When you use Accredited Casino Complaints Services, you can get the word out to thousands of other players online.
Evaluating Legal Recourse
Make sure you understand the jurisdiction and laws applicable to your complaint. Do this before you consult with consumer/gambling lawyers to avoid wasting time and ensuring you can initiate the correct legal action.
Preserving Evidence for Claims
Gather all the screenshots you took, keep records of chats with Customer Care, and save all your emails to ensure you have evidence of your issue and claim. Documenting your efforts to resolve the situation will give you a firm foundation.
Make notes of any casino policies relevant to your situation and save records you have of your transactions as proof.
Escalating Complaints to Licencing Authorities
You can identify the casino's licensing body by searching the site's homepage. This information is usually found near the footer. Then a quick online search will tell you how to contact them, and you can start the complaint process. These regulatory bodies are in charge of licensing. If a casino is acting unlawfully, they may revoke the operator's permit.
Emphasising Responsible Gambling
While the PlayCasino team can help you out with how to get money back from an online casino, you can't just ask for money you've lost to be refunded. Avoid getting into a desperate situation by knowing when to walk away. Responsible casinos offer deposit and loss limit setting options. Use them! And if you notice any of the warning signs of gambling addiction, seek help immediately.
Handling Cryptocurrency Transactions
Using cryptocurrency at South African online casinos has many advantages, but the big downside is that it doesn't allow for refunds. Theoretically, with a credit card or EFT transaction, you could get a refund if the casino is at fault. Because cryptocurrency is decentralised, this option is not available.
If you use crypto, you'll need to manage your deposits carefully and be 100% sure about the amount you wish to spend. You'll also need to ensure that you give the casino the correct wallet details when you withdraw. Plus, you'll need to remember that crypto is very volatile, and its value can change quickly. This can mean that your winnings are greatly reduced if the value drops.
Learning from Industry Experts
Whatever your experience with South African online casinos, there's an expert with more! The internet is a wonderful place for accessing information, and you can see what professional gamblers have to say about all sorts of things. Join gambling forums and communities and rely on sites like PlayCasino to eliminate the need for refunds.
Monitoring And Verifying Refunds
As you pursue your refund, remember to track its status and note its progress. That way, if things get to the point where lawyers are involved, you'll have a record. Get confirmation about refund amounts and methods, and consider resolving issues with partial refunds. This is sometimes the best-case scenario.
FAQs
Can I always get my money back from an online casino?
No. It's actually quite a difficult process, so make sure you're in control when you deposit money into your player account.
How long does the refund process usually take?
It can take up to four months to resolve a refund request.
What should I do if the casino is unresponsive to my refund request?
Take your complaint to the licensing jurisdiction and report it to Casino Watchdog sites like PlayCasino.
Are there any risks involved in initiating chargebacks?
Yes. Your account at the online casino will almost definitely be closed, whether your chargeback request is fulfilled or not.
How can I prevent disputes and refund issues in the future?
Limit your gameplay to licensed, reputable sites with a good track record. You'll find a long list of these at PlayCasino.
Get in on the action
Sign up now for the latest bonuses, promotions, and new online casinos.
Have You Found What You're Looking for?
Your feedback is paramount!