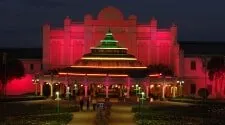 Province: North West
Address: Old Warmbath Road, Temba, North West Province
Phone: +27 12 718-7777
Fax: +27 12 718-7207
Email: carouselinfo@suninternational.com
Website: www.suninternational.co.za
Directions From O.R. Tambo International Airport (± 95km)
Head south on Short Term Parking Rd
Take the 1st right toward Exit 46
Slight right toward Exit 46
Take exit 46 for R21 N toward Kempton Park / Pretoria
Take the ramp onto R21
Take exit 134 to merge onto N1 toward Polokwane
Pass the Stormvoel, Zambesi, Pumulani, Walmannsthal, Murrayhill and Hamanskraal off-ramps
Take The Carousel exit
Pay toll fee at the Toll Plaza and drive into The Carousel
Overview
The Carousel, part of the Sun International group, was opened in the early 1990's and has since become one of the most attractive casinos in the country. Situated a convenient 60 km out of Pretoria in the North West Province of South Africa, The Carousel offers a fun and jaunty entertainment environment with the added advantage of top quality accommodation and natural surroundings.
The Nickelodeon regularly hosts concerts and shows, while the Sports Arena is home to national and international sporting events. The Carousel is well known for paying out literally millions of rand in prize money and has created a millionaire's club of over 100 players since its grand opening.
The Carousel Casino
The Carousel Casino is one of South Africa's most sought after gambling establishments, not only because its convenient location, but also because of its sophistication and quality entertainment. The casino boasts a totally coin-less gambling environment and uses Smart Card technology for this purpose.
The casino floor houses 700 slot machines in a variety of formats, themes and payout ranges. Wagering denominations begin at 2c and rise to R100, with every type of player considered. Slot games range from traditional reel style to video screens, video poker and unique offerings found only at the Carousel. Players can try their luck on the progressive Poker Magic game to win life-changing amounts of money for relatively very little investment!
The Carousel offers twenty gaming tables overall, with nine of them situated in the smoking section. These games include blackjack, roulette and poker. For gamblers looking for an exclusive gaming solution, where the games come with higher denominations, the Crystal Club offers the perfect venue. Access to this club is open to Platinum and Gold MVG card holders.
The casino also provides a smoking lounge on the casino floor for visitors to enjoy light snacks, a fully serviced bar and a place to put up their feet and watch the latest sports competitions on giant plasma screens.
Dining Bank
There are three restaurants available to patrons at the Carousel – the Players Restaurant situated near the casino floor that offers three course meals, Giovannis Restorante with its superb Italian cuisine, and Squires Loft Explorers Club, famous for its delicious steaks and other meat dishes.
Accommodation
Those seeking quality accommodation at the Carousel will find it at the four star Carousel Hotel with its stunning Victorian décor, combined with modern touches. 57 rooms are available, including a luxury presidential suite, all with incredible views and the use of the swimming pool.