In this online slot game the symbols on the reels are the standard fare and what you'd expect to find in a game with a cops-'n-robbers theme. These include policemen, cops' badges, police cars, doughnuts (of course!), handcuffs, robbers, banks and lots and lots of cash. The reels are set against the background of a bank that is on the verge of being robbed. You can feel the tension in the air!
Cash Bandits 3 also has a catchy, jazzy background tune with adds to the fun, overall ambience.
Cash Bandits 3 manages to retain the charm and cartoonish nostalgia of the first two games in the series, but you'll also notice a vast improvement when it comes to smooth animations and exciting sound effects.
Cash Bandits 3 has been optimized for desktop and mobile play, so that you can essentially play this title wherever and whenever! Once you start playing on these 5 x 3 reels, we can assure you that you won't want to leave this game for a long time.
Gameplay & Bonus Features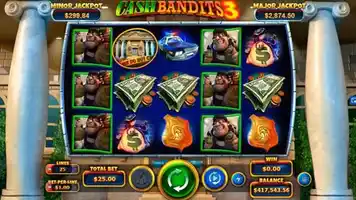 CASH BANDITS 3 SLOT IS AVAILABLE FOR FREE PLAY (WITHOUT DOWNLOADS OR CASH DEPOSITS)
Whenever RTG releases a new game, it usually creates quite a marketing buzz surrounding the event. It's done a remarkable job by preparing the industry for the new Cash Bandits 3 release and South Africans have been counting the days towards the launch. Local players are also already familiar with the other two games in the series, and their interest has naturally been piqued with the news of a new release. Now that it's happened, we can see that the wait has been well worth it.
But before you spend a single cent on Cash Bandits 3, did you know that you can play the game for free? This is not a new option, and practically all RTG slots can be played for free at some of the best SA-facing online casinos.
The free play feature is essentially a way to play quality online casino games for fun. This is a super marketing tactic used by software companies and online casinos alike, to encourage players to try out the games. The idea is that you will fall in love the game and hopefully start playing for real money.
SA players have nothing to lose and everything to gain by playing Cash Bandits 3 for free. This is truly a fantastic way to get a preview of the new slot by RTG and find out if you want to take things further in the game. From our experience? We are sure you will!
When you visit PlayCasino, head straight to Cash Bandits 3 slot and find the game's icon. When you press the 'Play for Free' button, you'll be whisked straight to the game page at a popular South African online casino and you can play with no deposit required at all!
What better way to play a new online casino, without the hassle of signing up at an online casino or even registering with one. This is a safe and risk-free way of trying out a new RTG slot without spending any of your own money on a trial-run.
We know that you could take our word for it that Cash Bandits 3 slot is a great game, but we also know that you'd prefer finding out for yourself. We can't think of a more practical and entertaining way of trying out Cash Bandits 3 than playing it for free at a reliable South African online casino.
You'll find Cash Bandits 3 slot at plenty of online casinos that offer games by Real Time Gaming. RTG slots are particularly popular among South African players, and Cash Bandits 3 will make the list of the best slot games to date. Of this we can be sure!
Why are we so positive that you'll love Cash Bandits 3? You just have to take a look at the great bonus features that this game comes with. We've already talked about the look, theme and feel of the slot, but the bonus features add a whole new element to your game play experience!
The wild symbol in the game is the Robber which appears quite often on the reels and creates spectacular wins in the base game and free spins game. We love the animations that come from a bunch of wild robbers running across the reels when they appear on the screen.
Unlock the vault in the Mini Vault game to kick-start the Free Spins feature. For each correct number that you choose, you'll reveal your multiplier value and the number of free spins that you'll be awarded. With a lot of good luck, you could be looking at nearly 400 free spins. Even better, the top multiplier on each free spin could be up to 23 x! These are some of the best returns that we've seen on a slot game in a long time.
When you play Cash Bandits 3 slot for real money, you are, of course, putting yourself in line to win real money. There are no two ways about it. And when we say lots of real money, we mean it. The top jackpot amount could be up to 115,000 x! In the main game, the top cash prize is 5,000 x your stake.
And lest we forget, there are two progressive slot jackpots up for grabs. Look out for the Mini and Major jackpots that can be triggered randomly in Cash Bandits 3 slot.
All in all, this is a high variant slot game with a RTP percentage of 96%. Payouts appear every 5 – 7 spins.
We'll give Cash Bandits 3 slots a 10/10 for originality, bonus features, payouts and entertainment!
Other Slot Games You Might Like
Get in on the action
Sign up now for the latest bonuses, promotions, and new online casinos.
Have You Found What You're Looking for?
Your feedback is paramount!