Chicken Overview and Theme
At MyStake Casino, you'll find this game in the mini-games section. When you come across a game called Chicken, you think of farmhouses and barns. But this game is far from these images. It is a simple game where you either have chickens or a bone and the round stops.
These games are not high on graphics. Only the chickens and bones consist of solid imagery. There are 25 platters with domes and metal cloches, as they are called. They are set in a 5x5 grid. This grid is entirely diffused, with the focus being on the chicken and bone when they are uncovered. 
The only animation is the platter being swiftly uncovered in a single click. There is no soundtrack other than that click of removing the cloche. This keeps your focus on your bravery and your next move.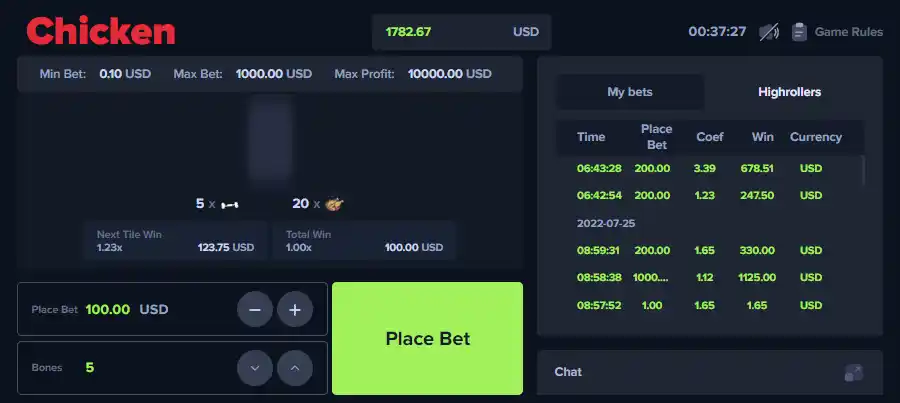 How to Play Chicken
When the game loads, you'll see a grid of 5x5 metal dome-covered platters; 25 platters in all. There is a roast chicken image and a bone image. There are numbers next to each. A small panel below reveals how much you'll win if you uncover a chicken and what will be your total win. 
The top of the screen contains the round's minimum and maximum bets, the payout ceiling, and your current balance. At the bottom, you'll see a Place Bet button. Next to the button are the bones' variables and their best values. The values will be adjusted by multipliers. 
The aim of the game is to uncover as many plates of chicken as you can without revealing a bone.
A statistics panel on the right allows you to keep an eye on your bets, and how much time has elapsed since their placement. You can also see how much you've won, and your win co-efficient, i.e., your bet-to-win ratio. The entire point is how brave, or greedy, you can be.
Play Chicken in Demo Mode for Free
Chicken will be a new game for a majority of players, and new games are best played in demo mode before you decide whether you can win reasonably. You learn the gameplay, understand the layout and controls, and see the game's payout potential, all without risking your money.
You can play demo games only for entertainment if you are not a gambler. Demo games are great marketing tools for studios which created them and the operators which make them available. You can play the demo version at MyStake Casino. However, to play in demo mode or for real money, you need to have an account.
Where to Play Chicken
Unfortunately, you can only play Chicken at one place, and that is MyStake Casino. You will find the game in the Mini Games section.
Play Chicken Game at Mystake Casinos
Chicken Features
The features of this game comprise the layout and math behind the payouts. 
Bonus
At present, MyStake Casino is the only place where you can play Chicken. They have a welcome bonus offer of up to €1,000. If you deposit between €20 and €200 you get a 150% bonus. Deposits between €201 and €1,000 come with a 100% bonus. See if the game qualifies to play with the bonus. There may be other, regular bonuses, with which you can play Chicken.
Multipliers
Multipliers decide the intensity level of the game, and you can choose it. It's you who decides how many plates will contain bones. It would be natural to choose one, but even if you choose 24, the payouts are adjusted. Your chances of winning with 24 bones and 1 chicken are very small, but a large multiplier balances the risk. 
The multiplier can be found below the active numbers of chickens and bones near the icon 'Next Tile Win'. The multipliers vary according to the number of active chickens and bones in play. Multipliers range from 1.3 times for one bone on the grid to 24.75 for just one chicken. 
Collect
The game allows you to give up any time you want and collect your wins. If your nerve runs out, look for the amount you've won up until that time. If you're happy with it, click on the red button with 'Cashout' written on it. The win amount will be added to your balance, and you can hope to stick around a bit longer in the next round. 
Randomized Results
Chicken is a proven fair game supported by blockchain technology. All bets and actions are verified. The configuration of the game at the time of placing the bets is represented by a string of letters and numbers, called a hash. The hash can be verified to prove that no one altered the initial bet or the result. 
Play the Chicken Game for Free Right Now!
Tips to Win at Chicken
You can use certain strategies to win at any gambling game, but tips don't guarantee wins. However, if you apply them constantly, you may get better at winning. Here are some general guidelines you can apply, and not just to play Chicken.
Play in Demo

The more you play the game, the better you will get at it. And practicing in demo mode is the best way to do it. You will get better acquainted with the controls and features. You will come to know, which combination of chickens and bones works best and how the multipliers behave. You will be able to strike a better balance between cashing out quickly and risking it by continuing to uncover.

Brave or Greedy?

It's natural to want to play with 24 chickens and a single bone on the 25 platters on the 5x5 grid, but the multiplier will seem too small. On the other hand, to get the highest multiplier, the scenario is reversed. So, you need to strike a fine balance between small wins and the big ones.

Bets and multipliers

A good strategy for any game is to bet big with low multipliers, and vice versa. Small bets with big multipliers make for infrequent wins but keep your balance stable. Big bets with small multipliers make for frequent, but small wins.
Our Verdict on Chicken
Chicken is similar to the mines game and JetX, which you may have played recently. Such games have one premise: Either keep playing for more wins or chicken out and collect. Instead of being distracted by sophisticated graphics, animation, and audio effects, such a game allows you to focus on your winnings and your next decision. 
Chicken is a game of both chance and skill. The skill lies in selecting the intensity of the game. It all depends on the combination of chickens and bones and their multipliers. You decide how much risk you want to take to keep on winning, and when you want to, well, chicken out. 
FAQs
Chicken is a game where you select how many chickens and bones are to be kept in 25 platters on the 5x5 grid. You keep lifting the lids to reveal as many chickens as you can. When a bone appears, the round ends, and you lose the bet. The point is how brave you are to keep lifting the lids to reveal chickens and increase wins, or whether you'll cash out after uncovering just 1 or 2 chickens.
What is the RTP of Chicken?
The published RTP is 97%, but it will vary according to the round's intensity. The RTP will vary according to the ratio of chickens and bones on the platters.
Are there any Winning Strategies?
The best winning strategy with Chicken, and similar games, is to ensure a good balance between the numbers of chickens and bones on the platters. The multipliers depend on the combinations.
Get in on the action
Sign up now for the latest bonuses, promotions, and new online casinos.
Have You Found What You're Looking for?
Your feedback is paramount!