Frog Fortunes Slot Free Demo: Check it out Online or on Mobile ?
It is always best to try out a new slot release in the fun play mode before you begin to play for real money. This gives you a chance to try out the game with fun money to see how it works and how it pays out. This is good advice both for veteran players and those who play games from time to time. Even if you already know RTG games well, you should check out a new slot because they each have their own special features and payout combinations. Once you have tried out this slot in the fun play mode and you like what you see, then get some spins in for real money. 
 In order to try out this game you need to use the Flash plug-in on your browser; Chrome will still allow the Flash plug-in until December 2020. Information in this review can help you decide if you want to play the Frog Fortunes slot in the demo mode since all players are individuals and have different preferences. Keep reading to see what expectations you can have of Frog Fortunes with respect to winnings and entertainment value. 
Gameplay & Bonus Features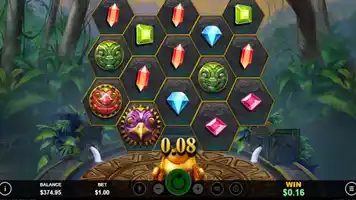 Game Features and Bonuses ✨
?Random Jackpot
Frog Fortunes does not come with a progressive jackpot or a random jackpot feature. The slow has low volatility which means you are likely to win smaller amounts more often. There is only one special feature that comes in two parts. The 243 ways to win gives greater potential for hitting a winning payline with wins up to 150x your bet without special features in play. 
?Turbo Play
Turbo Play is a much sought after feature in slot games and is found in most of them. RTG slots come with the turbo option which makes the reels spin faster. Game reels take a few seconds to gradually come to a stop when playing in the normal mode. The Turbo Play mode reduces the time for the reels to reveal the symbols after each spin. 
Although the reels are fairly quick in the Frog Fortunes slot game, they go faster in the Turbo Play mode. Turn this option on or off by clicking on the lightning bolts seen on the left of the spin button. While you can use this option, we suggest you first try out the slot in the normal mode so that you can check out the game more thoroughly and enjoy it more especially while playing in the fun mode. 
?Fun Play 
Although we have already explained all you need to know about fun play above, it is worthwhile emphasising the importance of trying out a slot in the free demo mode before you risk playing with your heard earned money. In addition to getting to know how the game plays out in advance, you can also try out the different betting levels to see which the optimal choice is for you. 
Do remember that the free money fun play games are great to play, however, you do not receive real money wins until you place your stake with real money bets. Fun play in the demo mode is an excellent way to keep yourself entertained even when you have no plans to gamble or play the slot for real money. 
?Auto Play
Auto Play is a great setting that is available on almost all slots. You can set the Auto Play option to spin the reels automatically without you needing to touch your screen or click on a mouse button. Of course you can spin the reels yourself every single time but if you prefer the software to spin the reels for you the Auto Play option does the trick. You can find the Auto Play button on the main console. It is situation to the right of the regular spin button with a continuous circular arrow. It is similar to the regular spin button but smaller and less conspicuous. 
Simply click on the Auto Play button and select the number of spins you want the software to spin from the range provided. Even if you choose the Auto Play mode, you can also stop Auto Play at any time. Simply click on the Auto Play button again and stop the automatic spins. Make sure you pick the betting level you wish to play for the entire set of automatic spins because you cannot change the betting size in the middle of Auto Play spins. 
?Exploding Feature
There is an exploding bomb feature in the Frog Fortunes slot game. This is the only special feature that can come with cascading reels when there is a win. Although there are no other special features, the exploding bomb feature appears quite often. You will see one or more bombs with lit fuses on the reels. When the fuse burns down the bomb explodes destroying some of the symbols around it. 
There are 8 pre-set blast patterns, 2 of which can appear as mirror images creating a total of 10 possible patterns. The bomb can remove one other tile or as many as 8 extra tiles. All the empty spaces are filled with the same symbols. The symbols are randomly chosen each time the bombs explode. If two bombs explode at the same time, the same symbols appear in all the spaces. If a new winning combination forms on the reels you get a payout after which the cascading reels feature begins. 
?Cascading Reels 
There are many slots that come with cascading reels on all spins. This means that when there is a winning combination, the winning symbols disappear after the payout takes place. New symbols cascade onto the reels and could form new winning combinations. If they do, the process continues until there are no new winning combinations. In Frog Fortunes the cascading reels only take place when there is a winning combination on the reels after a bomb has exploded. The game has set a maximum possible win amount of up to 50,000 times the base bet. Should this feature reach this payout size, it will stop and you can then play a regular spin. 
How to Play Frog Fortunes
Frog Fortunes is a standard 5-reel video slot with 3 rows and 243 ways to win. This slot has fairly simple gameplay since it does not have many special features. Since it is easy to play it is easy to figure out how you want to play the game when you first play for fun in the demo version of Frog Fortunes. Although the game is a regular video slot, the following steps can help you get started even for play in the fun mode: 
Load the Frog Fortunes slot on your internet browser. 

Decide on the size of your bet and pick the amount you wish to wager using the plus and minus buttons on the sides of the big green spin button. You can also click on the stack of coin symbol seen to the right of the plus button to jump straight to the maximum bet. 

Click on Auto Play if you wish to have the reels spin using the automatic option and choose the number of spins you want at your current betting level. 

For maul play simply click on the green spin button found just under the golden frog in the centre of your screen. Each time you press this button the reels will spin and then stop. Click again for the next spin. 

If the exploding bomb feature triggers, simply wait until the feature finishes and cascading reels have stopped before taking your next spin.

If you hit a winning combination, the software highlights this on the reels and the amount you win pops up. The win for the spin is seen under the Win heading on the right hand side of the spin button. When the spin is complete, including any special feature wins, the winning amount is added to your balance. If you did not get a winning spin, the software reduces the amount in your balance by the size of the bet you picked for the spin.
Main Prizes To Be Won ?
Frog Fortunes is not a progressive jackpot slot game so there are no main prizes available. Wins are calculated when similar symbols appear from the left hand side across the reels according to the paytable. Each of the symbols has a value assigned to it and payouts take place according to these values. 
The bomb feature and cascading reels do result in more payouts however payouts are still calculated according to the original paytable. The difference is that there can be multiple payouts as a result of a single spin. 
Why do South African Players Enjoy Playing Frog Fortunes Slot? ?
Frog Fortunes is a recently released slot so we do not yet know how popular it will become amongst South African players. However, the ancient civilisation theme is popular with players. RTG slots such as Secret Jungle and Secret Symbol have been popular slots in the past. 
Although the cascading reels only appear as a special feature, this is a popular feature with players around the world. While the slot is missing some of the standard features like wilds, scatters and free spins, it does have the exploding bomb feature that gives players something more unusual to look forward to. It does look like this game will be a hit with South African casino players. 
✅ Betting Range:
The betting range for Frog Fortunes ranges from $0.25 up to $25. This means it is good for players who prefer to place bets in the low to mid-range, but it is certainly not for high rollers. This means that the betting range for South Africans is from around R4 up to R400 per spin.
✅Mobile-Friendly:
Since mobile gaming is so popular today, slots are usually optimized for mobile first using software compatible with a wide range of devices from desktop computers to smartphones and tablets. Frog Fortunes is coded using HTML5 which is supported by iOS, Android, Windows Phone and other devices. Games are played using the device's browser. You can therefore play Frog Fortunes on the vast majority of mobile devices.
✅Progressive Jackpot
Frog Fortunes does not feature a progressive jackpot.
✅Instant Play
Since most online casino players have decent internet connections, players generally prefer to play slots and other games directly in their device browsers. This is true of players both on PCs and mobile devices. Now that this method of play is more popular, most gaming software providers no longer offer a downloadable version of their new game releases. Realtime Gaming only offers instant play via a web browser which means you can play Frog Fortunes online in real time. 
In order to play, simply navigate to the RTG casino you wish to play in, and pick the Frog Fortunes slot. The game quickly loads directly in your browser and you can begin demo or real money play depending on your choice. In order to have uninterrupted game play, you need to have stable internet on your PC or mobile device.
Similar Slots ?
There are a number of jungle and rainforest themed slot games such as RTGs Secret Symbol slot and the Secret Jungle slot. There is however one slot that is very similar to Frog Fortunes, and that is Fortune Frog that was released at the end of 2019 almost a year before this new slot release. 
Fortune Frog is in fact a very similar slot, however, it has a green frog, and not a golden one. This slot is also played on 20 fixed pay lines while the Frog Fortunes slot is a 243 ways to win game. While the two games have very similar features with the same symbols there are definitely differences in the way the game is played.
Play Frog Fortunes Slots for Real Money at these Casinos :
Other Slot Games You Might Like
FAQs
Does Frog Fortunes Slot Have A No-Deposit Free Spins Bonus?
Thunderbolt Casino currently has a free spins promotion in which you can get 30 free spins on the new Frog Fortunes slot if you made a deposit at the casino in October. You do not need to make a deposit specially to play these free spins. 
Is a Free Play Version Available?
Frog Fortunes offers players the option to play in the Demo Mode or for real money. 
Can I Play the Frog Fortunes Slot for Real Money?
Frog Fortunes has been created for real money play for all players at RTG casinos. 
How Much Money Can I Win Playing the Frog Fortunes Slot? 
According to the paytable you can win up to 150x your bet as an initial payout with a single spin. However, since the cascading reels feature can kick in you can win even more from a single spin. The casino restricts cascading wins to a maximum of $50,000.
No, Frog Fortunes does not feature any progressive or static jackpots.
What's The Theme of This Slot Game?
The Frog Fortunes theme takes us deep into a rainforest with ancient artefacts where we find a golden frog and ancient carvings. 
What are some of the best features in this game? 
The slot only has one feature made up of two parts. We like the exploding symbols feature since this can add extra wins and trigger the cascading reels feature which can add even more wins from a single spin. 
Get in on the action
Sign up now for the latest bonuses, promotions, and new online casinos.
Have You Found What You're Looking for?
Your feedback is paramount!