Casino Launched::
01.12.2017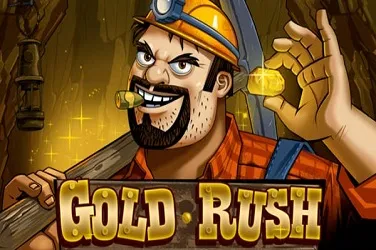 Gold Rush Free Demo: Try it out Online or on Mobile!?
If you've never played Gold Rush slot before, but it sounds like an interesting option, you'll be happy to know that you can play it for free! We encourage you to access the free demo of Gold Rush slot right here and play for free credits in fun mode.
You'll get a chance to check out Gold Rush slot without spending any of your money, and you can decide for yourself if you want to switch to real money play at your favourite Rival-powered online casino in the future. Free demo slot play introduces you to the features, theme and betting levels of the game without real-money play.  
You can play Gold Rush slot for free (or real money, of course!) from your mobile device or online off your desktop.
Gameplay & Bonus Features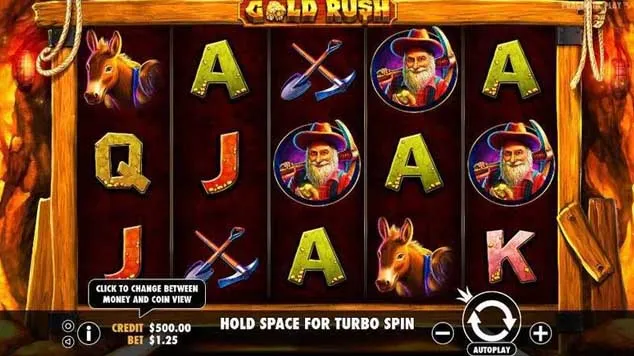 Game Features and Bonuses ✨
?Play for Fun
There's a lot to be said for the ability to try out slot games for free before you play them for real money. Thankfully, Rival Gaming offers its players the opportunity to play Gold Rush slot for free or in fun mode, to give them a feel for the game and test-drive the software.  You can play Gold Rush slot for free from this platform or at Rival casinos in fun mode. Opt for this mode, get free credits into your account and start playing for free today!
?Wild Symbols
Who's the most important character in a Wild West gold rush scene? It's the Prospector of course! He's the guy digging for gold or sifting through the waters for a lucky nugget. In Gold Rush slot, the Prospector is YOU!  The Prospector serves as the wild symbol and starts to apply coin wins when it meets up with other symbols on the reels to form winning combinations. For example, if you land two Bags of Gold on the reels, together with a wild Prospector symbol, the wild acts as a third Bag of Gold and you'll win for landing three of the same on the reels. The wild symbol appears on all the reels in the game and rewards no matter what bet amount has been selected.
?Multiplier
The multiplier feature in Gold Rush is linked to the wild Prospector symbol. When the wild symbol creates a winning combination, a 2 x multiplier kicks in and payouts are doubled. If two wild symbols form a winning combination, the rewards are quadrupled! In addition, any winning combo created by the scatter symbol will be immediately be doubled thanks to the 2 x multiplier.
?Scatter Symbol:
The Gold Nugget symbol acts as the scatter symbol in this game. If the symbol happens to turn up anywhere on the three enabled pay lines to complete a winning combination, you'll win.
How to Play Gold Rush Slot
Because this is a classic slot game, you won't have to spend any extra time learning how to play Gold Rush. This is the ultimate plug-'n-play slot.
Check out all the betting options available (below the reels).

Also check out the paytable displayed to the left of the reels, where you can see how much each bet provides if you wager one, two or three coins of the same value.

Choose how much you wish to wager, and how many coins. 

Take note that when you choose to play all three coins, you will win bigger payouts.

Once you've made your decision, spin the reels.

When the reels come to a standstill, you will see the outcome and if you have managed to line up winning combinations, you will receive the credits to your total. 
Main Prizes to be Won in Gold Rush Slot ?
We're not claiming that you can get rich when playing Gold Rush slot, but what we do know is that winnings come frequently. 
If you play with the maximum number of three coins, the available top return on Gold Rush slot is 400 coins.  But remember that wild symbol multiplier we spoke about above? Where we said that if two wild symbols form a winning combination, the rewards are quadrupled? If you apply this multiplier, you in fact stand in line to win the maximum payout of 1,600 coins, which is pretty decent in our books.
Some of the symbols with higher payouts include the Pan of Gold and Moneybag.
Why do South African players enjoy playing Gold Rush slot? ?
✅Classic Slot … With a Twist
If you're a fan of classic slot games, this is definitely a title that you won't want to miss.  There is something rather innocent about playing a simple, 3 reel, one line game.  On the other hand, Rival has managed to furnish Gold Rush slot with a wild and a scatter symbol, as well as multipliers, which is not always an easy feat on a game this size. This 'traditional-slot-with-a-twist' feel to Gold Rush slot could explain why it is still so popular so many years on.
✅Good Betting Range
When a slot has a good betting range, it immediately ups its appeal, for the simple reason that more players are drawn to it. We wouldn't call Gold Rush slot a high roller game because there are many others with much higher betting limits. But we will say that it's not limited to being a penny slot machine only. Yes, you have a minimum 0.01 betting limit if you want to stick to super-low stakes, but you can also bet the maximum 10.00 coin. Three of those give you a max bet of 30.000.
✅Mobile Friendly
Over the years, Rival Gaming has made nearly all its games playable on mobile, and that includes Gold Rush slot as well. South Africans like the fact that they can access the game from their smartphones or tablets, from wherever they may be and at any time of the day or night, and play to their hearts' content.
✅Pleasant, Whimsical Feel
Gold Rush slot doesn't boast about being a 3D slot with movie-like effects. But it does have some basic animations and fun cartoon images that give it a pleasant and overall whimsical feel.  Obviously, design choices are a matter of taste among online slot players, and it may feel a little old-fashioned to some players. But on the whole, this is a charmingly minimalistic game with the chance to win quite often.
Similar Slots:
Online slots that carry games with a Wild West and/or gold rush theme are highly popular. Think of all the action that can be had between the vibrant bars, games of poker, sexy saloon girls, wild landscapes and gold hunting. 
Some of our favourites are:
Dead or Alive slot by NetEnt – A true Wild West theme is carried across the 5 reels and 9 pay lines of this bonus rich slot.  Look out for the Wild Wanted Poster and sticky wild symbols, along with free spins.

Coyote Cash slot by Realtime Gaming – The 5 reel, 25 pay line game depicts the Wild West theme through animated characters that bear a strong resemblance to Wile Coyote and the Road Runner.  Bonus features include shifting wild symbols and a 10,000 x multiplier with a max bet.
Rival Gaming online casinos regularly offer players the chance to claim a no deposit bonus which involves free spins. If you redeem these types of offers, you can play Gold Rush slot for free without the need to make a real money bet.
Yes. There are several ways that you can enjoy a free version of Gold Rush slot. Search it out on this platform and take advantage of the free demo. Or play at your favourite Rival Gaming platform and play Gold Rush in fun mode with free credits.
Yes you can! Gold Rush slot is a real-money online slot that is found at most online casinos that offer Rival Gaming slots. The good news is that that SA players can play Gold Rush slot in ZAR and, course, get their winnings in local currency too!
That's a really hard question since nobody can predict how much they can win on an online slot game, and that includes Gold Rush. The one certain thing we can tell you is that in order to win money, you need to play with real money. Another tip, if you want to make the most of the opportunity, is to bet the maximum number of coins which puts you in line to win the top jackpot of 400 coins (or 1,600 with the 4 x multiplier in place).
Gold Rush slot does not have a progressive jackpot linked to the game. The top fixed jackpot is 400 coins.
Gold Rush slot probably fits into the Wild West theme, with a focus on the famous gold rush period.
We'd say that the best features of Gold Rush slot include:
Classic slot game by one of the leaders in the online casino software industry.

Simple, uncomplicated gameplay.

Great images and nostalgic animations.

Just the right amount of bonus features, including wilds, scatters and multipliers without too many features.

An excellent betting range so even that penny slot fans will feel right at home on the reels, but with the opportunity to wager bigger amounts as well (up to 30.00 per spin).