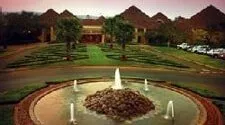 Province: North West Province
Address: Molefe Makinta Highway, Mabopane
Phone: +27-12-799-0000
Fax: +27-12-799-0000
Email: morula.mvg@za.suninternational.com
Website: http://www.suninternational.com/morula/
Driving Directions From Mabopane, Gauteng
R28 enters Pretoria and becomes Potgieter Street (Kgosi Mampuru).
Go past the Pretoria Correctional Services on your left.
Turn left into Skinner Street (Nana Sita Street).
Turn right into DF Malan Drive (E'skia Mphahlele).
Turn Left onto Mabopane Highway (Molefe Makinta Highway).
Take the Rosslyn Exit.
Turn right [in Rosslyn] into Doreen Road [also called Railway Rd & Hebron Rd]
Go [13.1km] along this road to Lucas Mangope Highway (Molefe Makinta Highway) and turn right.
Morula is on the left 3km along Lucas Mangope (Molefe Makinta Highway).
Travel up the N1 towards Polokwane
After the Zambezi Drive offramp
Turn left onto the N4 – Platinum Highway
Take the 4th exit R80 towards Soshanguve
Take the 3rd exit Ruth First Avenue – turn left
At the t-junction – turn right [follow signage
At the stop street – turn left
Next stop street – turn left
Straight down and drive into Morula Casino & Hotel's gate at the t-junction
Overview
The Morula Sun Casino and Hotel, owned and operated by Sun International, is one of South Africa's oldest and most respected gambling complexes. It is also well known for its excellent live entertainment, world class conference facilities, high class accommodation (the Morula Hotel) and family friendly activities.
The Morula Sun, while set on the banks on the serene Nooitgedacht Dam, is also well positioned to provide visitors with access to built up urban areas such as Pretoria.
Morula Sun Casino
The Morula Sun manages to keep ahead of the tough competition in the area by providing players with a gaming experience that is second to none. The casino caters to the needs of all players thanks to hundreds of slot machines, a significant number of table games, smoking and non smoking areas, as well as an exclusive Prive area. The casino operates 24 hours a day and seven days a week.
There are 510 coinless slot games on the main casino floor at Morula Sun, and players enjoy popular titles such as Wheel of Fortune and Sex and the City. The eight table games are also located on the casino floor, and they include Raise 'em Poker, among others.
Morula Sun runs regular promotions which allow players to increase their chances of winning, from roulette tournaments to lucky draws, and happy hours.
Dining and Bars
There is no shortage of top quality restaurants and bars to keep visitors more than satisfied. The Calabash Restaurant offers every type of cuisine, from pizza to tandoori, from salads to grills, from morning till night. For weekly live entertainment such as comedians, musicians, bands and more, the Lethabong Tavern is the place to be. The tavern boasts a fully license bar, big-screen televisions and pool. Prive casino players have access to the Letsatisi Bar 24 hours a day, where they are served fast food snacks and beverages, while Razoos Revue Bar is the perfect destination for party lovers.
Accommodation
Situated just 11 kilometers from the airport, the luxurious Morula Hotel offers visitors 3 star accommodation in the complex. The 73 rooms have all been decorated in warm, inviting colors, and they all overlook the Morula Gardens, with views to the dam and the guest pools. The hotel includes a presidential suite for ultra pampering.
Hotel amenities include internet access, an outdoor pool, tennis courts, a spa and salon.
The Morula Sun is also well known for its conference facilities and offers five meeting rooms, audio and visual technology, facilities for up to 350 people, excellent service and great food. Delegates to any conference or event can stay at the hotel and enjoy restaurants and bars at their disposal around the clock.
About Playcasino.co.za:
Playcasino.co.za is the no1 guide for gambling online sites in South Africa. If you are looking for best online casinos and gambling sites, make sure to check our selection.