Video slots are some of the most popular types of games at online casinos and there are several reasons for this. One of the main reasons is that slots are generally easy to play with a gentle learning curve.
That said, it should be noted that not all slots are created equal. There are going to be some variations in the game play, the controls, the bonus rounds, the different ways the paylines work, etc. Therefore, when you hop onto a new slot, it will take a little bit of getting used to.
Pro-tip: If available, during the learning phase, we suggest that you play the slot in fun-play mode. During the fun-play mode, you can play a slot for fun with dummy credits. This means that you don't actually have to put any of your hard earned cash on the line. Any winnings you earn or any losses you take during the fun play mode are just for names sake, it will not translate into real money.
This way, you get used to the slot and all its various features and bonuses. Therefore, not only do you get to decide if you want to play the slot for real money or not, but you are also prepared when it comes time to make a real bet.
A slot review can give you a lot of information about a video slot, but there is only so much words can say. Why not try the slot for yourself in fun-play mode? We have the slot in fun-play mode right here for you to enjoy. Go ahead and give it a go! Even if you are on your mobile phone right now, you can still play it since this is a mobile friendly slot.
Game Features & Bonuses
Random Jackpot: PayDirt is a progressive jackpot slot, but there is another prize that you can win and when you do win, it is going to be a great surprise right out of the blue, courtesy the Random Jackpot. The Random Jackpot is not a fixed number, it can vary. The value of the random jackpot at any given time is clearly shown right at the top of the reel set. Just so you get an idea – during the time of writing, the random jackpot value is at R48,000.37.
Being that this jackpot is 'random', there is no reason as to when it is triggered, it is just pure luck and may happen at any time.
Turbo Play: Once you get used to playing PayDirt slot, you will want to speed things up a little bit. You will be pleased to know that the PayDirt slot offers a turbo play option. Turbo Play will speed up the game in more than one way. We would suggest you get accustomed to the game before you use the Turbo play feature. In order to access Turbo Play, you can click on the menu button on the bottom left (just below the spin button) and then check the box next to Turbo Play.
Fun Play: Fun play mode is another great feature at PayDirt slot. As we have already described, fun play mode lets you try the slot with dummy 'fun-play' money. Therefore, any wins or losses aren't translated to actual money.
Auto Play: Auto play has become a common offering at online video slots and PayDirt is no exception. The Autoplay feature can be accessed by clicking on the Menu button to the bottom left of the reel set (under the spin button). In the menu, click on auto play options and you can configure the auto play on several criteria. This includes the number of auto spins, ability to stop auto play when jackpot is won, on any win, once a feature is triggered, if balance increases or decreases by a specified amount or if a win exceeds a certain amount – as you desire. You can setup anywhere between 5 auto spins to 1000 auto spins.
Wild: The wild symbol in PayDirt slot is denoted by the golden nugget. The golden nugget will appear on reels 2 and 4. It has the functionality of a standard slot wild and can be substituted for any other symbol in order to make a winning combination, except for the scatter symbol. Furthermore, if the wild symbol has formed a part of the winning combination, the combination will fetch you three times the win as opposed to the same combination without the wild.
Scatter: Scatter symbols can show up on any reels and the pay-out will be proportional to the number of scatters that appear. The least payout when you land scatter is 2 times your win. The highest payout when you land scatters is 200x your win, which is rare and only occurs when you five scatter symbols show up. The scatter is the Paydirt logo. To make a good situation even better, the scatter can even trigger the free spins rounds.
Free Spins: There are three spins features that you can win. It is determined by what appears when one of the scatters is selected prior the free spins round beginning. If the selected scatter reveals the gold rush feature, you will get 12 free spins with grouped wild nuggets on all reels. If the gold fever feature is revealed, you receive 5 free sins with the third reel showing up as a stacked wild. If the Strike it Lucky feature appears, you will get 5 gold mine symbols that boost the following 10 free spins with additional bonuses.
How to Play PayDirt
The PayDirt slot is a pretty standard five reel slot. If you have some experience playing slots, you should be able to figure out the game as you play. If not, the fun-play mode will serve as an excellent tutorial.
However, if you have played other RTG five reel, 25-paylines slots (like T-Rex slot) then you will know exactly how to play this game right from the get go. It is identical except for the theme.
In order to setup a bet and spin the reel, you can follow the below steps:
Load the PayDirt video slot (you will require Adobe Flash player plugin on your browser)
Select your stake – it can vary from 0.01 t0 250 Rands depending on how many active paylines you've selected. The stake can be set by clicking the up and down arrows besides the bet button which is the first button from left to right below the reel set.
Select how many lines you want to bet on – you can choose between 1 payline and 25 paylines. If you have 25 paylines selected, the maximum bet can be up to R250 and if you have just 1 payline selected, the minimum bet can be as little as R0.01
Once you have selected the bet amount and number of paylines, click the green spin button
If you want to use the auto play feature, click on the menu button which is under the spin button. Then, setup the number spins you want to auto play, and if the function should stop on any condition. The game will automatically spin the reels as many times as you have set it up to do so.
Main Prizes to be Won
We've already touched upon the random jackpot. This happens anytime and if you hit the jackpot, you will win an award in the order of around R50,000 on an average.
The biggest prize you can win is the jackpot, but instead of winning it in the base game, if you win it in a wild symbol then it is worth a whopping 30,000 coins (as opposed to 10,000 coins in the base game). Therefore, if you are to get four mine symbols on an active payline and one golden nugget symbol (wild) then the wild can be substituted for the fifth mine symbol and you hit the jackpot. In this case, since the wild has helped formed the jackpot combination the wins are tripled and therefore, you can win a jackpot of 30,000 coins.
Why do South African players enjoy playing PayDirt Slot?
There are many reasons why South African players flock to the PayDirt slot. Here are some of the aspects that make this slot South African friendly, which includes some perks that they simply cannot say no to.
Betting Range: Whether you are a conservative online slot player who likes to penny pinch and just play minimum stakes, or if you are high roller who wants to go big and take risks, this slot has everything you need. Depending on how many paylines you are betting on, you can bet as little as R0.01 or as big as R250 in just one spin.
Mobile Friendly: South African players like to play on the go. Whether you are at home, at work, in public or during your commute, you can play PayDirt slot on your mobile since it is a mobile friendly slot which is responsive in nature. This slot is compatible with iOS and Android smartphones and tablets.
Progressive Jackpot: PayDirt slot has a jackpot which goes up every time the game is played but not won. The stakes of all the prior losing games are added up and paid to the lucky person who ends up hitting the jackpot. Therefore, the potential of how much you can win is almost limitless.
Instant Play: You don't need to have an app on your phone or some special software on your PC to play PayDirt slot. This is an instant play slot which works using the Flash plugin on the web browser itself. So, there is no setup time, you can pick up any smart phone, go to an instant play online casino which offers PayDirt slot and start playing. You just need to be connected to the internet.
Available at South African friendly online casinos: PayDirt is developed by RTG (Real Time Gaming). RTG is a renowned game developer that caters to specific markets that include the US, Australia, Canada, and South Africa. You will find that a lot of South African friendly online casinos usually offer RTG games among others, and you are bound to find PayDirt slot at your favourite SA friendly online casino as well.
Similar Slots:
When it comes to the number of reels, paylines, the jackpot, and the special feature, PayDirt slot is identical to T-Rex slot which is also from RTG. Therefore, if you loved the game play and rules of PayDirt slot, you should also try T-Rex slot, it is basically the same game with a different theme.
However, if you liked the mining theme and want to stick to similarly themed slots, there are several other options from other game developers as well. Some mining themed slots worth mentioning are – Bonanza Online slot from Big Time Gaming, Diamond Mine Slot by Blueprint, Treasure Mine slot by Red Tiger, Gemtastic Online slot by Red Tiger and Dwarf Mine Online slot by Yggdrasil.
Gameplay & Bonus Features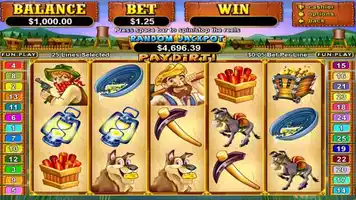 Play Pay Dirt Slots for Real Money at these Casinos :
Other Slot Games You Might Like
FAQs
Does PayDirt slot have a no deposit free spins bonus?
Whether there is a no deposit bonus or not will depend on which online casino you play at. The casino may include this slot as part of their no-deposit welcome package. You will find all the juiciest bonuses right here on our site.
Is a free play version available?
Yes, the free play version of Paydirt slot is called 'fun-play'. You can play Paydirt slot in 'fun-play' mode, right on this webpage, we have included it for you. In this mode, you don't have to make a real money deposit – you get to play with free credits just for fun. No real wins or losses.
Can I play PayDirt slot for real money?
Yes, PayDirt slot is primarily a real money online slot available at real money online casinos. If you sign up with a casino and make a real money deposit, you will be able to play PayDirt slot for real money.
How much money can I win playingPayDirt slot?
The PayDirt slot jackpot is worth 10,000 coins. This jackpot is triggered when you get five mine symbols on an active payline. However, if the wild symbol (golden nugget) is part of this jackpot combination, then the jackpot is tripled and pays out 30,000 coins. So, how much exactly you win will depend on your coin value. The most you can win is = coin value * 30,000
Yes, PayDirt slot has a random jackpot, a base game jackpot worth 10,000 coins and a special jackpot with a wild symbol which is worth 30,000 coins.
What's the theme of this slot game?
PayDirt slot is themed around mining. In order to support the theme, the symbols include a miner, a dacoit, a donkey, a pickaxe, a dog, some TNT explosives in a crate, a gold coins, a hand-held lantern, etc.
What are some of the best features in this game?
Top features of PayDirt slot are – wild, multiplier, scatter, free spins, random jackpot, base game jackpot, wild jackpot, Strike it Lucky, Gold Fever, and Gold rush. The game also offers plenty of standard features like auto spin, turbo spin, etc.
Get in on the action
Sign up now for the latest bonuses, promotions, and new online casinos.
Have You Found What You're Looking for?
Your feedback is paramount!