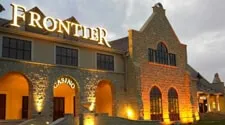 Province: Free State
Address: Johan Blignaut Drive (N5), Bethlehem, Free State
Phone: +27-58-307-6000
Fax: +27-58-307-6001
Email: info@frontiercasino.co.za
Website: http://www.frontierinn.co.za/
Directions From Port Elizabeth Airport (6km @ 11 min)
Take the N3 to Durban.
Go through the Wilge Toll Gate.
At Warden, take the R714 towards Bethlehem.
At the T-Junction, turn left (follow the signage to Bethlehem).
Once in Bethlehem, continue straight until you pass the Engen Petrol Station on your right.
Continue for approx. 200m, the Frontier Inn and Casino will be on your right.
Directions From Bloemfontein
Follow the N5 directly to Bethlehem.
Once in Bethlehem, continue straight with Muller street until you get the Metropolitan centre on your left and MR Price on you right.
At the traffic light intersection, turn right into Riemland Road.
Continue straight until you pass the Engen Petrol Station on your right.
Continue for approx. 200m, the Frontier Inn and Casino will be on your right.
<iframe style="border: 0;" src="https://www.google.com/maps/embed?pb=!1m14!1m8!1m3!1d7029.791021039868!2d28.326844436706896!3d-28.240850991532298!3m2!1i1024!2i768!4f13.1!3m3!1m2!1s0x1e92bda4779d9369%3A0xee7ef424ea013d36!2sFrontier+Casino!5e0!3m2!1sen!2sza!4v1398249844784" width="600" height="450" allowfullscreen="allowfullscreen"></iframe>
Overview
Wild West meets traditional Free State hospitality at the Frontier Inn and Casino. The Peermont operated resort boasts an establishment "where the spirit of adventure lives on", and this can be seen from the themed destination reminiscent of an 1800s frontier town to a modern casino floor where top-class gaming is available to all types of players.
The Frontier Inn and Casino incorporate the 3 star Metcourt Hotel, an amusement center, a fast-food outlet, the casino, bars, and a Spur restaurant.
The casino is located in the historical town of Bethlehem and is the gateway to some of South Africa's most beautiful scenery and important landmarks, including the Golden Gate Highlands National Park and the Basotho Cultural Village. Nearby outdoor entertainment options include river rafting, wildlife gazing, hiking, fishing, biking, and quad biking.
The Frontier Inn and Casino is also located a convenient 50 km or so from the Lesotho border and is a popular stopover for travelers.
Casino
The small, intimate Frontier Inn Casino provides everything that gamblers require in a fine gaming experience, starting with the 140 state-of-the-art slot machines with very comfortable wagering denominations (1c to R25). There are 9 gaming tables to choose from, as well as an exclusive Salon Prive.
Regular players can join the Winners Circle guest loyalty program which allows for extra rewards, exclusive promotions, and much more. The casino runs regular promotions where players can win their share of cash and prizes.
The casino is tastefully decorated with plush furnishings, drapes, and carpeting, while dealers are friendly and attentive.
Dining and Bars
The hospitality of the Free State shines through in the different dining options on offer. The Coachman's Saloon prides itself in its live entertainment seven days a week, ranging from themed evenings to ladies' nights, music events, and sporting events. The restaurant offers smoking and non-smoking areas, indoor and outdoor facilities, and anything from cocktails to chef-specialty dishes. The Golden Gate Spur seats 174 diners and serves breakfasts, lunch, and supper, from salads to mouthwatering steaks and burgers – catering to every palate, smokers and non-smokers, indoors and out. For visitors who want to enjoy fast food on the go, the Munchies outlet offers a diverse menu daily. The food can even be ordered directly from the casino floor for extra convenience.
Accommodation
The affordable, ultra-comfortable 3 star Metcourt Hotel at the Frontier Inn and Casino incorporates 21 rooms (8 classic rooms, 12 Superior rooms and 1 special assistance room), all decorated in style. The rooms include air conditioning, en-suite facilities, dining options (including 24/7 fast food delivery), access to the casino and entertainment facilities and room service.
The hotel is conveniently located near a number of local attractions and historic towns.