Achilles Slot Free Demo: Check it out Online or on Mobile!
We recommend that you first try playing Achilles slot in the fun or demo mode, before moving on to real money gambling.
Whether you are a seasoned online slots player or a newbie just poking around, it is a great idea to always try a slot in fun-play mode or demo mode when you play a slot for the very first time. Every slot is unique in its own way and learning the ropes a little before you go ahead and put your hard – earned money at stake is a safe and rational approach.
Furthermore, when you play a slot in fun mode, you will find it easier to determine if you want to really put real money on it. Despite how many reviews you have read about the slot, there is nothing comparable to first hand experience, and that is exactly what the free play mode offers you. Sometimes, you might find a slot that is praised by every review, and it's just not your cup of tea. On the other hand, there might be a slot you loved when you tried but the reviews all seem to have nothing but critique for it. So, try a slot in free play mode and decide for yourself.
Want to try Achilles slot risk free? We have the free play mode right here for you! So, roll up your sleeves and spin some reels, Greek warrior style.
Gameplay & Bonus Features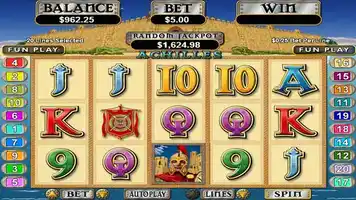 Game Features & Bonuses
Random Jackpot: The random jackpot feature is prominent in multiple RTG slots, but Achilles slot is one of the first slots to have offered the random jackpot feature. Slots enthusiasts love it because it adds yet another way that they can win money while playing Achilles slot. How does the random jackpot work? Well, it is triggered at random, as the name suggests. There is no telling when this jackpot is triggered, but it can be a very good surprise to say the least. How much the random jackpot is worth can also vary randomly, but it is usually a substantial amount of money averaging R60,000+. Who in their right minds would say no R60,000 for free?
Turbo Play: Turbo play is turned on by default in the Achilles slot. This option is accessible through the menu. The menu button is located on the bottom right hand corner of the reel set underneath the spin button. The turbo option is designed to keep the game play quick and free flowing. However, if you want a more laid – back gameplay and you are not in any particular hurry, you can turn off the turbo play option in the menu. With turbo play switched off, you will notice that the reels spin for a few seconds longer and when they do come to a stop, they stop one reel at a time from left to right.
Fun Play: We've already discussed why playing a slot in fun play is a good way to learn the ropes. Thankfully, Achilles slot is available in fun play mode so you are not always forced to put real money on the line. Fun play mode in Turbo play starts you off with R1000 in fun play credits and any wins or losses do not translate into real money.
Auto Play: Some slot players love the auto play feature while others want a more controlled, hands-on approach. Luckily, Achilles slot allows you to turn auto play on or off as per your preferences. The auto play feature can be accessed in the menu and is customizable. You can set how many spins you want automatically spun, the bet value for the spins and also control certain conditions upon which will you want the auto play option to cease and take over manually.
Multipliers: The multiplier is always a good sign when you are spinning the reels of Achilles slot. This basically multiplies your winnings. Generally, the factor of multiplication is 3, but there are certain bonus rounds when it could be even higher. Not only are you stoked to have won, but now you get three times your winning thanks to the multiplier.
Wild: Achilles himself is the wild symbol in this slot game. The way the wild works is similar to the joker in a deck of cards. The wild can essentially be substituted for any other symbol, as required, in order to make a winning combination. However, the wild cannot be substituted for the scatter symbol. The wild symbol also makes for the highest paying symbol of this game.
Scatter: The scatter symbol is denoted by the Troy symbol which is the grand wall around the perimeter of the city. If you land three of the scatter symbols anywhere on the payline, you basically trigger the Achilles feature.
Free Spins: When you land three or more scatter (Troy) symbols anywhere on the payline, you trigger the Achilles feature. What does that entail? Well, when you trigger the Achilles symbol, you get the option to claim 15, 20 or 25 free spins. To make things even better, the Troy symbol will convert into the Achilles and Helen when you are playing in the free spin's rounds. How many free spins you get will be revealed when you get to pick one of the three Achilles Symbols that you have landed to get the free spins.
How to Play Achilles
The Achilles slot is a standard five-reel video slot and is fairly straightforward to play. If you have played other RTG five-reel slot games before, you should feel at home with Achilles slot. There is always the fun play mode option to get accustomed to how the slot works before you play for real money. Playing Achilles slot is intuitive and complicated at all.
In order to setup a bet and spin the reel, you can follow the below steps:
Load the Achilles video slot (you will require Adobe Flash player plugin on your browser)
Set your bet amount using the up and down arrows next to the "bet" button which is the first one from the left below the reel set
Select how many lines you want to bet on – you can choose between 1 payline and 20 paylines. The bet amount will also fluctuate depending on how many paylines you have selected. The more paylines you have, the higher your chances of winning, but also the higher the stake. If you want to play with a nominal stake, you can play with just 1 payline.
Once you have selected the bet amount and number of paylines, click the spin button
If you would like to automate the spins, you can set up the auto spins options through the menu. Just configure the bet in terms of bet amount and paylines and you can specify how many times you want to auto spin, and if there are any reasons for which auto spin should stop. Once all configured, start the auto spins and you can just sit back and watch the action unfold.
Main Prizes to be Won
The random jackpot is triggered randomly during play. The value of the random jackpot is fluctuating and usually it is in the order of R60,000+. This is a great win should you be lucky enough.
The top fixed jackpot is 10,000 coins. If you hit the jackpot, you win 10,000 times your stake amount. This is the main prize to be won while playing Achilles slot. So, how do you win the 10,000-coin jackpot? Well, it is no easy feat. You will need to land five Achilles symbols on an active payline. It is rare, but it is not impossible.
There are plenty of other bonuses and wins offered to keep you motivated and going. The 10,000 -coin jackpot won't be easy to come by, but there will be plenty of other mini prizes on the way to it, to make your journey rewarding and worth it.
Why do South African players enjoy playing Achilles Slot?
Achilles Slot is an RTG classic and it is especially popular in the South African online casino market. There are multiple reasons why South African players seem to love this slot, here are few such reasons:
Betting Range: The fact that you can bet anywhere between R0.03 to R200 in a single spin is really great. This opens up the game to players that want to play with really low stakes and also to players that have the go big or go home approach. In order to play with the least stake of R0.03, activate just one payline and press the down button next to bet as far as it will go. In order to play with the maximum R200 stake, select all 20 paylines and click the up button next to bet as far as it will go.
Mobile Friendly: Achilles slot may be over 15 years old, but was ahead of its time back in the day. This slot is mobile friendly and you can play on the move. South African players with Android or iOS smartphones can play this slot from anywhere in the country, as long as they are connected to the internet.
Progressive Jackpot: The progressive jackpot at Achilles slot is triggered randomly and everyone loves free, random cash in the form of a jackpot, South Africans included.
Instant Play: Achilles slot is a browser-based, you can play this game right at your favourite casino's website, no download or installation required. Play from any smartphone, tablet or PC instantly!
Available at South African friendly online casinos: Achilles slot is available in so many online casinos that South African players frequent. The slot also supports South African Rands directly, so you can play in Rands and there is no need to currency conversion.
Similar Slots:
Achilles Slot was one of the first of its kind, but certainly not the last. It is safe to say that Achilles slot was revolutionary when it was released and its ancient Greek theme inspired plenty of other game developers to make slots based around ancient civilizations. In fact, a lot of ancient Egyptian themed slots followed soon after the release of Achilles slot.
If you loved Achilles slot, you must also consider some other slots along similar lines such as Cleopatra's Gold and Caesar's Empire.
Cleopatra's Gold is an old timer which is still a crown favourite. It is Egyptian themed. It is also a 5 reel, 20 payline slot from none other than RTG.
On the other hand, Caesar's Empire is based on the Roman King's empire. Like Achilles and Cleopatra's Gold, this too is a 5 reel, 20 payline video slot. Caesar's Empire is an RTG innovation as well.
About Playcasino.co.za: 
Playcasino.co.za is the no1 guide for online gambling sites in South Africa. If you're looking for free spins win real cash casinos, make sure to check our selection.
Play Achilles Slots for Real Money at these Casinos :
Other Slot Games You Might Like
FAQs
How much money can I win playing Achilles slot?
The progressive jackpot at Achilles slot varies from time to time, it can be floating around the R60,000 usually. The top fixed jackpot is worth 10,000 coins.
Yes, Achilles slot has a progressive jackpot that can be triggered randomly as well as a fixed jackpot worth 10,000 coins which is won when you land five Achilles symbols on one payline.
What's the theme of this slot game?
Achilles slot is themed around the heroic Greek warrior Achilles who fought in the legendary Trojan War.
What are some of the best features in this game?
Achilles Slot has plenty of great features which include, but is not limited to Troy free spins, Achilles free spins, wilds, multipliers, progressive jackpot, fixed jackpot, scatters and more.
Does Achilles slot have a no deposit free spins bonus?
Achilles slot does not offer a no deposit free spins bonus. However, you could still be eligible for a no deposit bonus depending on which online casino you are going to sign up with in order to play Achilles slot.
Is a free play version available?
Yes, Achilles slots are available in free play or fun play mode. The fun play mode comes with R1000 fun credits for you to use up and try this slot risk free. In fact, we have the fun play mode right on this webpage for you to try out.
Can I play Achilles slot for real money?
Yes, Achilles slot can be played for real money. You will need to sign up with an online casino and deposit money in order to play with real money.
Get in on the action
Sign up now for the latest bonuses, promotions, and new online casinos.
Have You Found What You're Looking for?
Your feedback is paramount!