As far as the most popular forms of gambling go, South Africans gravitate toward lotteries. The National Lottery, which was established in 2000, has familiarised the country with the traditional lottery system. Therefore, it isn't surprising that smaller, online casino-based lottery games are also popular. Online casino games like slots, bingo, keno, and scratch cards all work in much the same way as the lottery and are booming in popularity across SA.
However, as of April 2023, the South African gambling market is undergoing a landmark shift. According to data about sports betting in South Africa, there is a new king. A dramatic market change is now seeing sports betting emerge as a more popular option than lottery games.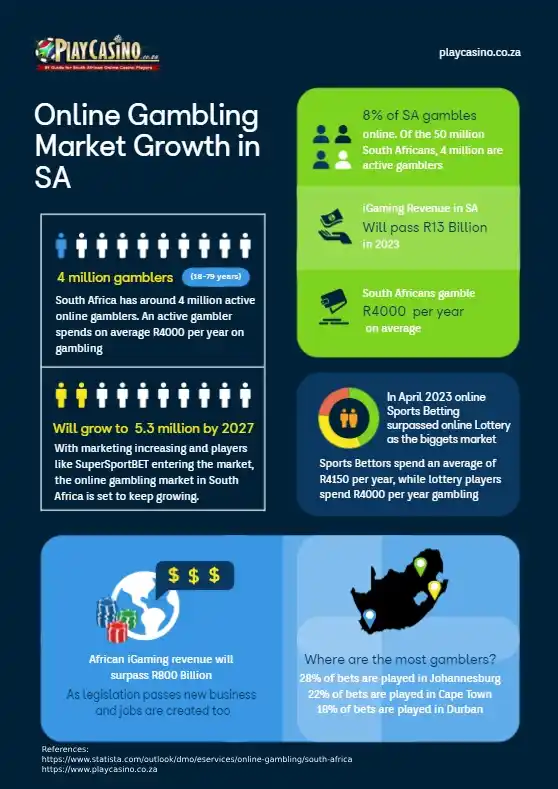 How Much Does The Average South African Gambler Spend On Gambling?
Dive deeper into gambling statistics in South Africa, and you'll see how fast and how dramatic the change is. 
According to a recent 2023 Statista report:
The average South African sports betting enthusiast spends roughly R4,150 a year on wagers. 

The average lottery enthusiast spends around R4,000 per year.
The gap isn't wide, but it clearly indicates that the lottery is no longer leading the pack. If you look back to 2022, the numbers are very different. A 2022 report saw sports betting at R3,740 per year per player and lottery at R4,242. 
Meanwhile, online casinos have been seeing a boost of their own over the same period. Although online casinos still see far less annual attention than lottery and sports betting, they're quickly closing the gap.
Gambling Statistics In South Africa
As it stands in 2023, roughly 4 million South Africans are active gamblers. That number is expected to increase dramatically to 5.3 million by 2027. 
Over the course of 2023, the online gambling market is pegged to generate around US$736.30 million. If the current trend remains stable and growth continues at around 8.2% annually, this means that in 2027 revenue will soar to US$1,006.00 million.
In more detail, sports betting South Africa data suggests that sports betting alone has a total volume of US$350.50 million in 2023. You can compare that number to the United States, the biggest sports betting market in the world, which currently has a volume of US$19,140.00 million.
On a per-person basis, the average revenue per person (ARPU), taking into account online users only, amounts to around US$290.60 in 2023. If the online migration continues, South Africans betting exclusively online should hit 3.52 million by 2027. The current online gambling market penetration, as of April 2023, sits at 5.0%.
Why Is Sports Betting Growing In Popularity?
South Africa has always enjoyed an enormous focus on sports. Rugby, cricket, and soccer draw nationwide attention, with supporters not only cheering on local teams but also popular international teams too. Importantly, this popularity existed long before the technological revolution. The adoption of smartphones has only provided an avenue for South Africans to express enthusiasm for sports by betting on them.
As far as the sports betting industry itself is concerned, the market is currently seeing a major push. Sports betting South Africa data shows that betting sites are stepping up advertising dramatically, with a focus on easily accessible online platforms. Again, although sports have always been enormously popular, it is only now that many locals are starting to fully embrace the online world.
Sports betting sites in South Africa are now also, for the first time, sponsoring local teams. It's now common to see a betting brand advertised on a team jersey, firmly putting the branding into sports fan consciousness. This sponsorship trend is expected to increase going forward into the future.
Local broadcaster SuperSport is respected globally as amongst the best in the world. SuperSport covers all sports across all demographics, enjoying a monopoly on sports broadcasting. The proudly South African organisation is also getting into betting as they can clearly see the returns it offers - both to bettors and sportsbooks. MultiChoice, owner of SuperSport, is set to launch SuperSportBET by the end of 2023. 
Online Gambling In South Africa Set To Keep Growing
The gambling statistics in South Africa point to an obvious fact; the market is set to see a meteoric rise in the coming years. 
With smartphone penetration increasing, online gambling awareness on the rise, and a major push from marketing, the South African online gambling market is set to soon be amongst the biggest in the world. There is no telling how big the market will get, though trends indicate that there is no limit in sight.
Additionally, the country is also set to make landmark decisions as far as regulations are concerned. As of June 2023, the local government is on the verge of introducing official regulations. Regulations will, of course, push the growth even higher, allowing locals to engage in gambling in a safe, secure online environment. 
It's an exciting time for online gambling in the country and no doubt a time of increasing prosperity for online sportsbooks and casinos.
Get in on the action
Sign up now for the latest bonuses, promotions, and new online casinos.
Have You Found What You're Looking for?
Your feedback is paramount!