The decision to venture into the gambling sector comes as no surprise, considering the significant growth and revenue witnessed by the industry in recent years. Multichoice aims to tap into this market by providing a comprehensive gaming platform that combines cutting-edge technology, a user-friendly interface, and a wide range of betting options.
SuperSportBET to Accompany SuperSport
The newly unveiled Multichoice gaming platform, named SuperSportBET, promises to revolutionise online gambling in South Africa. With an extensive selection of sports betting opportunities and experiences, the platform will cater to a diverse audience, like its broadcasting counterpart.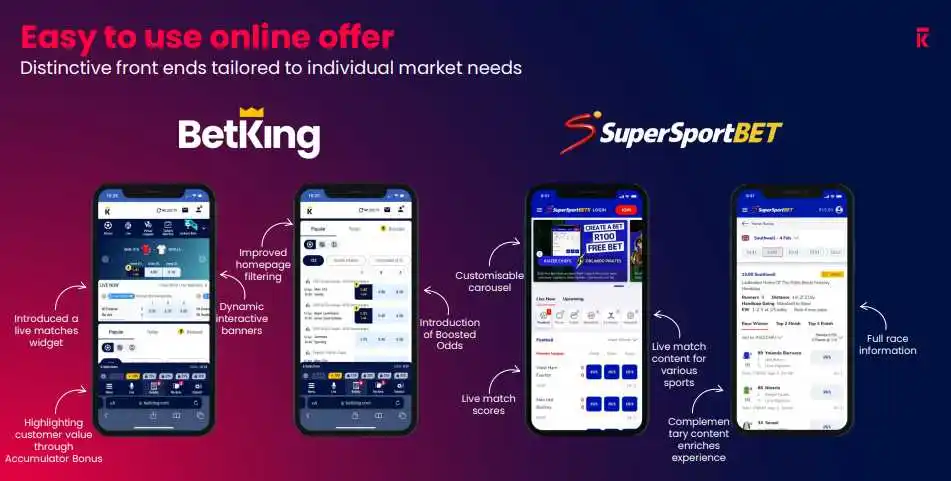 Possibly complementing its venture into the gambling industry, Multichoice has also introduced an innovative payment platform, Moment. This payment platform is designed to streamline transactions in South Africa. This state-of-the-art payment system prioritises user convenience, offering seamless and secure transactions for both deposits and withdrawals. Online gambling payment methods are something every South African considers before creating an account to place sports bets.
Multichoice Acquired KingMakers
KingMakers has been hugely successful in Nigeria's iGaming and sports betting industry. Multichoice acquired a 49% stake in KingMakers in 2022. With KingMakers' past experience in the sports betting industry, it's almost guaranteed that SuperSportBET is going to be a great experience for fans of sports betting.
Add to this the fact that SuperSportBET will be able to get exposure to the SuperSport audience, and the potential is massive. If SuperSportBET offers betting on the same sheer amount of sports that is broadcast on SuperSport, there is going to be betting options for everyone.
What Sports Will SuperSportBET Offer Bets On?
SuperSportBET has not said what sports you will be able to bet on through their platform. But based on what we've seen in the sports betting industry over the past five years, we predict these sports will be on offer:
Rugby

Cricket

Soccer

Tennis

Golf

Basketball

Ice Hockey

Football

Table Tennis

Volleyball

Formula 1

Boxing

eSport

Snooker

Darts

Horse Racing
And probably a whole lot more.
Not everyone is confident that Multichoice will be able to handle a sports betting platform:

"Multichoice will find a way to mess it up... Gambling is very competitive and cut throat, neither market condition is something multichoice knows how to operate in." said one user on the MyBroadband Forums.
It's exciting times if you are a South African sports betting enthusiast. Upon launch, SuperSportBET is sure to have great welcome bonuses, no deposit bonuses and more.
Get in on the action
Sign up now for the latest bonuses, promotions, and new online casinos.
Have You Found What You're Looking for?
Your feedback is paramount!