Who are KingMakers?
KingMakers ranks amongst the top 15 global sports betting sites and has a history of innovation. Rooted in Nigeria, the group is now led by Takealot founder and former CEO Kim Reid, who certainly knows a thing or two about delivering products with mass appeal.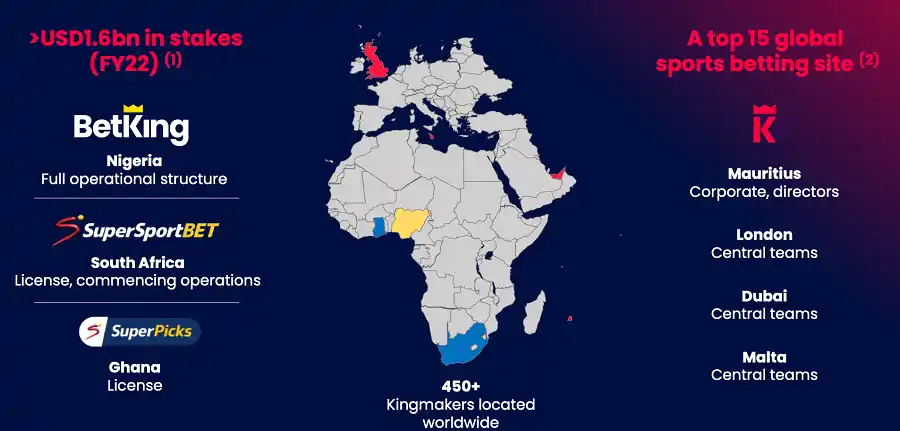 Between 2019 and 2022, KingMakers showed a compound annual growth rate (CAGR) in its active online users of 46% and 53% in net gambling revenue (NGR) in the same period, recording a staggering $1.6 billion in stakes in the 2022 financial year.
Founded as BetKing in 2018, the company recently changed its name to KingMakers with its focus on customer experience and superior technology, delivering accessible local products which have become trusted brands with simplicity. The company's success in the markets it currently operates comes from its ability to navigate strong regulatory environments, overcome slow economic conditions, including some economies' stagnant growth figures, and exploit a digital penetration in Africa that extends into all geographical and demographic sectors.
Kingmakers' online gambling products are supported on a range of old and new mobile devices, which gives them an additional market advantage. Not all online betting and gambling are available on older devices, contributing to their success and growth in the African market.
What do they offer?
KingMakers has a solid basis in sports betting with its Sportsbook product and has now expanded into a full range of gaming, casino and virtuals – bet games, live games, lucky numbers and virtual betting. By expanding into the realm of online casino games, KingMakers has strengthened its place in the online gambling market.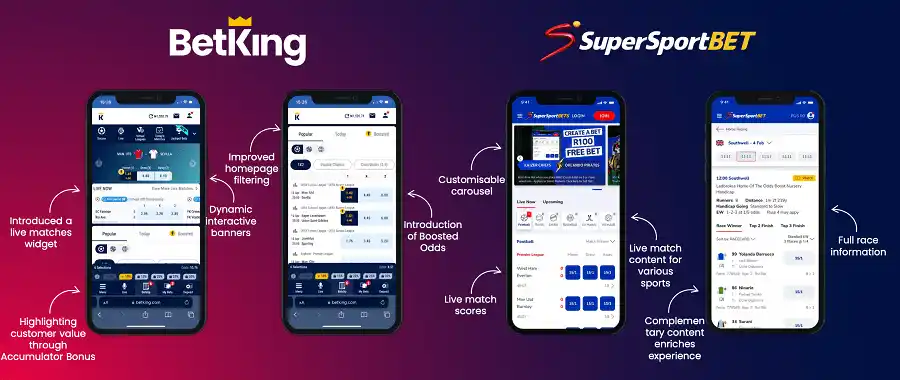 In May 2023, the company's betting brand BetKing went live with EveryMatrix CasinoEngine, which gives Nigerian players access to the largest casino content library through one integrated platform. The company's enhanced jackpot feature attracted 50 000 entries in under two months, and their instant and scheduled virtuals handle 13 000 bets per minute at peak.
By accelerating the company's footprint in the sports betting sector, Kingmakers is set to enter a market in South Africa where 1 in 10 people gamble and one that in 2021 was worth around R35 billion.
KingMakers' vision and mission
Kingmakers' goal is to create an African home for online sports betting and gaming entertainment by creating compelling, immersive and responsible sports betting and gaming products with world-class customer service.
In addition, KingMakers gives back to the community through its social investment programmes, including supporting young entrepreneurs. In April 2022, KingMakers launched its "Month of Good" initiative, in which the company worked on medical outreach programmes in some of the more remote parts of Nigeria as well as on beachfront and drainage system clean-ups.
KingMakers' expansion plans
By leveraging the Multichoice network and footprint in Africa, KingMakers will roll out its sports betting and entertainment services in South Africa at the same time as expanding its product offering, KingMakers plans to deliver a superior local sports betting product in the SA market, enabled by their association with Multichoice.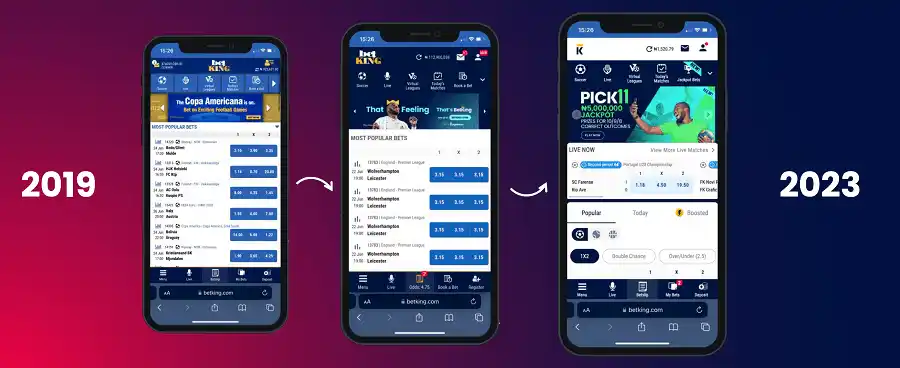 Their simple, fast and reliable user experience is attributable to their innovative technical capabilities which have been demonstrated in their domestic Nigerian market. Their objective is entertainment-led mass reach and customer value management which is delivered through their CSI work and responsible gambling messaging.
Multichoice deal mutually beneficial
In a world of growing entertainment options, the relationship for Multichoice represents an additional platform on which to keep subscribers engaged. For KingMakers, it offers an existing footprint into which it can tap to establish itself in a competitive market space by benefitting from the strong SuperSport brand.
The partnership between Multichoice and KingMakers is set to leverage the surge in online sports betting and casino gambling on the continent. Africa represents 2% of all global online gambling revenue, which represents a massive potential for growth. KingMakers' strategy to entrench itself as the premier online betting and gambling platform across Africa is one step closer to fulfilment through its strengthened relationship with Multichoice.
Resources:
Get in on the action
Sign up now for the latest bonuses, promotions, and new online casinos.
Have You Found What You're Looking for?
Your feedback is paramount!