The Musk vs. Zuckerberg Rivalry Begins
Elon Musk and Mark Zuckerberg are widely recognized as two of the most prominent figures in the tech industry. Their innovative ideas and entrepreneurial spirit have revolutionized the world. However, their divergent views on technology and AI have sparked occasional disagreements and public clashes. As these debates intensified, the hypothetical notion of a cage fight between the two gained momentum.
Why is Elon and Mark fighting?
There is literally no reason for Elon and Mark to fight. They are both billionaires and work in offices, not cage fighters. This further substantiates the claims that this is purely a publicity stunt to help their companies make even more money and get more people talking about their social media platforms.
Is the Elon Musk vs. Mark Zuckerberg fight real?
Probably not. It feels a lot like a publicity stunt. Other than a few tweets being sent back and forth there has been no official announcement of a date for the fight between the two CEOs. Elon Musk knows the power of his social media presence and he is very aware of what a single tweet from him can do.
Having the social media sphere and media website in general draw attention to Musk and Zuckerberg is good for their businesses. Especially with Zuckerberg's company Meta launching their own version of Twitter under the name "Threads" it makes complete sense that they would keep  feeding the online buzz about the competition between the two of them. Musk has even threatened legal action against Meta for blatantly copying Twitter with their new platform.
Mark Zuckerberg is the current favourite in the fight against Elon Musk.
Mark Zuckerberg has been training MMA and Brazilian Jiu-Jitsu for a couple of years. He even won a BJJ competition in recent months. Zuckerberg is also 12 years younger than Musk and clearly more physically active than the Tesla owner.
Musk vs. Zuckerberg stats
How do the two tech giants compare physically? What are the Musk vs. Zuckerberg stats, or the "Tale of the Tape" as it's known in the world of MMA? The image below shows us all we need to see.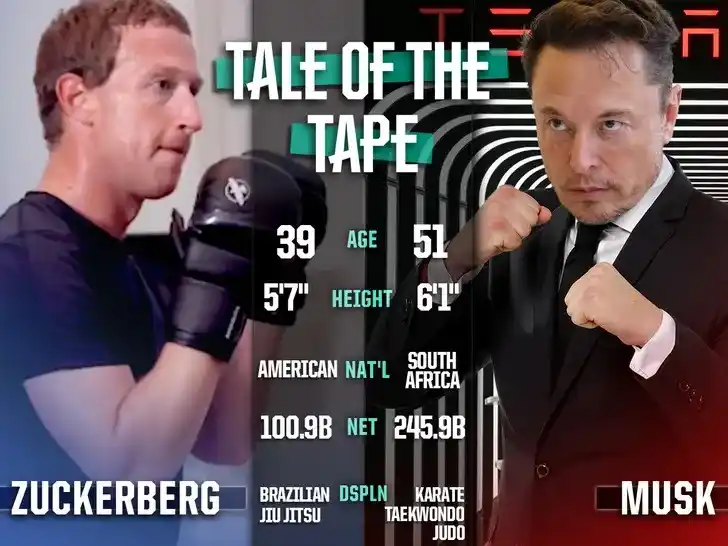 Who is training Elon Musk?
Even though Musk has been dabbling in martial arts for years, it is by no means something he is serious about. He has never competed in any martial arts tournaments or competitions. Elon Musk has been "training" with George St. Pierre. 
But does any of this actually mean anything?
Elon Musk vs. Mark Zuckerburg odds
Well it certainly means something for the Elon Musk vs. Mark Zuckerberg odds. A few sportsbookies have officially released odds for the fight, even though the fight might never actually happen. As it currently stands, Zuckerberg is the favourite to win the fight at odds of ¼, while the odds on Musk winning the fight is at 11/4.
The most likely bet to pay out with regards to Musk vs. Zuckerberg is placing a bet that the fight will never happen. A physical confrontation is no joke and can come with potentially huge risks. For two individuals who use their intellect to make money, brain damage is something they cannot afford. For that very reason. Chances are the fight will never happen and that both of these tech giants are more bark than bite. 
Get in on the action
Sign up now for the latest bonuses, promotions, and new online casinos.
Have You Found What You're Looking for?
Your feedback is paramount!