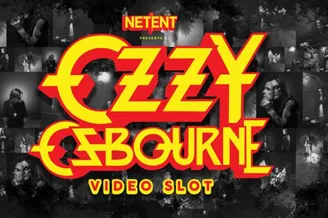 The Swedish online casino software group, NetEnt is set to add another music-themed slot game to its repertoire. This time around, NetEnt plans to roll out a new game based on the living legend, Ozzy Osbourne, who was the lead vocalist for the Black Sabbath band and has sold millions of albums.
Ever since he debuted as The Prince of Darkness in the 1970s band, Osbourne enthralled the music world with his style and voice and has remained one of the most iconic artists ever since.
In a deal brokered by Global Merchandising Services, the merchandising and brand management partner for Ozzy Osbourne, a new slot featuring the star will be rolled out later this year.
<!--more-->
"Rock stars don't come much bigger, better known, or charismatic than Ozzy Osbourne," said Bryan Upton, NetEnt's Director of Game Products. "Thanks to his larger-than-life personality and outstanding contribution to music, Ozzy has developed a loyal and passionate following over the past 50 years – we can't wait to bring this to the reels for players to enjoy."
Also commenting was the chairman of Global Merchandising Services, Barry Drinkwater, who pointed out that NetEnt is a market leader in the field and the group was excited to add another of its artists to the exciting NetEnt Rocks family of games.
As a reminder, NetEnt already has in place a fantastic line of branded music-themed slot games. Online casino players from South Africa will instantly recognize top-brass slot games such as Guns 'n Roses slot, Jimi Hendrix slot and Motorhead slot. The new Ozzy Osbourne slot, which is in the pipeline, will be an excellent fit in this series. The group expects that the new slot will be just as well-received as the other titles in this series.
Ozzy Osbourne has become a household name, and not only because of his incredible music career. In recent years, he became a reality TV superstar when he starred in a star, The Osbournes, together with his wife Sharon (of America's Got Talent fame) and his children, Jack and Kelly.
Play NetEnt Slots Games for Free
About Playcasino.co.za:
Playcasino.co.za is the No1 gambling guide for casino online sa players. If you're looking for a real online casino south africa money win, look no further.