The list of whale-themed movies begins with Free Willy (1993), a feel-good classic where a 12-year-old orphan forms a close bond with a young captive killer whale and helps him escape.
Blackfish (2013) is a documentary about whales in captivity and how subjecting them to a tiny confined space for human entertainment is horrendously cruel and unusual punishment.
In Star Trek IV: The Voyage Home (1986), the Star Trek crew travels back in time to 1986 to retrieve some humpback whales and bring them back to 2286 so that they can answer a mysterious signal and save the earth.
In the Heart of the Sea (2015) is based on the true story of the New England whaling ship, Essex, whose encounter in 1820 with a giant whale inspired Herman Melville's classic Moby Dick – unarguably the most famous whale in history.
In Finding Dory (2016), the sequel to Finding Nemo, Dory learns to 'speak whale' by talking through pipes to her childhood buddy Destiny, a short-sighted whale shark.
The feature includes three documentaries: Best Whale Moments Captured on Earth, Insane Biology of the Sperm Whale, and Top 10 Whale Jumps.
Springbok players can take 25 free spins this month on the new Mermaid Royale.
Springbok Casino South Africa's #1 Online Casino

Springbok Casino online has hundreds of slots and table games; all played in rands. Customer service is available in either English or Afrikaans.
FEBRUARY FREE SPINS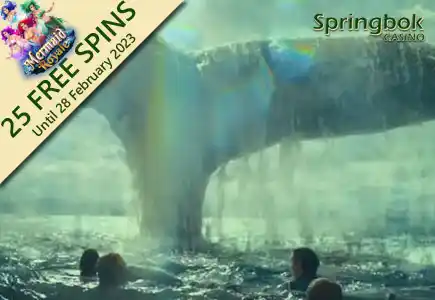 25 Free Spins on Mermaid Royale
Coupon Code: WHALENTINES23
Available until February 28, 2023
Four beautiful mermaids preside over a glittering undersea treasure in Mermaid Royale, a new underwater adventure with a special Bonus row, expanding Wilds, oversized symbols, and random boosters.
About Playcasino.co.za: 
PlayCasino is South African players' no1 online gambling guide. We have been helping them make informed and safe choices for over 12 years. We are always on the lookout for the new best online casino in South Africa. If you are looking for top gambling experience, you've come to the right place. Check the casinos that have made it to our shortlist, take your pick, and start playing.
Get in on the action
Sign up now for the latest bonuses, promotions, and new online casinos.
Have You Found What You're Looking for?
Your feedback is paramount!