On 29 October 2020, Sebastian Steudtner surfed the biggest wave ever surfed – a 26.2m Nazaré wave in Portugal.
Explorer and businessman Victor Vescovo descended nearly 11 kilometres into the Pacific Ocean at the southern end of the Mariana Trench to make the deepest dive ever.
Strongman Manjit Singh broke a world record at Battersea Park in 2012 by pulling a double-decker bus 21.2 metres with his hair.
In 2012, Felix Baumgartner made a skydive from the edge of space jumping 38,969 meters, making his the highest skydive ever!
Evil Knievel's son Robbie was the first person to jump the Grand Canyon on a rocket-propelled motorbike.
In October 1829, Sam Patch, known as the Yankee Leaper, was the first person to survive jumping over Niagara Falls, with no protective or flotation devices to boot.
This month Springbok players can take 25 free spins on the Copy Cat Fortune a new game with a Reel Copy feature that duplicates symbols to create multiple chances for winning paylines.
NOVEMBER FREE SPINS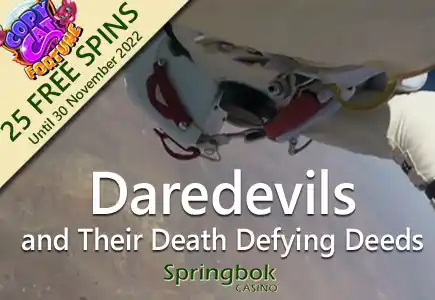 25 Free Spins on Copy Cat Fortune
Coupon Code: DAREDEVILS
Available until November 30, 2022
About Playcasino.co.za: 
Playcasino.co.za is the no1 online gambling guide for South African players. We have been helping them make informed and safe choices for over 12 years. We are always on the lookout for the new best online casino South Africa. If you are looking for top gambling experience, you've come to the right place. Check the casinos that have made it to our shortlist, take your pick and start playing.
Get in on the action
Sign up now for the latest bonuses, promotions, and new online casinos.
Have You Found What You're Looking for?
Your feedback is paramount!