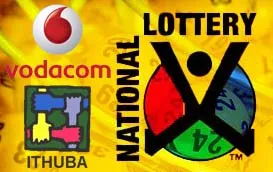 With the revised lottery to launch on June 1st in South Africa, Vodacom Business South Africa has announced that it will come on board and be part of this new phase in the country's lottery industry. The group said that it would assist the South African lottery operator, Ithuba to connect its central gaming systems, regional office and retailer' lottery terminals, according to a report in ITWeb.
Ithuba will take ownership of 11,000 SIM cards provided by Vodacom in order to service its lottery network and also to connect terminals to retailers across the country. This partnership will allow Ithuba to reach all lottery customers, no matter where they are spread out in South Africa, with the objective of making immediate payouts to winners.
For rules and regulations surrounding the lottery in African countries, consult our guide.
The previous operator of the South African Lottery, Gidani had used MTN as its service provider; however the new operator, Ithuba is keen to use Vodacom in addition to MTN infrastructure. The services will be provided under Vodacom's management.
The head of lottery implementation with Ithuba, Leonard Paster, said that having connections with two service operators had many advantages, including less downtime for users. Should one system fail or if coverage in a far flung demographic area was not strong enough, the other could provide a backup.
Paster said that in the past, frequent downtime had affected lottery operations, and signing up Vodocam would hopefully reduce these problems. He said that Ithuba had already started the process of rolling out terminal infrastructure and signing up new retail outlets.
"The decision to bring Vodacom on board was driven by the company's experience and reliability of their network as well as the national footprint and reach, which is significant for Ithuba," said the chief executive officer of Ithuba, Charmaine Mabuza.
"We want the lottery to be easily accessible and, more importantly, for the payment system to be effective in any region," she added.
Ithuba replaced Gidani as the main operator of the National Lottery. Gidani previously challenged the South African trade and industry minister, Rob Davies' decision to award the license to Ithuba but was forced to admit defeat. Ithuba said recently that its teams were "working around the clock" to ensure that the lottery launched on time next month.
"Ithuba is doing everything it can to ensure the transition from moving from one lottery operator to the other is seamless," added Mabuza. "Having recruited a significant number of industry experts and the best minds in the business – much of our operational readiness targets has been met." Click here for Lotto & Lottoplus Results | Click here for Powerball Results