The game has been classed as being highly volatile (read on to get our thoughts on the subject) and offers 20 paylines and a R2 million jackpot. The minimum wager per spin is R0.60 while those brave, and wealthy, enough can risk up to R500 per spin. For many, the standout aspect of Gates of Olympus is its "pay anywhere" setup. This means that you will score a payout no matter where your symbols land on the reels - horizontally, diagonally or in any other direction. In most slots, you'll have to match symbols across the reels from right to left. This increases the chances of you matching the right number and combos of symbols you need to score a win
So, if you'd like to find out more about playing with the gods, read on and we'll tell you everything you need to know about Gates of Olympus, including how to play the game, what the symbols are and what they're worth, what the bonus features are, how to win Gates of Olympus, and so much more!
Pros and Cons
Pros
Great features like Ante Bet and Bonus Buy
Win All Ways system
Large jackpot
Cons
Large symbol matches needed
Multipliers do not reset in the features
Hitting the max. multiplier could be a challenge
Gates of Olympus Demo
Want to give Gates of Olympus slot a go before playing this online game for real money? Play for free with the Gates of Olympus demo version below…
How to Play Gates of Olympus
You can play Gates of Olympus at several of South Africa's real money online casinos. For this review, we will show you how to play this game at Hollywood Bets, where it's a part of their Spina Zonke collection of slots.
Click on the LOGIN button in the top-right-hand corner to sign-in
Make sure you have enough funds in your account to play
Click on the SPINA ZONKE button on the left-hand side of the screen
Using the search bar, type in Gates of Olympus and click on the game icon
The first thing that'll pop up is the screen for Symbol Prediction, where you will see all of the different symbols in the game and how much they're worth
Once the game has loaded, you will notice several symbols in the bottom left-hand side of the screen

You can use the + and – button to adjust the size of your bet
You can have the system spin for you by clicking on the AUTOPLAY button
You can spin the reels by either pressing the space bar if you're using a desktop or laptop or you could hit the button with the arrows
You can speed things up by holding down on the space bar and using the turbo spin feature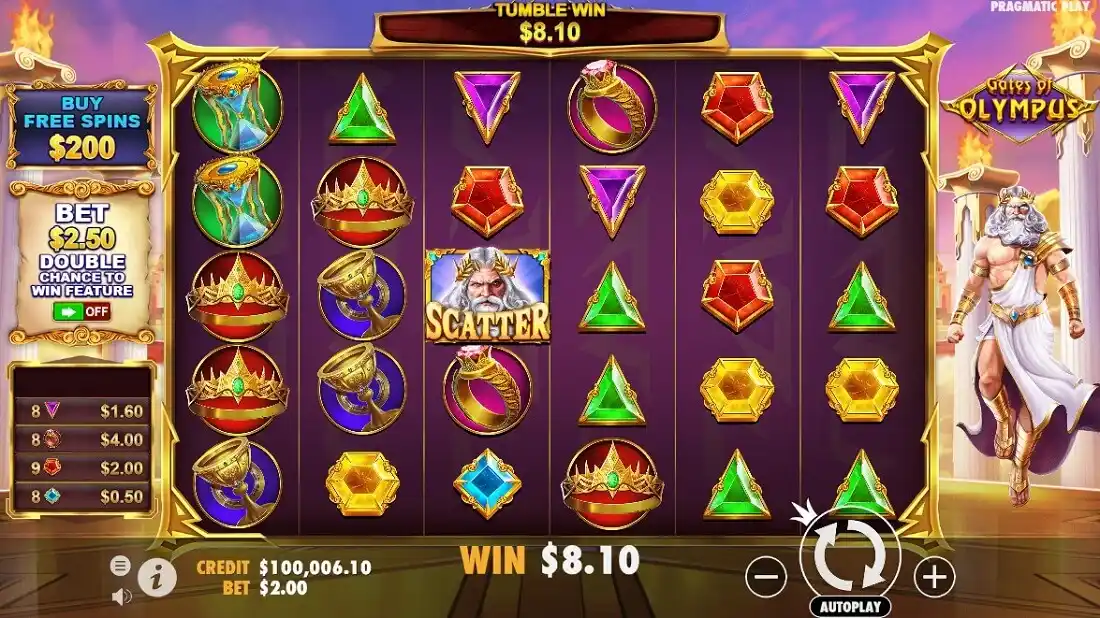 Gates of Olympus Slot Details
| Feature | Details |
| --- | --- |
| Slot Name | Gates of Olympus |
| Slot Type | Video Slot |
| Software Provider | Pragmatic Play |
| Theme | Ancient Civilization / Greek Gods |
| Release Date | 2021 |
| Paylines | 20 |
| Reels | 6 |
| Rows | 5 |
| Minimum Bet | R0.60 |
| Maximum Bet | R500 |
| Jackpot | R2 million |
| RTP | 96.6% |
| Volatility | High (Debatably Medium) |
| Features | Ante Bet, Bonus Buy, Win Any Way, Tumble, Multipliers, Free Spins |
| Wild Symbol | Not Mentioned |
| Scatter Symbol | Yes (Zeus) |
| Autoplay Option | Yes |
| Free Spins | Yes |
| Multiplier | Yes (Magical Orbs) |
| Progressive | No |
| Playable On | Mobile, Tablet, Desktop, PlayStation, XBOX |
Gates of Olympus Tips and Strategy 
First things first – there is no surefire Gates of Olympus hack that is guaranteed to secure you a big win. Gates of Olympus, and every other slot out there, is considered to be a game of luck. However, there are certain things you can do to improve your chances of winning. 
Here are a few of the top tips we've learned over the years while playing hundreds of slots at online casinos worldwide…
Gates of Olympus is a highly volatile slot, so one way of making sure that you play long enough to hit a big win is to bet small on each spin.
Alternatively, you can go into the game with a big balance. This means you can increase your bet size thereby increasing the amount you stand to win. However, this is not a practical game plan for every player. You should only spend as much money as you're okay with losing (see our Responsible Gambling Guide).
We recommend that you take some time to play Gates of Olympus demo to get used to the game. This way you'll know how the game works, what to expect, and more. Try playing Gates of Olympus in free play for 20 minutes.
Set your limits. Let's say for example that we start the game with a R100 in my account. If we find myself up around R500 we'll decide to cash out if we drop down to R200. That way, I leave the game in a far better situation than I started. You might have different limits and you always play in the way that suits you best.
Gates of Olympus Symbols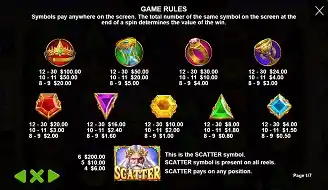 Gates of Olympus is not your typical slot and nowhere is this more apparent than in how you win. With most slots, you need to match three or more symbols across the reels, running from left to right.
In Gates of Olympus, you'll need to match at least eight symbols. At first, that might sound like a big and that winning would be far harder than it'd be on your average game. However, the good news is that the symbols can appear anywhere on the grid – horizontally, vertically, and even diagonally. Pragmatic Play calls this their "Win All Ways" system. The more symbols you match, the bigger your win. So, let's take a look at the different symbols in Gates of Olympus and how much you can expect to win if you match these symbols.
Match Payouts
| Item | Match 12 to 30 | Match 10 to 11 | Match 8 to 9 |
| --- | --- | --- | --- |
| Golden Crown | R30 | R15 | R6 |
| Hourglass | R15 | R6 | R1.50 |
| Golden Ring | R9 | R3 | R1.20 |
| Golden Chalice | R7.20 | R1.20 | R0.90 |
| Ruby | R6 | R0.90 | R0.20 |
| Amethyst | R4.80 | R0.72 | R0.48 |
| Topaz | R3 | R0.60 | R0.30 |
| Emerald | R2.40 | R0.54 | R0.24 |
| Sapphire | R1.20 | R0.45 | R0.15 |
Zeus
The Zeus symbol is the prized symbol in Gates of Olympus and the one you'd most like to see. If you match four more Zeus symbols, you'll earn 15 Free Spins. You will also win 5 Free Spins if you match this logo three or more times during the Bonus Round. 
Additional Match Payouts
| Matches | Payout |
| --- | --- |
| Match 6 | R60 |
| Match 5 | R3 |
| Match 4 | R1.80 |
Magical Orbs
If Zeus so chooses, the King of the Gods may decide to bless you with multipliers in the form of Magical Orbs that will randomly land on the reels. These Magical Orbs can boost your winnings x2 to x500. If fates allow, you may even receive two Magical Orbs during a spin. If you do, the value of these multipliers will be combined, with the total then being multiplied by your stake.
Gates of Olympus Bonus Features
Tumble in Gates of Olympus
One of the best features of Gates of Olympus is Tumble. When this feature is activated, new symbols will replace winning symbols from the previous spin without any cost to you. The Tumble will continue until there are no more winning combos on the screen. Tumble in Gates of Olympus is a Free Spin that happens after you score a winning combo where only some of the symbols are replaced instead of all the symbols, as would happen during your average spin.
One of the key features of Gates of Olympus is the Tumble Feature which allows new symbols to fall into the place of winning symbols without paying to spin the reels. Tumbling continues indefinitely until no more winning combinations appear as the result of a tumble.
Multipliers in Gates of Olympus
If the gods, of ancient Greece, are on your side, they may bestow upon you the bounty of multipliers. These multipliers take the form of green, blue, red, and purple Winged Orbs and will float down from the top of the screen and settle into place across the reels. The multipliers range in value from x2 all the way up to x500. To be honest, we'd have liked to see a special x1,000 multiplier added to Gates of Olympus. Once the Tumble has ended, all of the multipliers that are on the screen are added together. This amount will then be multiplied by the total win.
Free Spins in Gates of Olympus
If you match four or more symbols in Gates of Olympus, the Free Spins is activated. You'll be rewarded with 15 Free Spins, and, depending if you matched four, five, or six scatter symbols you will receive a payout of x3, x5, or even x100! What's really awesome about Free Spins in Gates of Olympus is that each multiplier symbol that you match, and is part of a winning combo, gets added to the total multiplier. Score three or more scatter symbols and you'll instantly win an extra five free spins.
Ante Bet in Gates of Olympus
We wish more game developers would follow Pragmatic Play and introduce the Ante Bet feature as they have with Gates of Olympus. With this feature, you can increase your chances of activating Free Spins by 50%! To do this, all you have to do is click the small box to the left of the reels. Just remember that if you choose to use this boost, you will have to pay an extra 25% of your total amount.
Bonus Buy in Gates of Olympus
There are so many ways to get Free Spins in Gates of Olympus! And here is another – you can just buy them. Yes, that's right, you can just buy them. 15 Free Spins will cost you x100 your current bet. Unfortunately, this feature can't be combed with the Ante Bet feature.
Gates of Olympus Payout and Volatility
At the start of this review, we mentioned that while Gates of Olympus might be classed as a highly volatile slot, we disagree. As with all of the games we review, we spent a couple of hours getting to know the game and in that time, we noticed that Gates of Olympus pays out pretty regularly. And in fairly small amounts. So, while the rest of the internet may see Gates of Olympus as a high-volatility slot, we disagree and see it more as a medium or even low-volatility title.
What we can confirm is that Gates of Olympus' RTP is above average. The game is currently rated at 96.6%, slightly above the industry average of 95%. This means that if you spend R100 playing Gates of Olympus, you should see a return of R96.50. Just remember that this is an average taken across countless games played and should only be used as a guide and not a guarantee.
Gates of Olympus Graphics
We like the cartoon aesthetic of Gates of Olympus. It reminds us of the arcade games of our youth. The symbols are all unique while still being instantly recognisable. The soundtrack fits the game like a glove and, even after playing for an extended period, doesn't get annoying. Quite an achievement! More often than not we end up looking for the mute button.
Gates of Olympus on Mobile
Gates of Olympus uses HTML5 technology, making it super accessible. All you need to play is an internet browser and a stable connection. You can use your smartphone, tablet, laptop and desktop. Heck, you could probably even play the game using the internet feature on PlayStation or XBOX!
Should You Play Gates of Olympus?
Unlike the last few games we've reviewed, Gates of Olympus is not a simple game for beginners. Yet it's not a super complex game that's made for experienced players. Gates of Olympus is in that Goldilocks zone where it's not too simple but also not too complicated, making it ideal for just about everyone apart from rank newbies.
Best Casinos to Play Gates of Olympus for Real Money
Other Online Slots You May Be Interested In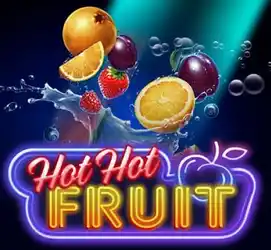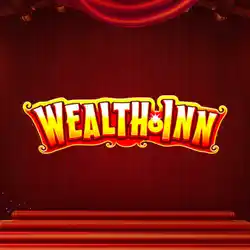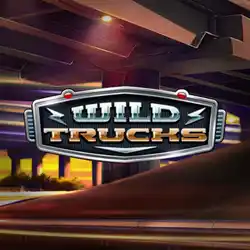 FAQ
Can I play Gates of Olympus at HollywoodBets?
Yes. It's part of the Spina Zonke collection of over 400 games. You can also play it at several other online casinos including YesPlay, ScoreBet, and PlayaBets.
What is the Gates of Olympus max win?
You can win up to R2 million playing Gates of Olympus.
Is there a Gates of Olympus hack?
There is no guaranteed way to ensure you'll win playing Gates of Olympus. However, there are a few things you can do to improve your chances. One of the things we suggest doing is to spend some time playing the Gates of Olympus demo.
Where can I find out more about online gambling in South Africa?
Get in on the action
Sign up now for the latest bonuses, promotions, and new online casinos.
Have You Found What You're Looking for?
Your feedback is paramount!