Support Types:
24/7 customer support through email, 24/7 Live Chat, Complaints Section
Email:
support@gbets.co.za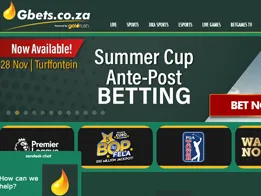 Betting Products & Games: Football, Motorbikes, Golf, Rugby Union, Cricket, Rugby League, Basketball, , & more
Min/ Max Bets: The minimum and maximum betting amount varies on factors such as the sport/events/market limit and the odds.
Min/Max Withdrawals: R50 / not specified 
Currency: South African Rands (ZAR) 
Welcome Bonus: 100% up to R1000 
Rating: ⭐⭐⭐⭐⭐
Gbets Welcome Offers & Bonus Codes 2022
Welcome Bonus
If you on the verge of making your first deposit at Gbets, you can expect a hefty reward. The online bookmaker offers a generous 100% match bonus, which doubles your bankroll instantly. For example, if you make a R500 deposit, then you receive an additional R500 as bonus and have a total of R1000 in your Gbets account. The maximum bonus is capped at R1000. 
Some of the fundamental terms and conditions to be aware of with respect to the welcome bonus are as below: 
The minimum qualifying deposit is R20 

If unused within 30 days, the bonus is no longer valid 

The welcome bonus is subject to a wagering requirement of 3 times before you can withdraw any of the bonus amounts

In order to count towards the wagering requirement, the bets taken should be at the odds of 5/10 minimum
Other Promotions
Derby Day Double Bet:
Everton Vs Liverpool is a fierce rivalry and an English Derby which dates back hundreds of years. For the next upcoming fixture of Everton vs. Liverpool, you can take advantage of the Derby Day promo. This is also applicable for the Serie A derby of Inter Milan vs. AC Milan. Take a selection on both the EPL Derby and the Serie A derby and if you miss the bet because one of the games ended goalless and the other one was rightly predicted by you, then you can receive a refund of up to R5000 in cash. 
IPL Season Promo:
Do you love watching the Indian Premier League cricket? Well, this promo is available throughout the current season of the IPL. Take a batsmen selection on the most match sixes market and if your make a winning bet, Gbets will double your winnings up to a maximum of R1000. 
Weekly Soccer Jersey Giveaway:
Do you love the EPL? Have a favourite team? Well, how does a free, authentic, team jersey sound? That is exactly what the Weekly Soccer Jersey Giveaway promo by Gbets offers. In order to qualify, make a deposit to your Gbets account using a 1ForYouVoucher. 
Gbets EPL Fantasy League Promo:
If you think you are well versed with soccer and should have been a pundit or a manager yourself, well, it is time to put your money where you mouth is. Take part in the Gbets EPL fantasy premier league and if you are as good as you believe, there are plenty of rewards and a prize pool of R50,000 to go around. 
OTT Payout Promo:
Gbets has recently added a new withdrawal method – the OTT instant pay out. Just to attest to how quick the pay out channel is, if your OTT Payout takes more than 30 seconds to be processed, you are going to win a R25 bonus. 
Hattrick Hero Super Rugby Promo:
This is a Super Rugby specific promo. It offers a win of up to R2000. How do you win? Well, make your selections for 1st try scorer and the double market and get rewarded if your selection scores first and with a hattrick. 
Full Sweep F1 Season Promo:
In this promo, you need to place a selection for Race Win bet. In the event that your selected driver starts the race in pole position, is in the lead throughout the tenure of the race and ends up winning the race, your winnings are trebled up to a maximum bet of R2000. 
Podium – Sitter F1 Season Promo:
Yet another offer on the Race Win bet market in the F1 category. In this promo, you make a selection for the Race Win bet, and in the event that your driver is not the winner, but places 2nd or 3rd, then you can get a refund of up to R1000 on your stake amount. 
Gbets Casino Login & Registration ✍
Gbets is an online sportsbook geared towards South African punters. Even if you aren't a South African national, you can still play at Gbets sportsbook as long as you are currently based in South Africa. However, you first need to be registered with Gbets as a member. The registration process is very easy and takes just minutes. Follow the steps below for a hassle-free registration. 
Go to the Gbets sportsbook website via this link

Once the home page is fully loaded, click on the yellow 'Register' icon at the top right of the screen

A pop – up registration form will appear in the foreground

Complete the registration form by entering the details requested. Some of the inputs are mandatory. 

Enter your mobile number, configure a password, enter your first name and surname, passport number or ID number, date of birth, and email address.

Click on the checkbox to accept the terms and conditions of Gbets. When done, click on the 'Register' tab at the bottom of the form 

You will receive a verification code on the mobile number you provided, enter the code to complete the registration 

Make sure to enter your name as it appears on the ID or Passport 
Please note that Gbets adheres to FICA verification procedures. Before you may successfully process your first withdrawal, it is mandatory to complete the FICA verification process. It is easy to do so. All you need to do is submit a copy of your ID and any document as address proof to Gbets. Once your Gbets account is FICA verified, it is considered fully active without restrictions. 
Placing Your First Bet?
Placing a bet at Gbets is a pretty uncomplicated process. The process basically mimics what a person would do at a sports betting parlour. It works on the concept of a Betslip. You add your bets to the Betslip, verify the details or summary on the Betslip, and then confirm the bets. Cash outs are only available on certain markets. They are not available for free bets and bonus money bets.
In order to place your bet, start off by visiting the Gbets website or launching the app on your Android phone. Log in to your account by providing your user ID and password. Once you are logged in, you can either make a handy bet selection from one of the quick bets offered in the popular sporting categories, or you can select the sport, the league or competition, the particular sporting event, the particular type of bet and then the amount that you want to wager. After these steps, you can add the bet to the Betslip.
Once added to the Betslip, you may go ahead and confirm the bet, or you can add another bet or bets in a similar manner.
Popular Sports you can bet on at Gbets
Gbets offers sports betting on over 48+ various sporting markets. At the moment, the list of sports supported are Football, Motorbikes, Golf, Rugby Union, Cricket, Rugby League, Basketball, Volleyball, Formula 1, American Football, Badminton, Air Hockey, Alpine Skiing, Aussie Rules, Auto Racing, Baseball, Basketball Shots, Beach Volleyball, Biathlon, Boxing, Floorball, Futsal, Gaelic Football, Handball, Hurling, Ice Hockey, King of Glory, League of Legends, MMA, Nascar, Netball, Politics, Sailing, Snooker, Special Bets, Speedway, Squash, Starcraft, TV Shows and Movies, Table Tennis, WWE, Water Polo   
The most popular sports at Gbets are also some of the most popular sports when it comes to number of viewers in South Africa. We are talking about Football, Rugby, Cricket, Golf, Motorsports, Tennis and more. 
Football or soccer fans in particular are going to enjoy Gbets. The range of football leagues from all over the world is simply outstanding. Also, you can play Fantasy Premier League which is a lot of fun and tests your knowledge and tactics of the game. 
Other Games Available at Gbets
In-play betting 
It is not only upcoming matches that you can bet on. Even current live events are sometimes available for betting, depending on the type of sport. A lot of sports are supported when it comes to in-play betting. At Gbets, you can simply click on the 'Live' tab from the header menu and you will see a list of all the sporting events that are underway. Take your pick and make your bet.
Roulette and Baccarat 
Like playing casino table games such as Roulette and Baccarat? Well, Gbets turns it up a notch. Once you are on the home page of the Gbets website, just click on 'live games' in the header menu and you will be presented with some live casino table games to choose from. These are referred to as live because you are playing with an actual dealer in real time thanks to video streaming. Either they have specialized studios from streaming or the dealer is based at a land-based casino where you can play games like live Blackjack, Live Roulette and Live Baccarat. These games are played for real money. 
How does Gbets compare to other Sportsbooks in terms of Betting Markets & Odds?
You don't have to sit down and compare Gbets to other online sportsbooks around the world and South Africa, because we have already done that for you. If you are keen on a sportsbook that offers the best odds, we can assure you that Gbets is going to be a hard to beat. 
When it comes to their most popular sporting markets such as Football/Soccer, Golf, Rugby, Cricket, Basketball, Tennis and Motorsports, they do tend to offer lip-smacking odds. In terms of other, lesser popular sporting markets, the odds are pretty average. 
One of the things we like most at Gbets is the fact that you are in the driver's seat and get to choose how you want the odds to be displayed, depending on your preference. You could have it in decimals, fractions, American version, Hong Kong version, Malay Version or Indo Version. In fact, you can change the layout of the entire website itself. The modern view is enabled by default, but you can always switch to the classic view since you have that option at Gbets. 
Gbets App and Mobile Website Version
Gbets is available for desktop, laptop, tablets and smartphones. The Gbets website is designed using the latest HTML5 technology which makes it responsive. No matter what the dimensions of your device, you can load up Gbets and it will restructure itself to remain fully in view and functional on any screen size. 
If you are an Android tablet or smartphone user, there is some good news – Gbets has an exclusive Android app that you can download and play on. There is no app for iOS devices and Windows devices. However, we have reason to believe that the iOS app is a work in progress and we can expect one in the near future. 
Mobile vs. App Features and Benefits ?
Some of the pros of playing on the mobile website are:
Instant play – no download or installation needed 

Play on any supported mobile device without download 

Data costs on download is saved 

Device memory is not used up 
Some of the pros of playing on the mobile app are:
App is fine tuned for seamless performance on Android devices 

App is always ready to launch and play 

You don't have to enter your User ID and password every single time 

Save on data costs in the long term
Mobile Bonuses and Payment Methods 
There are no exclusive bonuses for mobile players at this time. However, it is not uncommon for Gbets to introduce a welcome bonus for their Android App every once in a while to promote their Android app and get more downloads. 
However, all other promotions and bonuses that would be available to a Gbets member on the website are available on the Android app as well as the mobile website. 
Likewise, the entire range of banking options is supported on mobile as well. Whether you use credit cards, e – wallets, OTT or 1 Vouchers, or Instant EFT via the various supported South African banks, you will have all these options at your finger tips on the mobile version of Gbets as well. 
System Requirements Compatibility
Gbets sportsbook is mobile friendly and you will be able to access the Gbets sportsbook website on any modern smartphone or tablet. This includes iOS devices like iPhone 6, 6S, 7, 8, 8 Plus, X, XS, XR, 11, iPad, Air, Mini, Pro, 2, 3, 4. Android devices such as Samsung Galaxy S8/9, Samsung Galaxy Tab, Nexus 6, Huawei Mate 10, Moto G5 Honor 8 and Windows devices such as phones from the Nokia Lumia series. 
In terms of the OS, as long as you are running an OS version which is not considered end of support or end of life, it should be sufficient. Compatible iOS versions at this time are – 9.0, 9.1.X, 10.0, 10.1, 10.X, 11.0, 11.1, 11.X, 12.0, 12.1, 12.X, compatible Android versions include – 4.0.X (Ice Cream Sandwich), 4.X (Jelly Bean), 4.4.X (KitKat), 5.X (Lollipop), 6.0.X (Marshmallow), 7.0.X (Nougat), 8.0.X (Oreo), 9.0.X (Pie) and compatible Windows mobile operations systems are Phone8, 8.1 10 Mobile 
How to download the app on Apple IOS
There is no iOS app available at this time. However, the word is that the app is in the making and should be released sooner rather than later. 
How to download the app on Android 
Open up the Gbets website on your Android mobile phone 

You can use a browser such as Google Chrome to do this 

Scroll down to the bottom of the website home page 

Just under the useful links section, you will see the android logo

This is the button to download the Android sportsbook app, click on it

If your Android device asks for permission to download and install from unknown source, allow it to do so

The app is installed and available in your app pane 
| Deposit Method | Min. Deposit | Max. Deposit | Processing Time |
| --- | --- | --- | --- |
| 1voucher | R5 | Not specified | Instant |
| OTT Voucher | R5 | Not specified | Instant |
| Instant EFT | R20 | Not specified | Instant |
| Visa | R20 | Not specified | Instant |
| Mastercard | R20 | Not specified | Instant |
How to Make a Deposit: 
Click on your account balance.

Click on 'Balance Management' 

Click 'Deposit'

Choose a deposit method 

Enter the amount you would like to deposit

For credit card: enter your card details and complete the payment 

For EFT – A sheet with your reference number and bank details of Gbets will appear. Ensure that you use your UserID as payment reference and please send over proof of the deposit to

support@gbets.co.za

For vouchers – select pay via OTT or 1Voucher (whichever voucher you are in possession of) enter the voucher number in the prompted input field, click Pay, you will receive a confirmation message that the payment was successful
| Withdrawal Method | Max. Withdrawal | Processing Time |
| --- | --- | --- |
| EFT | Not specified | 24 – 48 hours |
| eWallets | Not specified | 1 – 4 hours |
How to make a withdrawal
click on your account balance.

Click on the 'Balance Management' tab

Click 'Withdraw'

Choose your preferred withdrawal method 

(EFT – 24-48 hours (bank time difference applies) from 8 am-6 pm excluding weekends.




eWallets – takes 1 to 4 hours from 8 am-6 pm every day of the week.
RECAP
Unique Selling Points 
Welcome bonus for new players 

Select from a variety of odds representations

Select modern view or classic view for entire website 

Bet boost on select events on a daily basis 

Vast range of markets for soccer/football 

South African business which is legal and licensed 

Secure and easy banking methods for South Africans 

Android App available for download and iOS app in the pipeline 

Offers lucky numbers and some casino table games 
Common Complaints 
No live streaming 

No horse racing form guides 

Only a few live betting markets 
About Gbets
Gbets online sportsbook is brought to you by a 100% locally owned company known as Goldrush Gaming Group. This is a business with a lot of services and products, their main domain is sports betting, limited pay out machines, online casinos and online bingo platforms.
Goldrush Gaming Group has over 2 decades of experience under their belts when it comes to gambling related operations all over South Africa. Goldrush Gaming Group has a staff of over 1500 people and they are B-BBEE certified, this stands for Broad – Based Black Economic Empowerment) 
Gbets sportsbooks is one Goldrush Gaming Groups proudest innovations. At the time of writing, Gbets pays out in excess of R300 million in winnings each and every month to their users. In fact, Gbets holds the record for the largest ever online sportsbook pay-out in South Africa, courtesy of a record R3 Million pay-out in 2019 to one Mr. EJ.  
Gbets sportsbook is one of the best online sportsbook options for South African based players. Gbets is licensed by the Western Cape Gambling and Racing Board, which is among the premier and reputed gambling commissions in the country. Gbets headquarters is located in Roodepoort, South Africa. 
One of the things that stand out about Gbets when compared to their competitors is their customer service. Just as you load up the website, you will notice the live chat window pops up and asks if you have any questions. Shoot your questions and within seconds, you will have answers which are clearly from a human support executive and not a bot-based system which is frustrating and generally fails to provide a resolution. This shows Gbets are legitimate, and easy to get in touch with. 
Customer Support & Contact Details
Live Chat Feature on the website 

Email: 

support@gbets.co.za

Telephone support: 0861 Gbets (42387)
If you are a sports betting enthusiast from South Africa search for superbets.co.za register online application page on Supabets Casino and collect supabets r50 sign up login bonus for new members.