Lotto & Lotto Plus 1/2 | SA National Lottery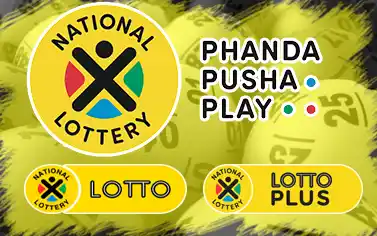 If you want to become a millionaire in just a few minutes, you should try playing the South African National Lottery. Operating since 2000, the game is regulated by the National Lottery Commission and since 2015 it is operated by Ithuba, the official operator. National Lottery offers three games, Lotto, Lotto Plus 1 and Lotto Plus 2, and they are by far the most popular form of gambling. You are allowed to play Lotto as long as you are over 18 years and you may win huge sums at just R5 per combination. The additional games Lotto Plus 1 and Lotto Plus 2, coming at an additional cost, will increase your odds of winning.
The Republic of South Africa Lotto takes place twice a week and draws are streamed live on Wednesdays and Saturdays evening at 20:56 on the TV channel SABC 2. Since July 2017 instead of 49 numbers, players can choose 6 numbers from a set of 52 numbers. At the same time, the additional game Lotto Plus 2 has been introduced. While the price of a Lotto combination is R5, the price of Lotto & Lotto Plus 1 and 2 are R2.50 per game.
How to Play Lotto?
The first thing you should do once you have decided to play Lotto is to choose 6 numbers from 1 to 52. In case you do not feel like choosing numbers, you can opt for the QuickPick option, by which you basically let the computer generate random six numbers, which might be your unique winning combination. The price of the QuickPick option depends on the number of combinations you want to play. The price of a single Lotto combination is R5 and on the top of the Lotto betslip you can opt for a number of draws you want to play using the same combination of numbers.
In order to buy Lotto tickets, you have to be at least 18 years old. You have a chance twice a week to buy tickets featuring your preferred combination of numbers or more of them and you can watch live which numbers are drawn. The Lotto machine draws 6 winning numbers out of the set of 49 balls plus a bonus number which provides you with more chances of winning. Those players who have matched five numbers particularly may make use of this additional number, as they may match the total of six numbers and hit the jackpot.
When it comes to the odds of winning, you should know that the the chances of hitting the top prize Lotto jackpot are one in almost 14,000,000. You should be aware of the fact that Lotto is a game of chance and as such a game, it cannot be played by a certain winning strategy, but you can pay attention to a few details. In order to increase your winning chances, try to mix odd and even numbers, as the draws of combinations consisting of all odd or all even numbers are quite rare. In addition, you should mix high and low numbers as combinations, including all the numbers from the first or all the numbers from the second half of the board are also rarely drawn.
How to Play Lotto Plus 1?
Lotto Plus has operated since 2003 and basically, it is an extension of the Republic of South Africa Lotto. The game offers an extra chance to win as the numbers chosen for a Lotto draw are wagered for an additional corresponding Lotto Plus draw. After the introduction of another additional game, its name was changed to Lotto Plus 1. Lotto and Lotto Plus 1 can only be played together and the game boards which are entered for Lotto Plus 1 must be the same as the Lotto combinations played. You have to check the Lotto Plus 1 option on your Lotto ticket in order to get an additional chance of winning. The Lotto Plus 1 draw takes place after the classic Lotto drawing has been finished.
How to Play Lotto Plus 2?
Lotto Plus 2 provides you with an additional third chance of winning. To play Lotto Plus 2, a player has to mark the Lotto Plus 2 option on their betslip. If you want to play Lotto Plus 2, you need to play both Lotto and Lotto Plus 1 games.
The Price of Lotto & Lotto Plus Tickets
As the National Lottery has been facing tough competition from other forms of gambling lately, the official operator was made to invigorate the games, which has been reflected in the prices of tickets. South African players have not been very delighted to hear such news, as those who want to win millions by playing the National Lottery since May 22, 2016, need to pay R5 for a Lotto combination and R2.50 for Lotto Plus 1 and Lotto Plus 2 each.
Play Lotto Online
You can buy tickets for Lotto & Lotto Plus at local National Lottery retailers and via SMS, but you may also purchase them from the comfort of your home via the Ithuba website. The first thing you should do is to register on the Ithuba website or by sending your name and ID number via SMS or via the USSD string. As soon as you sign up, your virtual wallet will be created so that you can store your funds. In order to access it, you need to create a unique password.
As soon as you complete the sign-up process, you need to make a deposit, which will be added to your virtual wallet, so you can proceed to choose your numbers and buy the tickets for the upcoming Lotto draw. Since the operator is not a banking institution and does not provide such services, you should expect that a fee will be charged on all your deposits and withdrawals. Further information on fee amounts and cash out limits, but also on the options of claiming the prize, are explained in detail on the official operator's website. You can follow the latest lotto results at Playcasino.
Another option is to consult our best lottery sites guide and choose an online retailer to purchase your lotto tickets.
Why Play Lotto & Lotto Plus?
If you manage to match 6 numbers, you may hit the top jackpot prize in millions. The recent changes have brought a guaranteed prize payout for matching three numbers, which now stands at R50 instead of sharing the prize pool between all the players who won the combination.
When it comes to Lotto Plus, the modifications include that the jackpot in the extra chance game keeps on rolling over until it is won. Until recently, the jackpot was rolling down, so the changes have made this game more attractive to those passionate Lotto players. Besides, if you match 3 numbers in the Lotto Plus game, you are granted a fixed prize which stands at R20. If you match 2 numbers and a bonus ball on Lotto Plus 1 and Lotto Plus 2, you will win R15.
It's all about luck, so hope for the best. Your dreams may come true in a single draw, so devise your strategy and start playing Lotto and Lotto Plus as you may be the next lucky winner. Don't forget that a South African player won Lotto twice during the seven-year period, which means that it is possible to hit millions at only R5 per combination. With each new combination, your odds of winning will be increased.
The Lotto National Operator
The Republic of South Africa National Lottery has been operated by the licensed operator Ithuba since 2015. The former lottery operator Gidani has tried a couple of times to reclaim the Lottery license issued by the National Lottery Commission at the court, but Ithuba is the rightful holder of the National Lottery license according to the High Court, which has been recently confirmed again. The people from Ithuba claim that they are devoted to optimizing the consumer experience as well as restoring faith and trust in the National Lottery. Besides, they are dedicated to showcasing their positive social contribution to the socioeconomic development of South Africa through the ethical and efficient operation of the National Lottery.
If you are looking to play the international lottery, be sure to check out our guide.
Get in on the action
Sign up now for the latest bonuses, promotions, and new online casinos.
Have You Found What You're Looking for?
Your feedback is paramount!