Support Types:
24/7 customer support through email, 24/7 Live Chat, Complaints Section
Email:
support@playabets.co.za
Playa Bets South Africa Summary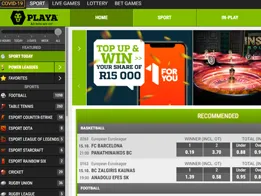 Min/ Max Bets: R1/Variable depending on the fixture
Min/Max Withdrawals: R20/ R3,000 per day or R25,000 per month
Currency: ZAR, and many more. The currency will automatically be picked up from the country selected during registration
Welcome Bonus: R50 no deposit bonus bet and 1st bet on the house!
Rating: 4.3/5
Founded back in 1990, Playabets has a long-standing reputation for being one of the best – and first – retail betting operations in South Africa. Apart from offering a wide range of betting options for sports, the company is also popular for its lottery draws and keno betting – the latter of which they were the first to offer as a bookmaker. 
In 2014, the company decided to expand its services to the world of online betting and has since been extremely successful in providing an unparalleled online and mobile sports betting experience. Read on to find out more about what this bookmaker has to offer, and find out how you can make the most out of the abundant bonuses and promotions available!
Pros & Cons
Pros
Plenty of sporting markets and a great option for football betting 
Live betting / in-play betting on soccer, tennis, and other sports 
Lotto and Keno services offered 
Many bonuses at any given time 
Good range of SA friendly deposit and withdrawal methods 
Apps for Android and iOS available 
eSports betting available 
Cons
No online casino as part of the account
Credit and debit card withdrawals not supported 
New Player Bonuses at Playa Bets
Whether you have just signed up with Playa Bets or have been a long-standing user of this sportsbook, you will always find plenty of bonuses to keep you incentivized for your sports betting.
For new players, the sign-up bonus and the first bet bonus will surely put a smile on your face. For regular players, there are many weekly bonuses, sport-specific bonuses, a loyalty program and so much more! 
Let's take a look at some of the promotions and bonuses currently offered by Playa Bets sportsbook.
Welcome Bonus:
We did say that the sign-up bonus was a good one and we surely weren't exaggerating. As a new player joining this sportsbook, you will get a whopping match bonus on your first real money deposit made at Playa Bets!
When you make your first deposit, you will receive a 100% match bonus up to a maximum of R10,000. Therefore, if you are to make a deposit of R500 as your first deposit, you will receive an extra R500 and a total of R1000 will be credited to your Playa Bets cashier account. 
Important things to know about this offer: The rollover requirements are 5 times with bets where the odds are greater than 7/10. Also, in order to qualify for this first deposit bonus, you need to make a deposit which is of value R50 or higher. 
First bet on the house:
Still on the fence about signing up with Playa Bets? What if we told you that your first bet with Playa Bets is always going to be a winner and that the sportsbook itself vouches for it with its 'first bet on us' offer?
Playa Bets wants to see their new members start off on the right foot at their sportsbook, so they are offering a 100% cashback on your first bet if it is lost!
This means if you lose, you get your money back – Playa Bets will refund you 100% of your bet amount up to a maximum of R50, no questions asked. And if you win, well, what else could you possibly wish for? But truly, Play Bets has made this cashback offer available just to show how badly they want their players to succeed and have a great start to their journey with them.  
Important things to know about this offer: In order to claim this bonus, you simply have to shoot out an email to support@playabets.co.za with the subject line "First Bet" and you will receive your cashback! Also, please note that this bonus is only applicable to bets placed on pre-match and in-play sports bets. 
New Customer Referral Bonus
:
New players don't just get an extremely generous match bonus and a cash back bonus on their first deposit, but they are also offered a referral bonus for referring this bookie to other players.
The way it works is pretty simple. Once your referral signs up and makes the first deposit with Playa Bets, you get a free R50 in your Playa Bets cashier account. You can make some extra money on the side just by referring others to this state-of-the-art online sportsbook and they could benefit in the same way. 
Important things to know about this offer: In order to claim the referral, your friend has to email support@playabets.co.za from their own email address and confirm that they were referred by you within 7 days of their registration. Also, please note, your referral must complete their FICA verification process and make a first deposit which is of the value R50 or higher. 
Bet R25, get R25:
Bet R25 on sports with odds of 0.7 or more and ensure the bet cumulative value totals R25 and you will get R25 for free. Once you have placed your bet in accordance with the requirements for this bonus, send an email to support@playabets.co.za and they will send you free R25. There are no turnover requirements on the bonus bet. 
Please note: This deposit bonus cannot be combined with any of the other welcome bonuses offered. 
Special Promotions
Win FIFA 21:
Do you like gaming, specifically FIFA? Well, you could just win the newest edition of FIFA, FIFA21 thanks to this promotion by Playa Bets sportsbook. Top up your account with a deposit of at least R20 while this promotion is active and you will gain an entry into the lucky draw. Every time your top with R20 or more, you gain a new entry into the draw and so your chances of striking gold in the draw increases. 
Safety Zone:
This is a great option for punters who like betting on football matches. This is specifically for football games that end in a goalless draw or 0 – 0. If you have a qualifying pre-match bet on such a match you will receive your stake amount back. This promotion is only available on the following football leagues and cups –Uefa Champions Leagues, Europa League, English Premier League, English Championship, La Liga, Ligue 1, Bundesliga, Serie A, Eredivisie Primeira Liga) and the South African PSL.
Live in-play boost:
Another great offer for football punters who like to place their bets once the game is underway. Basically, the odds are boosted for all live in-play football games at the following times since kick-off – 20 minutes, 40 minutes, 60 minutes and 80 minutes. A red B will highlight such events where the odds are boosted, to make it easier for you to identify and take advantage of such matches. 
15% deposit bonus:
This bonus is available on every South African public holiday. The holidays are a perfect opportunity to get your sports bets in and Playa Bets offers you a bonus for doing just this. This is only applicable to your first deposit on every public holiday. You basically get a 15% match bonus up to a maximum of R1000. So, if you were to make a deposit on a public holiday of R1000, you will receive free R150 as a bonus (provided it is your first deposit of the day). In order to claim the bonus just email support@playabets.co.za
Hot Tip: To ensure that you don't miss any profitable promotions is to opt-in to receive marketing communications from Playa Bets through email and SMS. So, every time there is a new promotion launched, you get notified about it and you are in the driver's seat as to whether you want to reap the benefits of the promotion or not. 
Playa Bets Registration: How to Open an Account
 The sign-up process to become a member is quick and easy. Just follow the below steps for a hassle-free registration. 
Visit the Playabets website via our link
On the upper right-hand corner of the home page, click on the red 'Login/Register' button 

A small white pop up window will open asking for your username and password, under that, click on the 'Register' tab

You will be redirected to the registration form which appears in a pop-up window

The form must be duly completed with the following details – first name, last name, email address, password, repeat password, country, phone number with country code, personal ID, passport number, gender, birthday, city, address, region, promo code, an option to sign up for the newsletter, a checkbox to confirm you accept and understand the terms and conditions 

Once you have filled out the form and confirmed you accept the terms and conditions, click on 'Register'
That's about it! Your account is now ready but you still need to verify your account in order to activate and unlock its entire potential. Playa Bets follows the usual FICA verification procedure, which is a South African standard and requires you to email Playa Bets a copy of your ID and proof of address. 
Placing Your First Bet
Placing a bet on Playa Bets is rather easy and mimics the process of placing any sports bet at any land-based sports betting parlour to make it intuitive. 
To begin with, you will need to be logged in to your Playa Bets account.

Another requirement is to ensure that your Playa Bets account has sufficient funds to support the amount of stake you want to place. If not, you can top up your Playa Bets account using one of the various deposit methods offered. (Scroll down to view available deposit methods at Playa Bets)

N

ow, select the category of sports you are interested in betting in – for example – football, rugby, cricket, etc.
Once you have selected the sport, specify which competition, league or cup you want to bet on – for example – (assuming you chose football) English Premier League, Spanish La Liga, Italian Serie A, etc.
The next step would be to select the particular match that you want to bet on – for example – Arsenal vs. Liverpool, Man Utd vs. Chelsea, etc.
Now that you have narrowed down exactly which event you are betting on; it is time to confirm what kind of bet you want to place – do you want to bet on which team will win? Do you want to bet on who will score first? Do you want to bet that a certain player will score a goal? Do you want to predict who will score the next goal? Etc. There are literally hundreds of betting options that you can choose from.
Once you have selected your bet, it gets added to the Betslip. If you would like to, you can add another bet or bets to the Betslip by following the same procedure.
Once you are satisfied with your bet, you can review the details of the bet slip and ensure that they are correct and as intended by you.
Finally, confirm the bet by clicking on 'place bets'. 
If you are maybe looking for something a bit easier or quicker, there are also quick bets where you can just select the bet at the odds offered and add it to your Betslip in a jiffy and in just a single click. 
Popular Sports You Can Bet on At Playa Bets
Playa Bets offers betting on 20+ sporting markets and new sporting markets are added often depending on user demand for the market.
Currently, you can bet on the following sporting categories – Football, Horse Racing, Cricket, Rugby Union, Rugby League, Tennis, Basketball, Esports, Volleyball, Boxing, Golf, Alpine Skiing, American Football, Athletics, Aussie Rules, Badminton, Bowls, Cycling, Darts, Formula 1, Goal Scorers, Handball, Ice Hockey, Martial Arts, Motor Sports, Ski Jumping, Snooker, Sports Specials, Winter Olympics and eSports. 
The most popular sporting category at Playa Bets is football and there is no surprise. Since the Football World Cup was hosted in South Africa in 2010, the popularity of this sport has gone through the roof. People love playing it, love watching it and as is evident in Playa Bets sportsbook, they love betting on it. All the top tier football leagues from countries around the world are available to bet on, as well as the local South African leagues and cups. 
This is also the reason you will find several promotions which are football-specific at Playa Bets sportsbook such as cashback if the match ends in 0 – 0, a boost on football accumulator bets, and much more. 
Other Betting Options at Playa Bets Sportsbook
Playa Live Score (Live Betting)
Were you not able to get your bet in before kick-off? It is never too late at Playa Bets. You can still place a bet even when the game is underway, known as live betting. In fact, some players prefer betting live. It is available in a number of sports at Playa Bets such as Football, Tennis, Basketball, Rugby, Golf, Volleyball, Table Tennis and Ice Hockey. 
The Live Betting platform is user friendly and it takes just a couple of minutes to place your live bet. 
Playa BSM Keno
Keno is a lucky numbers game similar to Lotto. Playa Bets sportsbook offers lotto services on a lot of the top lotteries around the world. You can enter the lottery draw using your online Playa Bets account. 
Keno itself is an 80 numbered ball game where 20 balls are drawn in each draw. There are various betting options you can pick from.  
eSports
The eSports industry has grown leaps and bounds in the last half a decade and millions of people around the world now watch eSporting events through live streaming. There are professional video gamers and watching them play is as good as watching a professional, traditional sport such as football or rugby. 
Some of the popular eSports that you can bet on at Playa Bets are Dota, League of Legends, Starcraft, Overwatch, Counter-Strike, etc. 
How Does Playa Bets Compare to Other Sportsbooks in Terms of Betting Markets & Odds?
Playa Betsis is right up there with the top online sportsbooks such as Sportingbet and Hollywoodbets for South African players. This is not only because of the generous promotions and the user-friendly website, but also because they offer betting on a huge variety of sports and offer betting at very competitive odds which are going to be hard pressed to find elsewhere. 
When it comes to sports like Volleyball, eSports, Basketball, and others, the odds are on par with other sportsbooks and can therefore be considered average. 
However, if you take into consideration sports that are popular amongst South African sports punters such as Football, Cricket, Rugby and Horse Racing, then you are going to find some of the best odds at Playa Bets sportsbook. 
Playa Bets App and Mobile Website Version
Playa Bets website has been designed using modern technologies such as HTML5. This entails that the Playabets sportsbook website is fully mobile responsive, i.e. the website size is scalable to the screen size of different devices. Therefore, if you wish to access Playa Bets website from a smaller screen smartphone or tablet, the website will automatically adjust to fit the screen size without a problem!
This makes it easy and efficient for you to play on mobile right from your mobile browsers such as Safari, Google Chrome, etc. without actually needing to download the sportsbook app on your phone. However, if you would rather have a dedicated app on your phone for Playabets Sportsbook, you are in luck because they have a mobile app available for both Android and iOS smartphones and tablets. 
System Requirements Compatibility
All modern mobile devices (smartphones and tablets) which operate on Android, iOS or Windows operating systems should be able to support thePlaya Bets mobile website. In order to play, you just have to ensure that your mobile device is connected to the internet via either mobile data or a Wi-Fi network. 
If you prefer to play using the mobile app, then the version of the OS your mobile device is running will matter. For Android, you need Android 4.2 or higher. For iOS, anything over iOS 9.0 should be fine. Just make sure the version of iOS on your iPhone or iPad is not end of support and still receives updates and fixes. 
Here's how you can download the app on your phone:
How to Download the App on Apple Ios
Go to the Apple iTunes App Store 

Search for "Playa Bets sportsbook"

Select the app with the official logo 

Tap get and then tap install 
How to Download the App on Android 
The Android Playa Bets app is not available on the Google Play Store 
You need to download the API from the Playabets mobile website 
Go to the mobile website and click on the link to download the APK

Once the APK is downloaded and installed, you will find the app available in your app panel
If you're still not sure if you should download the app or not, maybe we could help you make a more informed decision. Here are the advantages of both betting from your browser and betting from the sportsbook app:
Mobile vs. App Features and Benefits 
Mobile Website Pros:
No setup required – no download or no install 

Switch devices and you don't have to go through the setup process again 

Play using just your mobile browser and internet connection 

No download and installation data charges

Does not take up memory on the device 
Mobile App Pros:
App is launched and ready to use in mere seconds

Avoid having to log in every time you want to place a bet 

Optimized performance 

Save on data charges in the long run 
Mobile Bonuses and Payment Methods
Mobile players will have access to the full range of promotions offered by Playa Bets sportsbook. This includes welcome bonuses such as the referral bonus, first deposit bonus, first bet cashback bonus and the bet R25, get R25 bonus. 
Even regular promotions such as the top-up bonuses, and more, are available on mobile whether you are playing on mobile using your mobile browser or through the app. In fact, Playa Bets sometimes runs promotions that are exclusive to mobile app users in order to promote their Android and iOS apps. 
Likewise, mobile app players will find that they are not restricted in any way even when it comes to deposit and withdrawal options. All the various banking methods are just a touch away even if you play on mobile. 
Depositing and Withdrawing at Playa Bets
| Deposit Method | Min. Deposit | Max. Deposit | Processing Time |
| --- | --- | --- | --- |
| Visa | Not specified | Not specified | Instant  |
| Mastercard | Not specified | Not specified | Instant  |
| SID Instant EFT | Not specified | Not specified | Instant  |
| Direct Bank Deposit | Not specified | Not specified | 24 hours |
| OTT Vouchers  | Not specified | Not specified | Instant  |
| 1 Voucher | Not specified | Not specified | Instant  |
| Zapper | Not specified | Not specified | During customer support hours  |
How to Make a Deposit:
The deposit method will determine the process to make a deposit. For some deposit methods which are available online, you can make the deposit using the steps mentioned below. However, if you are looking to deposit using OTT vouchers or 1Voucher, then you will need to actually visit the stores where these coupons are available and buy them, when you enter the voucher pin into the Playa Bets platform, your account gets topped up.  
Login to your Playa Bets account

Select my account

Go to the Cashier section 

Select your preferred payment type 

Enter the deposit amount 

Complete the deposit by following the prompts and entering the card details as required 
| Withdrawal Method | Max. Withdrawal | Processing Time |
| --- | --- | --- |
| FNB eWallet | R3,000/day or R25,000/month | 24 hours |
| Standard Bank Instant Money   | R3,000/day or R25,000/month | 24 hours |
| EFT Transfer | R3,000/day or R25,000/month | 24 hours |
| Betting Branch  | R3,000/day or R25,000/month | 24 hours |
How to Make a Withdrawal
Login to your Playa Bets account

Select my account

Select deposit and withdrawal 

Choose – bank transfer, FNB eWallet, SID or Betshop

Complete the deposit by following the prompts and enter the required details 

For FNB go to an FNB ATM once you receive SMS confirmation 

For SID go to any Standard Bank ATM, selected SPARS, Choppies, Game, Builders, Makro, Rhino Cash & Carry or Cambridge Food Stores to withdrawal your winnings

For betting branch withdrawals, select the shop nearest to you and go there and show them your ID and provide your account number to process the withdrawal 
About Playa Bets
Playa Bets is also reputed for being the first Bookmaker in South Africa to offer Keno betting. Playa has a great presence across the country through bet shops, easy to reach customer support and a fantastic social media presence to keep you in the loop. 
For Football betting enthusiasts, Playa Bets is hard to beat in terms of the vast number of leagues covered, the various betting options offered and the highly competitive odds these bets are offered at. 
Customer Support & Contact Details
Email:

support@playabets.co.za

SA support phone number: 087 057 5292 (8am – 9pm everyday)

Live Chat 

WhatsApp Support: 078 800 1018
If you are a sports betting enthusiast from South Africa search for superbets.co.za register online application form page on Supabets Casino. 
Our Verdict
Playa Bets has a lot of great things going for them and it's truly difficult to pinpoint negative things about this sportsbook. The biggest reason why it's hard to complain about this bookie is that it really values its customer base, and works hard to remain a strong competition in the sports industry.
Playa Bets is known for their incredibly generous promotions and we are certain that South African players will really appreciate the bonuses offered during the entire course of their tenure with this sportsbook. The bonuses and promotions are one of the biggest highlights of this bookie, and as punters, we appreciate and take advantage of every promotion that is offered to us, whether we are new or existing players. 
In fact, as far as promos and bonuses are concerned, we can safely say that Playa Bets is always proactive in strategizing great new promo deals and launching them frequently. In fact, there are so many new promotions coming out that it could be a lot to keep up with for some punters.
Playa Bets is just that kind of bookie that takes care of all its players, old or new, they present every player with the opportunity to make some free bonus cash frequently, and come up with great initiatives to keep players interested and loyal. This is something that we truly value and ensures that when we send our players to this bookie, they will be treated in the best possible way. 
Playa Bets Sportsbook FAQs
Yes, Playa is a legal and lawful business that is approved by the Government of South Africa to operate via land-based betting shops as well as online sportsbooks.
Playa Bets is regulated and licensed by the Kwazulu-Natal Gaming and Betting board. It supports the national responsible gambling programme. 
Yes, Playa is a well-known sports betting company in South Africa that has many betting shops all over the country.
They are now available online and are 100% safe and secure.
The betting odds are always fair, the payment methods are completely safe and you can talk to customer support very easily if you have any concerns. 
Playa Betsis an online sportsbook where registered members can place real money wagers on sports like football, rugby, cricket, tennis, esports, in-play sports, and over 20 other sporting markets including horse racing.
Playa also offers lottery and keno services. 
Yes, irrespective of whether you are playing on your PC or on a mobile device, you will need to be connected to the internet to play at Playa online sportsbook.
The internet connection is required for placing bets, getting updated odds and data and everything else. 
The sign-up process involves filling out the registration form and then submitting your FICA documents.
You can click on the register button and follow the prompts to complete the sign-up process. (You can find out more in detail in this review)
Not during the time of registration.
Yes, Playa Bets offers withdrawals via the following options FNB eWallet, Standard Bank Instant Money, EFT Transfer or you can even visit an actual betting branch and withdraw your money after showing your ID and providing your account number.
Yes, you can easily do that by contacting the Playa Bets customer support
If your app is not responding, it usually means that the internet connectivity on your mobile has gone down.
You can verify the same by trying to visit some other website on your mobile. You can also restart the device or reinstall the app as further troubleshooting steps. 
Playa Bets offers many different ways for players to get in touch with customer support:
Email:

support@playabets.co.za

SA support phone number: 087 057 5292 (8am – 9pm everyday)
Live Chat 
WhatsApp Support: 078 800 1018
There are no casino games offered at Playa Bets sportsbook.
Yes, all online transactions using credit cards are encrypted with SSL encryption technology.
Other banking methods are highly safe and secure too as they are processed by some of the biggest banks in South Africa. 
Yes, you can use the same account.
Yes, Playa Bets has an intuitive and user-friendly live betting platform. Once you are at the home page, click on the "in-play" tab at the top and you will access the live betting platform.