Currencies
South Africa Rand, Nigeria Naira, Ghana Cedi, Zambia Kwacha
Payment Methods
Visa, MasterCard
Casino Launched:
2008-03-11
License
Western Cape Gambling and Racing Board (WCGRB)
Supa Bets South Africa Summary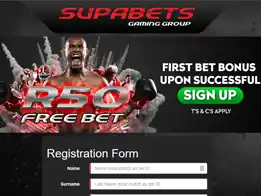 Min/Max Bets: R5 / Variable depending on the fixture
Min/Max Withdrawals: Depends on R50 / R5 million – (complete FICA for withdrawals above R25,000)
Currency: ZAR, NGN, ZMW, GHS
Welcome Bonus: R50 sign up bonus
Rating: 4.2/5
Pros & Cons
Pros
Huge range of sports and emphasis on Soccer
Live Betting offered
Lotto service offered
Great Bonuses
Plenty of banking options for South Africans
Mobile friendly via app (for Android) or mobile website
Great odds for Soccer matches
Cons
No casino section offered
Only for South African players and players from a few other African Countries
FIFA World Cup Betting
Soccer fans will be happy to hear that Supabets is open for FIFA World Cup bets! The event is about to take place across 8 venues in Qatar starting on 20th November, and it is expected to be nothing less than spectacular! Betting on specific matches, the competition's overall winner, the winner of a particular group, or a team's elimination are just some of the betting options you have at Supabets.
So, brace yourself and visit Supabets Sportsbook to see what else it has in store for South African players looking to bet on the World Cup!
Bonuses at Supa Bets
Supabets have some "supa-promotions" indeed. For now, as well as existing members of Supabets sportsbook, there is a truckload of bonuses waiting to be taken advantage of.
Use your Supabets bonuses to their potential, and you could make thousands of Rands for free. If you are new to Supabets, a sign-up bonus will make your day. If you happen to be an existing sportsbook member, worry not, there are a bunch of promotions for you too.
Supabets sportsbook is an exciting site that always has something new to offer. The promotions are frequently updated with new and exciting special bonuses related to major sporting events. In fact, it might be a little overwhelming to stay on top of your game and take advantage of all the promotions.
This is why we recommend that members opt-in to receive promotional communications when they sign up with Supabets. This way, you will receive an email or SMS every time there is a new promotion you can benefit from.
At the time of writing, the welcome bonus offered by Supabets is outlined below.
Sign-up Bonus:
If you are wondering whether you should join Supabets, the sign-up bonus might be the right incentive and motivation to tip you over the edge. Supabets offers an R50 sign-up bonus for new members.
Once you register as a Supabets member, you can expect your account to be credited with R50 the following day. Who does not want a free R50 to start their betting journey at such an exciting online sportsbook?
Please note, the R50 bonus must be rolled over 3 times at 11/10 or better before it can be withdrawn. Also, only single bets are permitted with this bonus money. Lastly, before you can withdraw the bonus via any payment method, you must have made a deposit matching the bonus received.
Deposit Bonus:
Supabets are offering deposit bonuses up to R5000 (split over the 1st, 2nd and 3rd deposits)
| ACTION | OFFER  | VALIDITY  | MINIMUM ENTRY | MAXIMUM ENTRY  | ROLL OVER | ODDS  | TYPE  |
| --- | --- | --- | --- | --- | --- | --- | --- |
| REGISTER | R50 | 7 days | - | - | X3  | 2/1 | Sports Only   |
| REGISTER | 100 Free Spins  | - | - | - | - | - | Habenero – 2 games |
| DEPOSIT 1  | 100% of Deposit | 7 days | - | R2,000  | X4  | 14/10  | Sports Only   |
| DEPOSIT 2  | 50% of Deposit  | 7 days  | - | R1,000  | X4  | 14/10 | Sports Only   |
| DEPOSIT 3  | 100% of Deposit | 7 days | - | R2,000 | X4 | 14/10 | Sports Only   |
Bet Like a Boss:
Start betting like a boss because Supabets is giving away a smartphone on Boss's Day. One player who has been betting like a boss will win a brand–new Samsung S20.
To get in the draw, place those boss bets over the course of a week before the giveaway is announced.
So, what is a boss bet? Well, any bet over R100 on any event with odds of 1/1 or better is a boss bet. The winner will be announced on the Supabets Facebook page.
7 Supa:
To stand a chance of winning a massive R70,000 for free, you need to put together sporting multiple bets that satisfy the following eligibility criteria – 7 legs or more and each leg must have odds of 5/10 or better.
Go 7 days in a row with a qualifying winning bet on each of the days. If you go all 7 days, you get R70,000. 6 days of winning bets = R10,000; likewise, 5,4 and 3 days of winning bets equal R5000, R2500, and R700, respectively.
Rugby Unlocked:
You could be one of ten players who walk away with R100 in your bonus wallet. To qualify for this chance, you must place a bet of any value on one of the Super Rugby Unlocked betting markets offers between Tuesday and Thursday each week.
Every qualifying bet will be considered a new entry into the draw. The winners are announced on the Supabets Facebook page every week.
Near Miss Cashback:
It is one of the most gut-wrenching feelings when you are right at the finish line of winning a handicap on a Rugby game, but the bet loses out at the last minute. Supabets knows how that feels and won't let you feel that way again.
If you miss by 0.5 points on your Rugby Handicap, Supabets will return your full stake up to a maximum of R2000. And if you miss out by 1.5 points, Supabets will return 50% of your stake up to R2000.
Suggestions:
Supabets love it when their members suggest great ways for the sportsbook to improve. This is why it incentivizes implementable and effective suggestions. If you know how Supabets can get even better, suggest to them, and if they like what they hear, they will award you with a free R200. This is awarded only if Supabets decides actually to use the suggestion.
⚠ Stay Informed. Stay Safe.
Gambling, while enjoyable for many, can spiral into an addiction for some. PlayCasino believes in responsible gambling and offers resources to help our users understand and manage the risks associated. Know the signs and ensure you play responsibly.
How to Sign Up with Supa Bets
Supabets is meant for South African punters who want to bet on sports online, but it can also be used by other nationals based in South Africa. To place bets on your favorite sports, you need to be a registered member at Supabets. Thankfully, the registration process is a piece of cake and can be completed in a matter of minutes. Just follow the steps below for a hassle-free registration.
Click on the red "Register Now" link.
You will be redirected to the registration form that must be completed
Enter your name as per ID, Surname as per ID, create a username for future use, provide an email address, furnish your phone number, choose your country from the dropdown menu, furnish your ID or passport number, configure a password for future use, reconfirm the password by typing it again
Finally, click on the 'Register' icon to confirm your registration
Please note: by registering – you agree to the terms and conditions of Supabets Sportsbook.
Your account is now reserved. However, you still need to activate the account. Supabets is a South African specific online sportsbook and requires you to submit certain FICA documents to verify your identity and activate your account.
To complete your FICA verification, you must submit a certified colour copy of your ID and proof of residence. Once the documents are uploaded, if the documents are correct as per requirements, your account will be activated in a matter of minutes to a maximum of one hour. You can send your FICA documents tofica@supabets.co.za
How to Login to Supabets
After registering, you can easily log in to your Supabets account.
Check the top right corner, click on Login, and a popup will appear where you can insert your username and password.

If you forgot your Supabets password, you can always reset your password by visiting the Supabets reset link here. The only thing you will need is your username.
Placing Your First Bet
Placing a bet on Supabets is pretty intuitive and easy. All you have to do is the following:
First, go to the Supabets website home page and click on 'Login', then proceed to enter your username and password.
Then, click on the sport that you wish to bet on. For example, if you wish to bet on soccer, click on soccer.
Click on the country and the league or tournament you want to bet on, for example – England and then English Premier League.
After this, you need to choose the specific event or match that you would like to place a bet on, for example – Liverpool vs Arsenal. Now that you have the specific match selected, it is time to choose which bet you want to place. You could bet on who will win, whether the game will be a draw, or choose from hundreds of other betting options that Supabets provides such as first goal, goal scorer, etc.
Once you have selected your bet, you need to specify how much money you want to wager. Once you type in the amount of money and confirm the same, you will see the summary of the bet you are about to place on the Betslip, which is visible on the right-hand side of the website.
Verify that the details are correct and as you desire before you confirm the bet.
That's it, the bet is now confirmed and placed. All the best on your bet!
Popular Sports You Can Bet on At Supa Bets
Supabets allows for betting on all of the popular sports around the world. In fact, you can also place bets on some niche sports that aren't very popular either.
Sports
The main sports betting markets available at Supabets are – Soccer, Soccer Special, UEFA Champs, UEFA Europa, Goal scorers, Price Boost, Aussie Rules, Badminton, Baseball, Cycling, Floorball, Water polo, American Football, Basketball, Boxing, Cricket, Darts, Golf, Handball, Ice Hockey, MMA, Motorsport, Novelty Specials, Rugby, Snooker, Table Tennis, Tennis, Volleyball.
Soccer/European Football seems to be one of the most popular betting markets at Supabets.
Leagues
Since Supabets is mainly focused on South Africa and other African countries, you can place bets on soccer leagues from Africa and the rest of the world.
Want to bet on tier-2 African soccer games? Well, Supabets is one of the only sportsbooks to entertain such bets. Players can bet on the Elite Two league in Cameroon, the Premier League of Egypt, the Rwanda Cup, and the South African Premier Soccer League in  African Football.
Other Games Available at Supa Bets
Live Games
Live game betting is supported at Supabets. Basically, if you missed placing your bet before the start of the match or event, and you still want in, you can place a bet while the match is underway – this is called live betting. Live betting is supported for certain sports markets at Supabet. What's more? Do you want to watch the sports live? Well, you get live streaming thanks to the SupaTV feature. This feature is available on PC, laptop, and mobile.
Regarding soccer live betting, the popular bet of choice is the 'next goal'.
Supanumbers – Lotto
Supabets has its very own lotto service known as Supanumbers. If you have a knack for playing lotto, you are going to love Supanumbers. This is very similar to Lottoland which is available almost globally. Your bets are insured by Supabets for the entire amount of the draw.
Lotto draws from Russia, Greece, UK, Philippines, Ireland, Hong Kong, India, Lithuania, certain US States, Poland, Quebec, Peru, Germany, Austria, Sweden, Belgium, Portugal, Italy and Barbados are supported. So, take your pick, and you can enter any of these draws right from the Supabets website or app.
The biggest lotto draws that transpire worldwide, which you can partake in at Supabets, are the US Mega Millions, Singapore Toto and the Irish Daily Millions Afternoon Plus.
How Does Supa Bets Compare to Other Sportsbooks in Terms of Betting Markets & Odds?
Supabets has a lot of things going for it and is unique compared to other online sportsbooks in many ways.
Firstly, Supabets is focused on the South African consumer base and a few other African countries. This means players from South Africa and other parts of Africa will enjoy custom features and tailored experiences. In fact, this sportsbook is a fully African-owned and operated business.
The betting markets and lines choice is simply unbeatable and on par with some of the biggest online sportsbook brands worldwide. If you are a soccer fanatic, Supa Bets covers virtually every league, cup, and competition worldwide. Even less popular sports are offered, such as volleyball, darts, sailing, etc.
The promotions come fast and thick at Supa Bets for new and existing members. For loyal users, the VIP club promises great perks and delivers as well.
You can choose to be shown odds in fractions or as decimals. If you compare the odds with other sportsbooks, it must be said that the odds for soccer are simply great! For other sports, it is more or less average.
Supa Bets App and Mobile Website Version
Currently, Supabets have an app only available on Android and not iOS platforms, unfortunately. However, the truth is that the Supabets website is extremely easy to use and has responsively designed for mobile, so you can launch the browser on your mobile device, go to the Supabets website, log in as usual and start betting without any issues!
Of course, there are pros and cons, but unless you really wish to have the app downloaded on your phone, we suggest you use your browser to access the site, as the experience is just as good as the mobile app.
Mobile vs. App Features and Benefits
Some of the pros of playing on the mobile website are:
No download required
Play from any supported mobile device without installing the app
Play on various mobile web browsers like Google Chrome, Safari, Opera, etc.
Website functions and navigation identical to the desktop version
No initial download and install data cost
It does not take up memory on the device
Some of the pros of playing on the mobile app are:
Launch the app in seconds
No need to log in every time. Launch the app and you will be ready to place a bet.
Saves time and performs faster on mobile
Save data costs on the longer run
How to Download the App on Android
If you still wish to download the app on your Android phone, make sure to follow these steps:
Go to the Supabets website on your Android phone (The app is not available on the Google Play Store, so you will need to download it from the site itself)
Scroll down on the home page until you see the 'available apps' section
Click on "SB" in the extreme right circle button
You will see a whole new main page and app-like setup and can access this whenever you want via the home screen shortcut.
Mobile Bonuses and Payment Methods
The promotions and bonuses offered by Supabets are not exclusive to PC players. Right from the no deposit sign up bonus, where you get 50 Rand for signing up, to the first deposit bonus, referral bonus, suggestion bonus, the loyalty club, and everything else that is available to PC users as promotions, are also available to those who fancy a punt on their smartphone or tablet.
Likewise, you can do so right from your mobile device when it comes to funding your Supabets account with money. You don't have to be at a PC or laptop to make a deposit or request a withdrawal. All the payment methods and withdrawal options are available for mobile players too.
Deposit and Withdrawal Methods
| | | | |
| --- | --- | --- | --- |
| Deposit Method | Min. Deposit | Max. Deposit | Processing Time |
| Cash Deposit | Not specified | Not specified | 24 hours |
| EasyEFT | Not specified | Not specified | 24 hours |
| SID Instant EFT | Not specified | Not specified | 24 hours |
| Prepaid Cards | Not specified | Not specified | 24 hours |
| 1 Voucher | Not specified | Not specified | 24 hours |
| FNB eWallet Pro | Not specified | Not specified | 24 hours |
| Standard Bank Instant Money | Not specified | Not specified | 24 hours |
| Visa and Mastercard – Debit Cards | Not specified | Not specified | 24 hours |
| Pay By Phone - Airtime  | Not specified | Not specified | NA |
Gamble With Airtime at Supabets
Betting with Airtime is a popular option in South Africa. However, not many online casinos and bookmakers accept this payment method. Luckily for SA players, gambling with Airtime is possible at Supabets.
How to Make a Deposit:
The process of making a deposit will vary depending on the deposit method chosen. The process is different for each method for SID, Prepaid Cards, 1Voucher, and Cash Deposits. You can find more information under the FAQ section of the website with videos of how to deposit in each of these methods. However, if you are looking to deposit via Visa or MasterCard debit cards – the process is as below:
Login to your Supabets account
Go to the Cashier section
Select your preferred payment type
Enter the deposit amount
Complete the deposit by following the prompts and entering the card details as required
| | | |
| --- | --- | --- |
| Withdrawal Method | Max. Withdrawal | Processing Time |
| Email withdrawal request | Not specified | 24 hours |
| Bank Transfer | Not specified | 24 hours |
| Cash withdrawal at Supabets SA branch | Not specified | Instant after FICA |
| FNB | R2500 / day | 24 hours |
| STD | R2500 / day | 24 hours |
| Cardless ATM cash via Sparkle Pay | Not specified | 24 hours |
How to Make a Withdrawal:
Log in to your Supabets account, go to the cashier section, and then click on withdrawal (this option only appears once you are logged in).
Choose your desired withdrawal method, enter the amount to withdraw, and click on generate and you will get an OTP.
Take this code to any of the Supabets along with your ID to a Supabets branch in South Africa, and they will hand you your money.
If you prefer that your money be deposited directly to your bank account, shoot an email to withdrawal@supabets.co.za with your username and the amount that you wish to be deposited into your bank account from your Supabets account.
The email should also consist of documents as listed by Supabets. Please ensure your FICA verification process has been completed for all other withdrawal methods to avoid undue delay in withdrawals.
About Supa Bets
Supabets is a South African friendly online sportsbook with the latest features and promotions. The online bookmaker is licensed by the Mpumalanga Gambling Board and operates lawfully in accordance with South Africa's legislation and guidelines.
Supabets is one of the best online sportsbook options for players in South Africa. It offers to bet on a range of different sports and events. It also offers Lotto services. South African players will find Supabet easy to bank with, regardless of their preferred banking method.
Supabets was founded in 2008 and is owned and operated by Portapa Ltd., Which is a fully African company with over 90 retail betting branches all over Africa. The online sportsbook was launched in 2014 and, along with Hollywoodbets and SportingBet, is considered one of the best online sportsbooks for South African players.
Customer Support & Contact Details
Email: support@supabets.co.za
SA support phone number: +27 11 215 7000
SMS HELP to 31388
WhatsApp Support: 071 041 5897
FAQ
Is Supabets legal in South Africa?
Supabets operated in accordance with the gambling legislation and guidelines of South Africa. Supabets is licensed by the Mpumalanga Gambling Board. Therefore, yes, the bookmaker is legal.
Yes, Supabets is a licensed online sportsbook that has been around for several years and offers sports betting, lotto, and other services to millions of South Africans. This sportsbook is not blacklisted. It is fair and safe.
Supabets offers online sports betting for players in South Africa and other African countries. You can place a bet on a football match, a tennis match, a formula 1 Race, or even a live event. Supabet also offers Lotto entries through their online portal.
Do I need an Internet connection to play on the app?
Yes, whether you are playing on mobile or PC, it requires a stable and secure internet connection to talk to the Supabet servers and work seamlessly.
How do I sign up at Supabets?
Go to the Supabets website and click on the red 'Register Now' button at the top right-hand corner of the website home page.
Fill out the registration form and submit your FICA verification documents to activate your account.
Will I be asked for any documents when registering at Supabets?
Not during the time of registration.
Does Supabets have a cash-out option?
Yes, Supabets has plenty of withdrawal options tailored for South Africans. You can email them asking to deposit money to your account, you can withdraw by visiting a Supabets branch anywhere in South Africa, and there are other withdrawal options.
Can I change the email address I used to register my account?
Yes, you can contact Supabets customer support to change the email address.
Can I terminate my Supabets account?
Yes certainly. Contact Supabets customer support and explain that you wish to terminate your account.
I can't log in on the mobile app. What should I do?
Try restarting your mobile device. Check your internet connection by visiting some other website or contact Supabets customer support.
How can I get in touch with customer support?
Email: support@supabets.co.za
SA support phone number: +27 11 215 7000
SMS HELP to 31388
WhatsApp Support: 071 041 5897
Are the casino games on mobile the same as on the desktop version? If not, do they still have the same odds and pay-out ratio?
Sadly, there are no casino games offered at Supabets sportsbook.
Are deposits and withdrawals safe at Supabets?
Yes, all transactions are encrypted using secure socket layer technology so you need not worry about withdrawing and depositing money safely.
Can I use the same account I registered with on the mobile app for the desktop version?
Yes, you can use the same account.
Is in-play betting available with the mobile version?
Yes, go to the live betting section, and you will see a list of ongoing events. This works on both PC and mobile versions.
Have You Found What You're Looking for?
Your feedback is paramount!