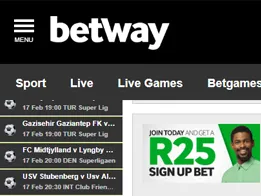 Games: Cricket, Football, Tennis, Betway Boosts, Basketball, Table Tennis, Volleyball, Esports, Horse Racing, Hockey, American Football, Aussie Rules, Baseball, Boxing, Cycling, Darts, Floorball, & more
Min/ Max Bet: R5 / Variable depending on fixture
Min/Max Withdrawals: R200 / May vary depending on banking method, sometimes no max limit
Currency: ZAR, GBP, EUR, USD etc.
Welcome Bonus: FREE R25 on Sign Up!
Rating: ⭐⭐⭐⭐
Founded in 2006, Betway has established itself as the foremost online and mobile sports betting platform in Africa. The brand is internationally recognized as a quality-driven provider of sports betting across the world, supplying simple-to-use technology to passionate fans. 
Betway offers South African customers a range of deposit options to make sports betting easier, depending on their preference. Having partnered with all major South African banks, Betway lets customers bet through Credit Card, Instant EFT and Direct Deposits through ABSA, Standard Bank, FNB and Nedbank.
The minimum bet for South African customers is R5 while the maximum bet is subject to change depending on sporting events. South African Betway customers can expect weekly promotions offering prizes ranging from cash, Extra Bets and smartphones to Grand Prize draws! Read on to find out more about Betway and how you can bet anytime and anywhere either by using your phone, tablet or desktop computer!
BONUSES AT BETWAY
Betway is one of the most popular sportsbooks in the world, with customers in hundreds of countries. Being a global online service, much of the sportsbook is customized according to a player's place of residence. The customizations also include promotions. For example, if you were a Betway player based in the US, the promotions accessible to you could be different from someone in Europe.
In this review, we are going to focus on the South African market and what a South African punter can expect in terms of promotions while playing at Betway. Please note that the promotions at Betway casino are updated frequently. The promos mentioned below are current at the time of writing. 
SIGN UP BONUS
If you are apprehensive about signing up with Betway and trying out this sportsbook, there is now an incentive to do just that. Upon successful registration, you will receive R25 for free in your Betway account. This money is yours to spend within the Betway sportsbook. You can use it to explore betting options and make some bets. If you win, the money is yours to keep. 
WELCOME BONUS
For South African players, Betway casino has a welcome bonus designed to attract visitors and convert them into Betway registrants. They get a free bonus just for signing up, and therefore, this is a win-win situation for both sportsbooks and punter. 
OTHER PROMOTIONS
Apart from the welcome bonus, even members who have been with Betway for a while can expect generosity in the form of bonuses and promotions at Betway sportsbook. The online bookie doesn't just want to get new players to sign up, but equally importantly, they want to retain their existing user base. Therefore, even existing members will be treated to promotions. In addition, there is a solid loyalty program to keep you happy and betting. 
FREE BETS
A free bet is exactly as it sounds. Imagine you walk into a sports betting parlour near you, and someone offers to pay for your bet. Well, a free bet at Betway is an online sportsbook equivalent of exactly that. Betway offers free bets on many sports. Generally, their free bet offers are based around upcoming top cricket, football, and eSports events. The free bet offers are usually as follows – a player makes a bet on a certain sporting event, and Betway matches the players bet with their free bet. So, if you placed a R20 bet on a football game, the bookmaker will give you another free R20 bet on selected football games. Knock yourself out. 
MONEY BACK
Money-Back offers are available for both new and existing members. At Betway, the Money Back offers are generally reserved for eSports. At the time of writing, they offer a money-back for in-play betting on League of Legends Worlds and a money-back offer on Dota PIT. 
If you place a bet on relevant money back eligible sporting event, and your bet loses, Betway will refund you with a free bet matched to your stake, but limited to a maximum of R200. 
HOW TO SIGN UP AT BETWAY ✍
If you want to claim the new player bonus and start betting on your favourite sports, teams or players, it is mandatory to register an account. Thankfully, the Betway registration process is short and can be completed in a matter of minutes. 
Visit our link to go to the Betway Sportsbook website.
Once the Betway sportsbook home page loads up, click on 'Sign Up'. This button is located at the top right corner of the home page. It is a prominent button with a green background. 
After clicking on register, you will see a form titled "Create Account" – complete the form as detailed below: 
The registration form has three parts: 
Part 1 – personal details – provide title, first/ last name as per government ID, date of birth, and click on 'Next'

Part 2 – account information – create a username for your account, configure a password, retype the password to confirm, provide your email address and click on 'Next'

Part 3 – contact details – fill in your address in this format – address line 1, address line 2, City, Postcode, State, and mobile number with country code 

In part 3 – you can also choose to set daily/weekly/monthly deposit limits. Pick a limit from the dropdown or you can enter a custom limit. 

Select your preferred language

Choose your preferred currency (if you are using a South African IP address, it will automatically register as ZAR)

Accept the terms and conditions 

Confirm you are of legal age to gamble 

Opt-in for communications regarding the latest promotions and exclusive offers from Betway. You can choose to be notified by email and/or SMS. 
Your account is now ready. However, we suggest you verify your email address first. Betway will send you a confirmation link to the email address you provided in the registration form. Access your email inbox and click on the confirmation link to verify your email.
PLACING YOUR FIRST BET
Placing a bet is easy. Whether you use the mobile app or the usual Betway sportsbook website, the process is similar. 
In order to place a bet:
Login to the Betway sportsbook with your username and password

Select a sporting category to bet on

Select the league or tournament within the sport you want to bet on 

Select the specific game you want to bet on 

You will view the betting options available on the particular game/match

Select your bet, which will be added to the Betslip

Go to the Betslip and enter your bet amount

Use the 'place bet' option to confirm the bet

If you add several selections to the Betslip, it will be an accumulator or multi-line bet 

To place a bet even faster, you can do so by accepting all odds and line changes 

For quick bets on current events, use the "quick links" link at the bottom of the sports page 
POPULAR SPORTS YOU CAN BET ON AT BETWAY ⚽
Betway is considered one of the best online sportsbooks, and they did not get there without offering a vast betting market for players to pick from. All of the popular sports from all over the world are featured on the bookmaker's site. Furthermore, even some lesser known and upcoming sporting events are also up for betting. 
What's more? You can place in-play bets on sporting events and also bet on esports events. With Betway, if you want to take a break from sports betting and break the monotony, you can do so by playing at their online casino. Play games like slots, blackjack, roulette, poker, etc. 
The sports that you can bet on at Betway are – Cricket, Football, Tennis, Betway Boosts, Basketball, Table Tennis, Volleyball, Esports, Horse Racing, Hockey, American Football, Aussie Rules, Baseball, Boxing, Cycling, Darts, Floorball, Formula 1, Gaelic Sports, Golf, Greyhounds, Handball, Motor Sport, Poker, Politics, Rugby League, Rugby Union, Snooker, Specials, UFC / Martial Arts, Winter Sports and In -Play betting. 
The sports list is available right on the home page in order of popularity to make it easy to find your perfect bet. 
Betway is popular amongst punters who like to bet on football leagues and cups such as the English Premier League, Spanish La Liga, Italian Serie A, German Bundesliga, FA Cup, etc. 
Other Games Available at Betway 
LIVE GAMES
You can bet on in-play games at Betway. In fact, thanks to the live streaming option, you can even watch certain sporting events via live streaming right at the Betway website or app. To bet on a live game, click on 'in-play' and you are presented with a list of games that are live or upcoming. Select the game and place the bet. You can bet on any game that is live as long as the game has not come to a conclusion yet (depending on which sport exactly it is). 
In terms of odds, in-play odds work a little differently. They may alter based on what is happening in the game. You need to strategize and make the bet at the right time to hit the best possible odds and get more bangs for your buck. 
ESPORTS 
Esports has gone pro, video games are now considered sports and some of these players are amazingly talented. Watching pro players play games you love like Dota, League of Legends and FIFA is not only eye-opening but also extremely entertaining, even nail biting at times. 
At Betway, you can now bet on Esports. In-play betting on Esports is also available. League of Legends, Dota 2, Counter Strike, Rainbow Six, Overwatch StarCraft 2, VALORANT and King of Glory are the supported Esports at this time. 
HOW DOES BETWAY COMPARE TO OTHER SPORTSBOOKS IN TERMS OF BETTING MARKETS & ODDS?
For South African sports betting enthusiasts, you are going to be hard pressed to come across a better sportsbook than Betway. The online bookmaker offers an abundance of sporting markets and an enormous range when it comes to betting types. Even the lesser known sporting markets will still have a huge number of betting markets for you to choose from at Betway. 
The sheer number of sports and bet types may be a little too much to digest for a newbie sports bettor. However, experienced punters will absolutely love the nuances and the attention to detail in every aspect for every sport and type of bet. 
For the newbies, Betway offers an intuitive platform which may have an information overload. But the presentation, architecture information and site navigation works really well and makes it easy to learn and place bets and enjoy the overall user experience. So, whether you are brand new to sports betting or an experienced sports bettor or anything in between, Betway is a great choice for everyone. 
They offer great odds for some of the most popular sports and sporting events, but in terms of odds for some obscure markets, it is average at best. 
BETWAY APP AND MOBILE WEBSITE VERSION
Betway sportsbook is available on mobile for players on the move. There are essentially two ways in which you can play on your smartphones or tablets. You may download the Betway sportsbook app which is available for Android and iOS or access the Betway sportsbook website on your mobile using a standard mobile web browser like Google Chrome or Safari. 
There are certain differences between playing on the Betway app vs. playing on the Betway mobile website. Each has certain pros and cons. You can decide which is best suited for you after considering the points below. 
MOBILE VS. APP FEATURES AND BENEFITS 
Some of the pros of playing on the mobile website are: 
You don't have to download any software 

Play instant from any supported mobile device, even if it does not have the app installed 

Website is identical to the desktop version

Since there is no initial download required, you save on data costs 

Will not take up any memory 
Some of the pros of playing on the mobile app are:
App is fine tuned for mobile performance and very responsive 

Unmatched ease of use and user experience 

No need to login every single time

After the initial download and install, you will use lesser data compared to the mobile website 

Claim the new player bonus exclusive to the app 
MOBILE BONUSES AND PAYMENT METHODS 
Betway offers a bonus to new players who use the Betway app for the first time. This bonus is basically a matched free bet sign up offer and is limited to a maximum of R500. When you make a deposit between R200 and R500, Betway will give you a free bet of the same amount that you made your deposit for. 
If you access the Betway sportsbook using your mobile phone, you still have all the various deposit and withdrawal options which the PC sportsbook supports. Deposit and withdrawal methods may vary depending on which country you are based in, but there are no restrictions as such because you are playing on a smartphone or tablet. So, use your preferred banking method, be it a credit card, bank transfer, e – wallets or others. Mobile banking at Betway is just as safe and secure as banking on a PC. 
SYSTEM REQUIREMENTS COMPATIBILITY
Mobile punters who want to place bets on the Betway's mobile website can use their usual mobile web browsers such as Google Chrome, Safari, Firefox, and Opera. 
Mobile technology is rapidly evolving as new advancements are made in both hardware and software almost every other week. You will be able to play on any modern mobile device as long as the operating system and device are not obsolete. 
If you want to play using the Betway mobile website, you can do so by playing on Android, iOS, Windows and Blackberry devices via mobile browsers like Google Chrome, Safari, Firefox, Opera Mini, etc. The Betway sportsbook app is only available for Android and iOS at this time. Make sure your Android device is running Android version 4.1 or higher and if you are using Apple then you need iOS 8.1 or higher. 
HOW TO DOWNLOAD THE APP ON APPLE IOS
Go to the iTunes App Store by launching the app 

Run a search for Betway 

Select the Betway app from the results 

Tap on 'Install' 

Once installation is complete, tap to open the app
HOW TO DOWNLOAD THE APP ON ANDROID 
Go to the Google Play Store by launching the app 

Run a search for Betway 

Select the Betway app from the results 

Tap on the 'Install' tab 

Once installation is complete, tap on the Betway icon to load the app 
| Deposit Method | Min. Deposit | Max. Deposit | Processing Time |
| --- | --- | --- | --- |
| Visa | $10 | No limit | Instant |
| Mastercard | $10 | No limit | Instant |
| Maestro | $10 | No limit | Instant |
| Neteller | $10 | No limit | Instant |
| PayPal | $10 | No limit | Instant |
| EntroPay | $10 | No limit | Instant |
For a full list of accepted payment methods at South African casinos, please visit our banking methods page 
HOW TO MAKE A DEPOSIT
The exact procedure to make a deposit will vary depending on the preferred banking method. In order to make a deposit, you need to be a registered user.
Login to your Betway account
Go to the 'Cashier' section
Select your payment type
The remainder of the process will vary depending on the deposit type selected. Just follow the prompts and the deposit will go through
| Withdrawal Method | Min. Withdrawal | Max. Withdrawal | Processing Time |
| --- | --- | --- | --- |
| Visa | $10 | Not Specified | 24 hours |
| Mastercard | $10 | Not Specified | 24 hours |
| Maestro | $10 | Not Specified | 24 hours |
| Neteller | $10 | Not Specified | 24 hours |
| Swift | $10 | Not Specified | 24 hours |
| PayPal | $10 | Not Specified | 24 hours |
| EntroPay | $10 | Not Specified | 24 hours |
HOW TO MAKE A WITHDRAWAL:
When you request a withdrawal, Betway will always choose to process the withdrawal to the same method used while making a deposit. However, in the event that the deposit method is not a valid withdrawal method, you can select an alternative withdrawal method.
While Betway does not charge any fee for making deposits or withdrawals, your bank or payment processor may charge you, based on their policy.
If you place a withdrawal request but decide to cancel it, you can do so while the payment status is "pending". However, once the processing starts, you will not be able to cancel the withdrawal request.
RECAP:
UNIQUE SELLING POINTS 
40+ different sporting markets offered
Bet on live games using in-play betting
Bet on Esports
Play casino games like slots, roulette, blackjack, etc. for real money
No max deposit limits
Mobile friendly via app or mobile website
Lots of promotions and free bets
COMMON COMPLAINTS 
Reportedly slashes limits for players who are on winning streaks
Many restricted countries
Live streaming only available in select countries
ABOUT BETWAY
Betway has built a reputation over the past decade as one of the premier real money gambling online sportsbooks and casinos, and they strive to maintain their good standing. The Betway sportsbook is a great option for South African punters, especially those who love football. However, there is an array of products including South African sports like Rugby and Cricket betting.
Betway is a well-known and established brand in operation since 2006. Some of their official principal sponsors include West Ham United, the West Indies Cricket, Paris Saint Germain Esports, etc. Their official betting partners are Leicester City Football Club and Brighton & Hove Albion.
Betway is licensed by the Malta Gaming Authority and are eCOGRA certified as well. They support responsible gambling and have several tools that punters can use to ensure that their gambling habits do not get out of control.
 CUSTOMER SUPPORT & CONTACT DETAILS
Email: support@betway.co.za
SA toll free number: 0861 787 250