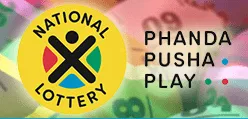 The South African National Lottery operator, Ithuba, announced several changes that will kick in from Sunday, May 22nd. Among them are guaranteed wins for lining up three matching numbers, as well as new "rolling over" criteria.
According to Ithuba, players will be able to win a guaranteed R50 if they match three numbers on their lottery card. In addition, the Lotto Plus jackpot will "roll over instead of rolling down". The operator said that it was introducing these changes after doing market research and realizing that this was what "most Lotto players in South Africa want."
Ithuba also announced changes to South African lottery price tickets in a statement put out by the group this week. From now on, Lotto tickets will sell for R5, while Lotto Plus will set players back R2.50 a game. This is an increase from the current R3.50 for Lotto and R1.50 for Lotto Plus.
Ithuba's statement read: "At the moment, if players get to match three numbers, they are paid out varying amounts which were dependent on the number of people that have won the division." From now on, as stated, they will win a guaranteed R50 prize for matching three numbers on Lotto tickets, and a fixed guaranteed payout for R20 on Lotto Plus tickets.
The Ithuba statement continued: "There will also be changes in the second chance game, Lotto Plus, which will now see its jackpot rolling over instead of rolling down as it's the case currently. The Lotto Plus jackpot will now keep on rolling until it's been won, leading to sizeable jackpots."
Earlier this month, it was announced that a Soweto factory worker turned R20 into R20 MILLION after she landed six winning numbers on her Lotto ticket. The 50 year old woman bought her ticket at Shoprite in Glen Ridge and kept it in her bible until she checked her numbers against those drawn.
A spokesman for Ithuba, Zuki Nomnganga said that the woman was "thrilled that she will finally get to fulfill her dream of retiring early and acquiring a home by the sea."
The lucky winner will also buy her daughter a house.
"She's excited that her retirement money will now be like an added bonus as she enters a new life as South Africa's newest multi-millionaire," he said.
This was the 31st jackpot win over R1 million recorded since Ithuba started operating the lottery in June 2015. Click here for the Latest Lotto & Lottoplus Results | Click here for the Latest Powerball & PowerballPlus Results