Agh no man! This casino is no longer available. Try one of our top casinos below.
Currencies
United Kingdom Pound, Euro
Casino Launched:
2005-06-08
Recommended Lottos Available to South African Players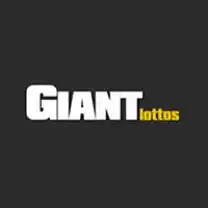 Trust:


   Mobile:



   Games:



   Payments:


   Bonus: One – time bronze offer, one – time silver offer, one – time gold offer and one – time platinum offer, Cash4life, All Lotto Bundle, Mega Millions Promotion, EuroMillions promotion, All draw bonanza.
   Welcome offer: Choose one of the above mentioned one – time offers
Giant Lottos Coupons, Promotions and Discount Codes
Other Deals and Offers
At this time, all the promotions mentioned below are one-time offers which you only get for your first deposit. You cannot claim more than one of the below offers. Depending on the amount of your first deposit, only one of the below offers can be claimed.
One – Time Bronze Offer:If you make a first deposit of £1 then you get 3 chances in EuroMillions syndicate + a free copy of the e-book "The Lotto Secret" in PDF format.
One – Time Silver Offer: Make a first deposit of £9.99 and receive 29 chances in EuroMillions syndicate + a free copy of the e-book "The Lotto Secret" in PDF format.
One – Time Gold Offer: This is the most popular of the four one-time first deposit offers. Make a deposit of £49.99 and you will receive 60 chances in EuroMillions syndicate, 60 chances in Mega Millions Syndicate and a free copy of the e-book "The Lotto Secret" in PDF format.
One – Time Platinum Offer: This is the ultimate of the welcome bonuses, but also costs the most. Make a first deposit of £99.99 and you will receive 3 USA Powerball tickets, 100 chances in MegaMillions syndicate, 100 chances in EuroMillions syndicate and a free copy of the e-book "The Lotto Secret" in PDF format.
All Lotto Bundle: Players who want to indulge in all 10 of the worlds leading lottery games through one easy lotto bundle will love the all-lotto bundle bonus offered by Giant Lottos. You can now play for a combined total jackpot of a staggering £399.5 million.
The best part is that you don't have to go through the manual process of picking out tickets and numbers for each one of lottery games individually. You just purchase an all-lotto bundle at Giant Lottos and it will include 1 ticket for Euro Millions, US Powerball, Mega Millions, Italy SuperEnalotto, EuroJackpot, UK Lottery, Australian Lotto 6aus49, Mega-sena, Irish Lottery and Canada Lotto 649.
Playing the all – lotto bundle is easy. You simply sign up with Giant Lottos if you don't already have an account, get your account verified and then proceed to order your all-lotto bundle. While the accumulated cost for buying the 10 lottery tickets would have been €38.77 Giant Lottos is offering the bundle at just €17. Furthermore, you also get a no-win refund if none of your lottery tickets win any of the lottery tier prizes up for grabs.
Giant Lottos SUPA – QP (a quick pick algorithm) is designed to pick numbers with the best odds of winning and this is what gives them the confidence to offer a full refund. Furthermore, this bonus comes with added fast action bonuses where you could win a free eBook of The Lotto Secret, or get access to the world's leading lottery odds experts by purchasing the all-lotto bundle today.
Mega Promo: If you are a fan of playing the Mega Millions lottery from the USA, you will thoroughly enjoy the Mega Millions dedicated promo at Giant Lottos called the Mega Promo. Thanks to the Mega Promo, you can get 6 chances to win the Mega Millions lottery draw for as cheap as £1.
Yes, you read that right – it takes just £1 to give yourself a chance of winning a whopping $45 million. By making a purchase to the Mega Millions using the Mega Promo, you get 6 mega million chances (3 chances in 2 draws), a 1 in 7.3 odds of winning a prize with the 6 shares, the numbers are picked using SUPA-QP to give you the best odds of winning, and you also get a free eBook copy of The Lotto Secret. The Lotto Secret book would otherwise cost you $9.99 on Amazon. This is a best seller on Amazon which is known as one of the best lotto strategy books that was ever published.
Euro Promo: Players of the EuroMillions also have an amazing offer to take advantage of when playing with Giant Lottos. The Euro Promo is very similar to the Mega Promo except that it is meant for the EuroMillions lottery instead of the US Mega Millions. Courtesy of the Euro Promo, players now get 3 chances to win the EuroMillions for just £1.
The EuroMillions is one of the biggest lottery games in the world with a massive jackpot of €130 million. When you claim the Euro Promo at Giant Lottos, you not only get 3 entries to the EuroMillions, but also a 1 in 7.3 odds of winning a prize with 3 shares, the lucky numbers are picked using the proprietary SUPA-QP technology to ensure the highest odds of winning and also a free copy of the Amazon best seller book 'The Lotto Secret'. You get all this for just £1.
So, how can Giant Lottos offers something so good for just £1? Well, this is thanks to the concept of syndicates. When playing as part of a syndicate, you are playing the EuroMillions as part of a bigger team of players. With more people playing, the purchasing power increases substantially and the number of chances of winning the jackpot also increase drastically. This is what gets you a 1 in 7.3 chance of winning. If the team wins, then every player who is part of the team gets a price of the pie.
All Draw Bonanza: Interested in the number 1 millionaire maker lottery bundle? Then you should buy into Giant Lottos all-draw bonanza, which is an incredible lotto bundle where you stand a chance to win as much as £407.3 million. The best part of this bonus is the fact that it is backed by a money back guarantee if you don't win.
Since you are going to be playing several lotteries from around the world which all offer various prizes each, your odds of winning are pretty good. This gives Giant Lottos the confidence to give your money back if none of your entries win anything. You have nothing to lose when you play the zero-risk all-draw bonanza at Giant Lottos.
When you purchase the All-Lotto bundle, you get 23 tickets to the biggest lotteries from both the US and Europe, the best chances of winning a prize when compared to any other ticket bundle, the biggest lottery ticket bundle in the world, a free eBook copy of the Amazon best seller 'The Lotto Secret'.
Cash4life: Play the daily lottery game 'Cash4life' online at Giant Lottos and use the Cash4life promo to get 3, 5, 10 or 20 quick picks. You can choose your numbers manually, but we would recommend going with the quick pick option since the quick pick algorithm used is the SUPA-QP.
SUPA-QP is a proprietary algorithm which picks the numbers with the best odds of winning. The minimum number of tickets required for Cash4Life lotto is 3. At Giant Lottos, you can get 3 quick picks for £14.97, 5 quick picks for £24.95, 10 quick picks for £49.90 and 20 quick picks for £99.80. Once you've made your picks, you have the option of enter the next draw, the next 5 draws, the next 10 draws or the next 20 draws. Your total ticket value will depend on how many quick pick tickets you purchase and how many consecutives draws you enter. The cost per ticket per draw is £4.99.
General Info
Lottery Operator Details
Operated by: Mikar Online Limited
Number of lotteries:12
Years Established: 16 Years
Payment options Available: Credit card, EFTSecure, wire transfer
Licence: No info
Languages: English
Customer support: Live Chat, Email, Phone support
Mobile app: No mobile apps
Email: send an email to info@giantlottos.com
Ticket Scan: No
Support Phone Number: +44 (0) 20 8720 7448
Ticket Prices: Higher than average
Accepted Currencies: GBP
How to Register an Account
Giant Lottos is an online lottery purchasing service which deals with real money lottery games from all over the world. To be able to use their services, you will need to sign up / register for an account with Giant Lottos. Thankfully, the registration process is quick and easy to complete. We urge you to provide accurate and factual information during registration, since this information will later be verified before you can cash out any winnings. Below, we have outlined the steps involved in registering an account. This process remains basically the same on PC or mobile.
How to Get Started Playing lotteries at Giant Lottos
Visit the Giant Lottos website through your PC or mobile web browser.
Click on the yellow 'Register' tab at the top right-hand corner
The registration form will appear below
There are two ways in which you can register – through Google or manually
If you prefer to use an existing Google Account, just click on the 'Sign up with Google'tab and provide your Google credentials and your account is all set
If you wish to sign up manually, fill in the registration form with the following details in the relevant input fields – first name, email, password, date of birth, country, mobile number with country code, promo code if you have one, check the captcha to confirm you aren't a robot and then click on the green sign-up button at the end of the form
A verification email is sent to the email address you provided. Click on the verify email button to activate your Giant Lottos account
Note – by signing up for an account, you confirm that you accept the terms and conditions and the privacy policy published by Giant Lottos
You are now registered and can access your Giant Lottos account by entering your email and password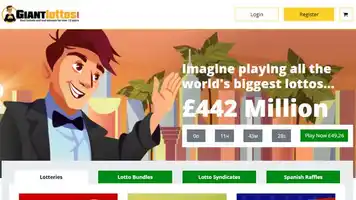 South African Lotteries at Giant Lottos
Currently, Giant Lottos does not offer betting on any South African lotteries
International Lotteries available at Giant Lottos
There are 12 international lotteries available for you to participate in. Here are two of the most popular ones.
Mega Millions:
This is a USA based lottery with one of the biggest jackpot values. It has a starting jackpot value of $40 million and a record jackpot value which once reached $.6 billion. The Mega Millions lottery was launched in 1996 and has been one of the most renowned lotteries in the world ever since. This lottery offers quick pick selections, manual selections and options of syndicates and bundles.
Euro Millions
The EuroMillions draw takes place twice a week on Tuesdays and Fridays. The jackpot can go up to €190 million. This lottery started in 2004 and is Europe's biggest and most popular lottery, but players from anywhere in the world can buy tickets to the draw. You choose 5 numbers from 1 – 50 and 2 numbers from 1 – 12. Should you match all 7, you are an instant winner. Using Giant Lottos, you can use quick pick, syndicate and bundles features to enter the draw.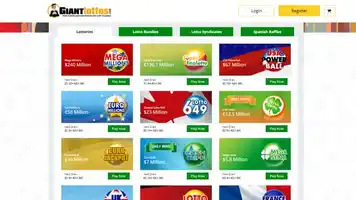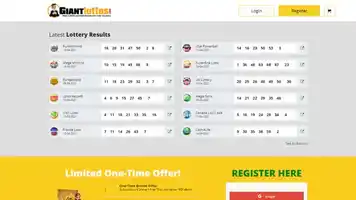 User Interface
Giant Lottos features a simple, practical and user-friendly website with a clean design. Usually, online gambling platforms are overly colourful and have too many visual elements, aminations and clutter in all shapes and sizes. Thankfully, the Giant Lottos website is the opposite of that. The plain white background is classy and makes for excellent readability.
In terms of the website layout, it is pretty standard, nothing out of the ordinary here. The logo on the left-hand side seems to have an outdated tag line "Real Tickets and Real Winners for over 12 years", even though the platform has now been operational for over 15 years.  The right side of the header menu has your account options and the cashier button. Under the header is the usual website banner with a call to action. Underneath the banner is a grid view of the various lottery thumbnails. There are tabs at the top of the grid view to switch between available lotteries, lotto bundles, lotto syndicates and Spanish raffles. The website also has a how to play video which highlights the entire process from signing up to cashing out your winnings in an animated explainer video.
Pros And Cons
Pros
Popular lotteries from around the world are supported
Lotto bundles, lotto syndicates and Spanish raffles available
Easy to use website and interface
Multiple ways to contact support
Choose your own welcome bonus as per your preference
Easy Google sign up supported
Cons
No licensing information published on website
Less number of payment methods supported when compared to other online lottery purchasers
Less number of lotteries (12) compared to other services
No mention of you receiving a scanned copy of your lottery ticket before the draw
Playing on your mobile
In order to play on mobile, just launch the browser application (Google Chrome, Safari, etc), visit the Giant Lottos website, login to your account or sign up for a new account and start playing. You can purchase lottery tickets, claim promotions, make deposits, request withdrawals and connect with customer support all from mobile, provided you have internet connectivity.
Mobile App
Giant Lottos does not have an official mobile app for Android, iOS or any other mobile operating system platform. Therefore, any results that come up when you search for an app in any of the respective app stores are probably related suggestions and not the official app.
Even though there is no app you can download, the Giant Lottos website is responsively built and hence mobile friendly. You can access the website and play from mobile devices without any issues. You can use the same email address and password to login to your account across PC and mobile devices.
Depositing and Withdrawing at Giant Lottos
| Payment Method | Deposit | Withdrawal | Withdrawal Speed |
| --- | --- | --- | --- |
| Visa | Yes | No | NA |
| Mastercard | Yes | No | NA |
| EFT | Yes | No | NA |
| Bank Transfer | Yes | Yes | 24 hours to process/ up to 14 days to reflect |
| Skrill | No | No | NA |
| Neteller | No | No | NA |
How to Make a Deposit:
Login to your account
Click on the cashier icon
Click on 'Deposit'
Choose your deposit method and enter the deposit amount
Follow the prompts and complete the transaction
How to Make a Withdrawal
Send a withdrawal request by email to accounts@giantlottos.com
Mention your full name and amount you wish to withdraw
You may have to send copies of documents like proof of address and proof of identity
They will process the funds and send it to your bank account
About Giant Lottos
Giant Lottos was established in 2005 and are still one of the premier online lottery services. Basically, Giant Lottos offers players from around the world the ability to purchase lottery tickets to various lotteries from around the world without having to be there in person. You can pick your lucky numbers and buy a lottery ticket for over 12 of the most popular lotteries from countries like the USA, Spain, and several other EU countries from the Giant Lottos portal. An agent will purchase the ticket for you. Giant Lottos accepts players from all over the world expect for a few restricted countries. This online lottery agent platform is especially popular in India, United Kingdom, Namibia and New Zealand.
If you get lucky and match your numbers and win any money, you will be notified by Giant Lottos and they will process the winnings to your bank account. Giant Lottos is operated by a company listed in Cyprus called Mikar Online Limited.
Giant Lottos Trust Score
Giant Lotto has been in business for over 15 years and is a well-established online lottery platform with a good overall reputation. They claim to have a 100% pay out record as well. This website does not have a Trustpilot score at this time. In general, the reviews from users posted on independent websites seem to be positive. Giant Lotto can be trusted.
Jackpot Winners at Giant Lottos
Craig B won playing the Italian SuperEnalotto on Giant Lottos since it was suggested to him by a friend. He says he loves playing the Italian lottery and will continue to do so.
Paul F played the lottery regularly but never through he would be one of the lucky winners. He lottery game of choice was Mega Millions, thanks to Giant Lottos syndicate feature, his odds of winning were drastically improved and he bagged a huge win which he was happy to share with other syndicate members.
There are several such interviews with winners at Giant Lottos, in the Blog section of the website. Another account is that of Tyrone V from the UK. Tyrone said his experience with Giant Lottos service was great and he was very surprised to have won something when he saw the notification waiting in his email. He says he is going to buy something for his children with his new found wealth.
Customer Support & Contact Details
Below are contact details for customer support –
Live Chat – click on speech bubble icon at the bottom right
Email – info@giantlottos.com
Phone support –+44 (0) 20 8720 7448
Verdict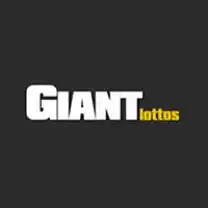 Giant Lotto has a lot of room for improvement. At this time, they only offer around 12 lotteries from around the world, and they should onboard more in our opinion. However, if you are only interested in the biggest lotteries in the world, then you are sure to find them at this platform. What we do like about Giant Lottos is their easy-to-use website and informative Blog and FAQ sections. We give Giant Lottos our seal of approval.
FAQs
Is Lottery legal in South Africa?
Yes, Lotteries are legal in South Africa. Unfortunately, traffic coming from South Africa is not accepted at Giant Lottos.
What is the most popular Lottery to play?
The US Powerball, EuroMillions and Mega Millions are some of the most popular lotteries globally.
Yes, Giant Lottos uses SSL encryption and complies with GDPR data protection standards. It is a fully secure website where your data is safe.
How does Online Lottery work?
You can buy a lottery ticket online for lotteries from around the world. The payment is made online for the ticket. If you match the winning numbers, you will get notified that you have won and you will receive your jackpot money.
Do I need an Internet connection to play on the Mobile app?
There is no official Giant Lottos app at this time.
Is Giant Lottos mobile-friendly?
Yes, the Giant Lottos mobile website is mobile friendly.
Can I trust Is Giant Lottos?
Giant Lottoshas been serving players from all over the world for 12 years, they are trust worthy.
How do I sign up at Giant Lottos?
You can sign up using an existing Google account, which takes a few second. Alternatively, you can also sign up manually by completing and submitting the registration form and verifying your email address.
How do I cash-out money when I win?
Send an email to accounts@giantlottos.com requesting your withdrawal and specify the details of your withdrawal. They will process your withdrawal directly to your bank account.
How can I get in touch with customer support?
Live Chat – click on speech bubble icon at the bottom right
Email – info@giantlottos.com
Phone support – +44 (0) 20 8720 7448
Are deposits and withdrawals safe?
Yes, withdrawals can only be made via bank transfer which is 100% safe. Deposits can be made using Visa, Mastercard, Skrill, Neteller and EFT Secure, these are all highly secure payment methods.
Have You Found What You're Looking for?
Your feedback is paramount!