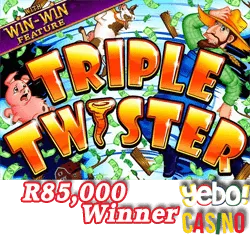 A thrilled sa casino player hit the jackpot on a popular video slot game while gambling at his favourite online casino, and took home a hefty R85,000 in prize money. What makes this win all the more exciting is that it was made by Johannes K. from Bloemfontein who was gambling on the go at Yebo Mobile Casino – proving that a big win can be enjoyed anytime and anyplace.
Johannes K. decided to try his luck on the fun Triple Twister video slot game at Yebo Casino last week while playing on his smartphone. Yebo Casino's mobile platform is supported by a wide range of mobile devices.
<!--more-->
Recalling the moments leading up to his win, Johannes K. said: "I had hit a bonus game playing Triple Twister so I expected the feature to pay something. I only saw at the end of the bonus game that I had won just over R85,000!"
The happy player described the moment as "pretty intense".
"I was playing on my phone so I actually got my wife to quickly log into my online account to make sure the win was real," he said.
While Johannes K. has decided to do the responsible thing and pay down his home mortgage with most of his winnings, he has nevertheless left enough over to celebrate the big moment.
He said that on the day that the funds were transferred into his account he "went on a big jol" with his friends.
It took his wife a little longer to be convinced that the prize money was really theirs, and Johannes said that it was only after she saw that the money had been transferred to their bank account.
The player said that he had enjoyed numerous smaller wins in the past but "never something like this."
The manager for Yebo Casino, David Steyn expressed his delight at Johannes' big win. He said that the Triple Twister video slot has seen a lot of substantial payouts in recent times and that it was exciting to see one of the casino's regular players enjoying such a winning streak.


The 50 line Triple Twister is one of the most popular titles in Realtime Gaming's portfolio, allowing players to enjoy a classic tornado themed game with two big progressive jackpots that could hit at any time. Players can wager up to a whopping R2,500 per spin. Visit Yebo Casino Today | Read our Yebo Casino Review
About Playcasino.co.za:
Playcasino.co.za is the no1 guide for the best south african online casinos.
If you're looking for online casino slots south africa oriented, check our carefully prepared south african online casinos list.