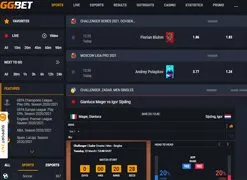 Betting Products &Games: : Football esports, Soccer, Basketball, Tennis, League of Legends, Basketball esports, Boxing, Darts, MMA, Rugby League, Rugby Union, Table Tennis, Volleyball, Casino Games.
Min/ Max Bets:  The size of the minimum bet for all events and sports is 0.5 euro or equal in USD/RUB. The maximum bet size for an event is shown in the current line and is determined by GG Bet for each event specifically.
Min/Max Withdrawals: The minimum withdrawal amount depends on the specific payment method you are using.
Currency: Euros, US Dollars, Australian Dollars, Canadian Dollars and More
Rating: 4.2/5
Bonuses at GG Bet Sportsbook
At this time, there is no welcome bonus for new players. Having said that, GG Bet are known for introducing new bonuses almost every week and so things can change very fast. Even though there is no welcome bonus offered right now, you should check the 'Bonuses' section of the website to verify if there is a welcome bonus at that given time.
Other Promotions
The 'Bonuses' section of the GG Sportsbook website is essentially a ledger of all promotions and offers that registered members can claim and enjoy. For some reason GG Bet seems to retain any bonus they have introduced in the past in this section even though the bonus validity period has now lapsed. Therefore, you will literally find hundreds of bonuses when you visit this page.
Furthermore, GG Bet has a reputation for introducing new bonuses very frequently. Therefore, we suggest that you subscribe to their newsletter in order receive notifications about newly launched promotions that you can take advantage of.
At the time of writing, here are some of the active promos and bonuses which are currently running.
Risk Free Bet – Get a risk-free bet worth up to $20. To claim the free bet, activate the bonus in your profile menu. Deposit at least $15 into your account and proceed to place a bet on football, basketball, volleyball, tennis, hockey, boxing or MMA up to US$15 (single, odds 1.75+). If you lose the bet, you will receive the bet amount back as bonus balance.
How to Sign Up at GG Bet Sportsbook
GG Bet Sportsbook is a real money online gambling website where registered members can place real money bets on sporting events, e-sports games and also play real money casino games such as slots, table games, etc. In order to play, it is mandatory to provide accurate and factual information about yourself when you sign up for an account. The registration process is easy and only takes a couple of minutes to complete.
Once you are successfully registered, you can start using your GGBet Sportsbook account and placing real money wagers. However, you still need to complete the verification process to gain access to the sportsbook's full features. Even though the verification process is not immediately required to be completed after registration, you will need to do it before requesting a withdrawal or pay out.
As part of the verification process, you will need to upload to GG Bet digital copies of a government issued photo ID document and some documentation to prove your address. Please ensure that you fill in your personal details as per the documents. Any mismatch in the details will result in the verification process being held up.
One of the perks of singing up with GG Bet sportsbook is that you can sign up in seconds using an existing social media account. You can simply link one of your existing social media accounts such as Google, Facebook, Twitter, etc. and use that to sign up with GG Bet. This takes just seconds.
If you decide not to use the social media sign up, you will have to sign up manually.
In order to sign up manually, first visit the GG Bet sportsbook website.
Click on the orange 'Sign Up' button located at the top right.
A registration form will appear in the form of a pop – up window.
Fill in the following details as requested on the form – configure a username for your account, provide your email address, configure a password for your account and choose your preferred currency from the drop-down menu.
Check the box to confirm you are over the age of 18 and that you accept the terms and conditions as well as the privacy policy of GGBet Sportsbook.
Click on the green 'Registration' button at the bottom of the form.
At this point, a confirmation email is sent to the email address you provided. You need to verify that you are the owner of the email by accessing your mailbox and clicking on the 'Finish Registration' tab.
Placing Your First Bet
Once you have signed up, you can access your GGBet Sportsbook account at any time and place bets on sporting events, e-Sports events and also play real money casino games. However, you will first need to fund your GG Bet account by making a deposit.
Once you have sufficient funds, you can place a bet by following the below steps. Placing a bet at an online sportsbook like GG Bet is intuitive and a virtual replica of the process one would follow at a land based betting parlour. You essentially add a bet or bets (multiple) to your Betslip and confirm the Betslip.
Go to the GG Bet Sportsbook website home page and login to your account.
Ensure you have sufficient funds to support the bet you want to place, if not, make a deposit and top up your account balance.
Click on the 'Betting Slip' tab at the top right-hand side of the dashboard.
Bets that you add will all appear in the betting slip.
Select the bet you want to add. There are multiple ways to do this – you could click on the bet odds under the top, popular or favourites tab and it will get added to the Betslip.
If the event you want to bet on does not appear in the featured bets, you can narrow down and locate your bet by navigating into the sport, then select the competition, then select the event and then select which bet exactly you would like to take (for example – Soccer, English Premier league, Arsenal Vs. Manchester United and Arsenal to win at odds of 2.6).
Once the bet is added to the Betslip, it will appear under the single, combo or system bet depending on what type of bet you have added.
Enter the amount you want to bet in the box provided.
The Betting slip will automatically calculate the potential win and display it.
Now you can add another bet using the same process or you can proceed to click on the green 'Place Bet' button at the bottom of the betting slip to confirm your bet.
We urge you to review and confirm all the details of the bet/s on the betting slip before placing the bet/s.
Please note: – As per the terms and conditions of GG Bet Sportsbook – "The player bears sole responsibility for his/her bets. The player is obliged to ensure that the details of his/her bet are correct. As soon as a bet has been made and its acceptance has been confirmed, it cannot be changed or cancelled by the Player. "
Popular Sports you can bet on at GG Bet Sportsbook
When GG Bet was initially launched, it was an exclusive, Esports only sportsbook. Esports or electronic sports are essentially organized tournaments where individual players or teams play against each other in some of the top video games. Games can be across all genres, first person shooter games, FIFA, third – person strategy games, etc.
GG Bet was a one of its kind sportsbooks which focused more on Esports than on regular sports. Esports are here to stay and new games are being added to the roster frequently. The Esports market is already a multibillion-dollar industry.
So, if you are looking to bet on Esports competitions and events, then GG Bet is one of the best online platforms you will come across. Even though this online sportsbook has now incorporated main stream sports betting, their main focus is still on the Esports market. Being their primary betting product, GG Bet covers a huge range of Esports competitions from all around the world. Some of the popular Esports that you can bet on are Counter Strike, Dota 2, Football Esports, League of Legends, Fortnite, Basketball Esports, Rainbow Six, StarCraft OO, Valorant and WarCraft III.
In terms of traditional sports markets and betting options, some of the popular mainstream sports that are covered at GG Bet are Soccer, Ice Hockey, Basketball, Tennis, etc. There are just under 20 sports markets which are covered and around 10 Esports markets, at this time.
Other Games Available at GG Bet Sportsbook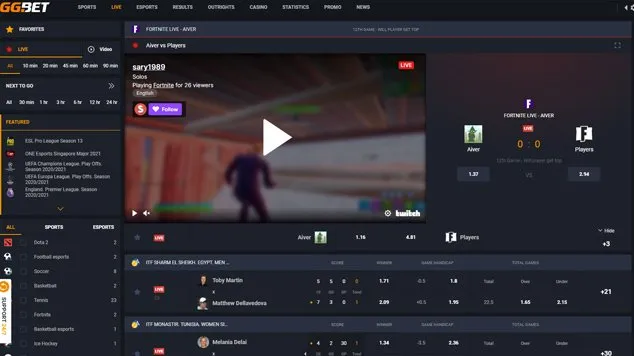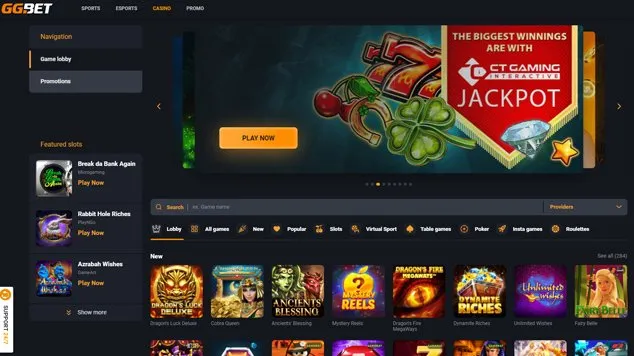 LiveIn-play betting
You will find a 'Live' tab on the header menu when logged in to your GG Bet account. This live tab is basically where bettors can take a look at sporting and E-sporting events that are currently underway. Traditionally, punters could only place bets on matches and games before they got underway. However, in the live betting section, you can place bets on ongoing events.
Since in-play betting deals with games that have already started, some of the bet types may not be available. Furthermore, not all sports markets are supported for in-play betting.
All of the Esports are supported for live betting, but when it comes to traditional sports, only popular markets like Soccer, Basketball, Ice Hockey etc. are supported.
Casino and Live Casino
As a member of GG Bet sportsbook, you can do a lot more than betting on Esports and sports. In fact, you can even play real money casino games in the GG Bet casino section. Under the 'Casino' tab in the header menu, you will find a full- fledged online casino with a huge library of different types of games for you to explore.
The casino is a fully licensed operation. It is home to several hundreds of games across game categories such as slots, virtual sports, table games, poker, insta games, roulette games and live dealer games. These are some of the best online casino games available as of today and they are sourced from leading game providers like BetSoft, NetEnt, Yggdrasil, Play'n GO, Microgaming, Triple Edge Studios, Foxium, Wazdan, BTG and iSoftBet.
Under the 'Casino' tab, you will find a sub category called 'Live Casino' and some of the popular live casino games you can play include live roulette, live poker, live keno and live lottery. All the live dealer games are sourced from the industry leader in live casino games, Ezugi Gaming. When you play live dealer games, you are basically interacting with a real, human dealer through live video streaming. This adds a social element to casino table games which is often missing at online casino games.
How does GG Bet Sportsbook compare to other Sportsbooks in terms of Betting Markets & Odds?
We can look at this question by breaking down the sports markets into three main categories – Esports betting, popular sports markets and niche sports markets.
As we mentioned, GG Bet is one of the only online sportsbooks that lays more emphasis on Esports betting than they do on traditional sports. In fact, until recently, you could only bet on Esports. Therefore, if Esports betting is what you are interested in, you should know that you will find the best odds anywhere on the world wide web.
When it comes to traditional sports betting, you will find the odds for popular sports markets like Football, Ice Hockey, Basketball, Tennis, etc. to be very competitive and on par with what is offered at the most popular online and land based sportsbooks.
However, if you are more interested in some of the lesser popular sports such as Handball or Water Polo (as examples), then the odds are not the best there is.
GG Bet Sportsbook App and Mobile Website Version
The GG Bet sportsbook website is a mobile friendly website since it has been developed using the latest front-end technologies such as HTML5 and Java Script. Therefore, you can simply access the website on your smartphone, login to your account and start playing. However, if you always on the go, then we suggest that you download the GG Bet mobile app on your smartphone. There are apps available for both Android and iOS smartphones. With the app, you can launch GG Bet in seconds no matter where you are, as long as your smartphone is connected to the internet.
Mobile vs. App Features and Benefits
Some of the pros of playing on the mobile website are:
No need to download or install any software files
Play instantly from any supported device without prior setup
Save on storage memory
Save on download data
Some of the pros of playing on the mobile app are:
Seamless mobile interface
Optimal performance and quick launch
No need to login every time
Place bets in seconds on mobile
Mobile Bonuses and Payment Methods
Whether you are playing on a PC or a mobile device, the bonuses section of this sportsbook is pretty much the same across all platforms. Mobile players will have full, unrestricted access to all the bonuses and can claim these bonuses from their mobile app or from the mobile website.
Likewise, there are no restrictions on which payment methods you may use if playing on mobile. The available deposit and withdrawal banking methods will depend on which country you are based in. Whether you are using mobile or PC, you can use all of the banking methods available and supported at your location.
How to download the app on Apple IOS
Launch the Safari browser
Visit the GG Bet mobile website
Tap the share button
Scroll down and select "Add to Home Screen"
A GGBet icon is added to your home screen
Access the GG Bet mobile website anytime by clicking on the icon on the home screen
How to download the app on Android
Download the "Ggbet_Application.apk" file from the GG Bet website
Move the file to your Android device (if you downloaded it on some other device like a PC)
Locate the file using the file explorer and open it
Allow the device to install the application when prompted
Follow the prompts and complete the installation
The app is now available on your Android smartphone
Depositing and Withdrawing at GG Bet Sportsbook
List of Accepted Depositing Methods:
There are several secure banking methods to fund your account and also to withdraw winnings from your GG Bet account. Apart from the usual payment methods, availability of some banking methods will depend on which country you are based in. Unfortunately, there is no support for cryptocurrencies.
| Deposit Method | Min. Deposit | Max. Deposit | Processing Time |
| --- | --- | --- | --- |
| Mastercard | NA | NA | Instant |
| Visa | NA | NA | Instant |
| Neteller | NA | NA | Instant |
| Skrill | NA | NA | Instant |
| MuchBetter | NA | NA | Instant |
| Bank Transfer | NA | NA | Instant |
How to Make a Deposit:
Click 'Deposit'
The 'Cashbox' is selected by default
Deposit tab is selected by default
Choose the deposit method
Enter deposit amount and payment details as prompted
Complete the deposit
List of Accepted Withdrawal Methods:
| Withdrawal Method | Min. Withdrawal | Max. Withdrawal | Processing Time |
| --- | --- | --- | --- |
| Visa | $5 | $10,000 | 24 – 48 hours |
| MasterCard | $5 | $10,000 | 24 – 48 hours |
| Neteller | $11.90 | $10,000 | 24 – 48 hours |
| Skrill | $4.76 | $10,000 | 24 – 48 hours |
| MuchBetter | $47.60 | $10,000 | 24 – 48 hours |
| Bank Transfer | $58.62 | $10,000 | 3 – 5 business days |
How to Make a Withdrawal:
Click 'Deposit'
Cashbox option is selected by default
Deposit tab is selected by default
Click the withdrawal tab
Click on the preferred withdrawal method
Enter withdrawal amount and other details as requested
Complete the withdrawal
RECAP:
Unique Selling Points
Best sportsbook for Esports betting
20+ sporting markets offered
Online Casino and Live Casino available
Multiple secure banking options
Switch between dark and light mode with one click
Mobile apps available
Live in – play betting supported
Frequently updated "news" blog section
Many bonuses throughout the year
Live Chat support 24/7
Common Complaints
Cannot cancel a bet once placed
No support for cryptocurrencies
About GG Bet Sportsbook
GG Bet Sportsbook was launched initially as an online sportsbook exclusively for Esports. Esports still remains GG Bet's main focus and forte, but they have now expanded to also include betting on traditional sports. More recently, this betting platform has also incorporated a full-fledged online casino where you can play casino games like slots, blackjack, roulette, baccarat, poker and more for real money. The live casino section allows you to interact face to face with a human dealer in real time while playing table games, this is made possible through high-definition video streaming.
GG Bet also supports live in-play betting on E-Sporting events and popular sports markets like soccer, tennis, basketball, ice hockey, etc.
This sportsbook accepts players from various parts of the world. The website is available in seven different languages, it also supports various fiat currencies. There are plenty of safe and secure banking methods for members to choose from.
Customer support are easy to reach, especially through the live chat option. The chat operators respond in seconds.
Customer Support & Contact Details
Email:support@gg.bet
Phone: +44 (203) 769 – 19 – 62
Live Chat available 24/7
Frequently Asked Questions (FAQs)- Sportsbook Reviews
GG Bet Sportsbook holds a valid license issued by the Government of Curacao and it is also eCOGRA certified. Since it is hosted offshore and not in South Africa, the South African legislation regarding online gambling does not have any bearing on the operations of GG Bet. South African players are welcome to join, but they should check their local laws.
Yes, GG BetSportsbook is available on mobile via the mobile website as well as an android mobile app which can be downloaded.
GG Bet supports social media registration. You can sign up in just seconds by linking your Google, Facebook, Twitter, etc. Manual registration can be completed in under a minute.
Yes, there are certain free bet offers in the 'Bonus' section.
Currently, there is no GG Bet Sportsbook FICA bonus.
GG Bet Sportsbook offers betting on Esports, sports, live – in play events, casino games and live casino games.
Yes, GG Bet Sportsbook has a live dealer casino section with games developed Ezugi Gaming.
South African players can bank using bank cards, eWallets, bank transfers, etc. Unfortunately, cryptocurrencies like Bitcoin, Litecoin, etc. are not supported.
The withdrawal time frame may vary depending on the banking method selected.
The main highlight of GG Bet sportsbook is its Esports betting markets. They are world leaders in this regard.
Customer support can be contacted through live chat, email or phone. Details are as follows:
Email: support@gg.bet
Phone: +44 (203) 769 – 19 – 62
Live Chat available 24/7