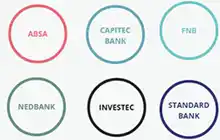 Internet bank transfers and cash deposits are two very similar and easy to use banking methods when using particular South African online casinos.
Jackpot cash casino and Silversands casino are two online casinos available to South Africans that accept this type of transaction when depositing money into a casino account.
An internet bank transfer is when money is transferred from your bank account over the internet to or from your online casino account. It is an easy and effective way to transfer funds in and out of your account.
The first internet banking took place in the United States in the 1990's, and now has become a very popular method of money transfer amongst various industries, including the gaming industry.
The main advantage of using internet banking and cash transfers is that you pay or receive money straight from or to your bank account, or with cash deposited into Jackpot Cash Casino or Siversands casino bank accounts. You may choose to use your credit or cheque/savings account when making an internet bank transfer.
Jackpot cash casino does not accept internet bank transfers from Capitec bank. They do not give a reason for this but comment that they will return any payments made from the bank to the online gambler.
🔔 Advertising Disclosure: playcasino.co.za contains affiliate links to partner sites. By clicking these links and making a deposit PlayCasino may earn a commission. This does not impact bonuses or result in extra charges for players. Our reviews and recommendations remain impartial.
How to open an account
Another great advantage of using either cash deposits or internet bank transfers with your South African online casinos is that you do not actually have to open an account.
Silversands casino does request that the first time you make a cash transfer, some kind of identification document such as a passport or other accepted identification be produced.
Deposits and withdrawals
Depositing and withdrawing from your online gaming account using either cash deposits or internet bank transfers is quite straight forward. In order to withdraw or deposit cash from your account or use internet banking, you will need to fill in the fax back form sent by the casino in order to verify the transfer. It will take around 2 working days for the transaction to be processed and the money to appear in your bank account. To withdraw or deposit using Internet banking.
Faq
Can I deposits & withdrawals via Internet Bank Transfers?
Helping you transfer your funds from your bank to your casino account, Internet Bank Transfers allow you to make your deposits and withdrawals in ZAR.
How to make a deposit via Internet Bank Transfers?
1. Go to the Cashier and choose Internet Bank Transfer as a preferred payment method.
2. Follow the instructions disclosed on the next page and complete your payment.
How to withdraw via Internet Bank Transfers?
At the Cashier's go to the Withdraw tab and opt for Internet Bank Transfer as a withdrawal method. Follow the given instructions to complete the cashout procedure.
Is Internet Bank Transfer a safe banking method?
Internet Bank Transfer is a completely safe banking method, so you can use it without any worries that your data can be threatened by the third party.
Will I be charged any additional fees when making transactions via Internet Bank Transfers?
Additional fees may be applied to transactions carried out via Internet Bank Transfers and they may vary from one casino to another. Check out the transaction fees at the casino you have registered with before you opt for this banking option.
How long does it take to process deposits and withdrawals with Internet Bank Transfers?
Deposits and withdrawals via Internet Bank Transfers may take longer than those processed with other banking solutions as you need to fill in the fax form and send it back to the casino. Processing transactions may take up to 3 working days.
Get in on the action
Sign up now for the latest bonuses, promotions, and new online casinos.
Have You Found What You're Looking for?
Your feedback is paramount!