What Is Monopoly Live?
When you play Evolution's Live Monopoly you'll enjoy top-class gaming that feels just like the real thing. The action is live-streamed from Evolution's studios, and the game takes place in a semi-circular-shaped room with a backdrop based on the famous board game. The wheel is in the middle of the screen, and the friendly host is on the right, where a device to roll dice is set on a large gold structure.
On the left of the Live Monopoly casino game screen, you'll see the famous main character himself, seated in a chair, reading a newspaper. It's a computer-generated figure that sets the visually interesting tone for this game, with the rest of the experience filled with upbeat music and the dealer occasionally doing silly dance moves while the wheel's spinning.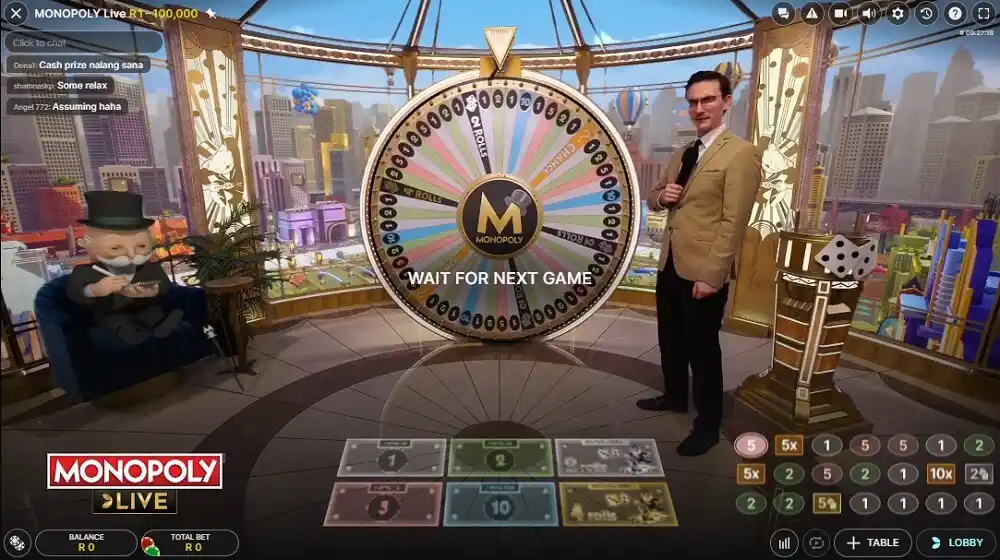 The Monopoly Live casino game strikes the ideal balance between digital rendering and live action. The graphics are clear and crisp, and all elements are clearly defined for player convenience.
How To Play Monopoly Live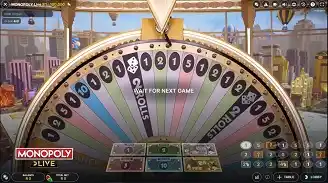 Once you know where to play Monopoly Live, head over to the casino and:
Select Monopoly Live from the game lobby.
Place your bet. There are 4 different numbers, 1, 2, 5, and 10, you can bet on, and 2 bonuses, 2 Rolls, and 4 Rolls.
Watch the host get the Monopoly wheel spinning.
The wheel will stop on a number or a bonus game, and you'll either collect your win or start the bonus game action.
Monopoly Live Bonuses
Although you won't be able to enjoy Monopoly Live free play, there are some added extras to look forward to:
"Chance" Card Bonus
If the wheel lands on the Chance card position, you'll get a Multiplier Bonus or a random cash prize. Mr Monopoly also appears on the screen to give you the card, bringing the reality/augmented reality interface to life in an amazing way.
2 Rolls or 4 Rolls
Along with the standard numbers, you may also land on the 2 Rolls or 4 rolls segments of the wheel. If the wheel ends up in either of these 2 positions, the main Bonus Game will begin, and you'll be able to play for even bigger prizes, whether you're on the Monopoly Live casino app or playing directly at one of the SA-friendly online casinos we recommend.
3D Monopoly Board
When this section of the game triggers when you play Monopoly Live online, you'll join Mr Monopoly in a 3-dimensional augmented reality setting. Your screen will show a 3D game board, and you'll start moving through it like you would in the board game. This is where the dice come in. You'll be rolling them to determine how you move around the board, and you'll see all the standard game features here, including GO, houses, hotels, and jail, each of which will play their part.
Where Can I Play Monopoly Live Online?
Although there was a rumour that Monopoly Live had been discontinued, that's not true. You can enjoy Monopoly Live at Betway or Tusk Casino, two of our recommended sites, or you can download the Monopoly Live casino app from Playabet, which features tons of amazing sports betting action as well.
Pros
Free rounds of Monopoly Live are available
There are high limits on the available bonuses
Monopoly Live trackers are available online. These allow players to track results and bets to see if any patterns emerge. The statistics these reveal can be very helpful.
Cons
The Interface, while very pleasing, is not as modern and slick as some other live casino game options.
Monopoly Live Strategy
There really isn't a Monopoly Live strategy that you could consistently rely on since the game is based 100% on luck. It's absolutely random, so you cannot influence the outcome. This means that the only real strategy lies in how you manage your betting budget, how you limit the time you spend playing Monopoly Live in South Africa, and that you stick to safe sites to enjoy the game.
Is There A Monopoly Live Demo?
Unfortunately, live casino games don't generally have demo mode available for players to test them out. This is because the cost of running them is so high. You can check the game out on YouTube if you want to, where you'll get a good idea of what to expect, and don't forget to keep tabs on game patterns using a Monopoly Live tracker online.
Monopoly Live Payout and Volatility
Your payout ratios for bets are:
| Bet Outcome | Payout Ratio |
| --- | --- |
| Number 1 | 1:1 |
| Number 2 | 2:1 |
| Number 5 | 5:1 |
| Number 10 | 10:1 |
| 2 Rolls or 4 Rolls | Bonus up to R500 |
| Chance | Multiplier or cash prize |
In a Monopoly Live game, the Return to Player rate will vary a lot between the various bet options, starting at 91.30% and reaching a maximum RTP of 96.23%.
Check out the following table for more information:
| Bet | The Chance of It Hittin | RTP % | Volatility |
| --- | --- | --- | --- |
| 1 | +40% | 92.88% | Very low |
| 2 | +20% | 96.23% | Low |
| 5 | +10% | 91.30% | Low |
| 10 | +7% | 96.02% | Medium |
| 2 Rolls | +5.% | 93.90% | High |
| 4 Rolls | +1.% | 93.67% | High |
| Chance | +3.% | N/A | N/A |
Monopoly Live Experience
We know you're going to love playing Monopoly Live just as much as our team does. This live casino game doesn't just offer a money wheel, bonus features, and the chance to win big. It also gets played along with other South Africans, and you can't beat that for community.
It's up to you whether or not you want to socialise with the players around you using the Live Chat option and anything you type to the presenter will get a response too. The Live Monopoly game hosts are friendly and inclusive and are quick to reply to messages from players involved in the game. Their job is to entertain you, and they do it really well.
You'll also be able to see how much each of your fellow players has won on each of the Live Monopoly casino game rounds. Although this won't affect your game in any way, it's great to celebrate with one another when there's a win. This feature really adds to the social aspect of the game, reminding you all the time that there are others out there having fun with it too.
Monopoly Live On Mobile
When you use a Monopoly Live casino app, you'll find that there's virtually no difference between playing the game on Android or iOS and on a desktop computer. The interface is slightly different when you play at mobile casinos, and there may be a dip in the quality of the stream, depending on your internet connection. But other than that, the experience is identical. And of course, playing on your mobile means you can join in the fun whenever and wherever you are. 
Monopoly Live Stats
You can use a Monopoly Live tracker online like Tracksino to keep track of various game stats, including winning numbers, any patterns, and how often people are winning on specific numbers. You'll be able to view how often each number is landing, whether the 2 Rolls and 4 Rolls are coming up frequently, and what percentage of wheel spins land on a Chance card.
Should You Play Monopoly Live?
Whether you decide to enjoy Betway Monopoly Live games or play at any of our other recommended casinos, we highly recommend that you check this game out. The combination of live action, augmented reality, and stunning animation has really changed the game, and the PlayCasino team found it a pleasure to play.
It follows a standard money wheel game format, so you won't find it difficult to play Monopoly Live online. And, along with standard bet prizes, the excellent bonus features really take things up a notch. Plus, it's pretty much the only way to play Monopoly without risking a board being flipped, people losing their tempers, or huge family fights kicking off!
Other Live Casino Games You May Be Interested In
Deal or No Deal
Spin a Win
Mega Ball
When you've had your fill of Monopoly Live and want to play other great games, why not try Deal or No Deal, another Evolution creation? It's available 24 hours a day and is full of suspense, along with the chance to win really massive cash prizes. You can finally be a contestant on the famous game show instead of just watching other people compete.
Or you could check out Spin a Win by Playtech, an amazing live casino game that really delivers on betting options, colour, and style. It's a game of chance just as brilliant as you would expect a game from world-renowned Playtech to be.
And then there's Mega Ball, a live casino game based on Bingo, also by Evolution. Here, you can buy as many as 400 cards in real time if you want to!
FAQs
What are the bonuses in Monopoly Live?
There are 3 bonus rounds for players to enjoy when they launch Monopoly Live in South Africa. It's Chance, 2 Rolls, and 4 Rolls. When the Chance card comes up, you'll get either a Multiplier or a random cash prize, and the rolls kick off the mini virtual board game.
What is the maximum win when you play Monopoly Live in South Africa?
You could be the lucky winner of R500 000 if the right combinations come up.
Who is the provider of the Monopoly Live game?
Monopoly Live is an Evolution game.
What is the theme of Live Monopoly?
This game is based on the Monopoly board game, and many elements from it have been cleverly worked in, including the Chance card.
Where can I play Monopoly Live?
You can enjoy Monopoly Live at Betway, Tusk Casino or Playabet.
Get in on the action
Sign up now for the latest bonuses, promotions, and new online casinos.
Have You Found What You're Looking for?
Your feedback is paramount!