The user interface is easy to control. The buttons at the bottom of the reel set have a 3D appearance. A translucent black panel runs across the bottom section of the game window and displays the current balance, win amount and stake amount. Players have the ability to switch between normal speed and turbo for high tempo action. The background music is electric and fast paced, which complements the game-play nicely. However, it can be turned off from within the game settings if you prefer to play in silence.
Here's a detailed and realistic review of Sparky 7 and its various features and bonuses.
Sparky 7 Slot Free Demo: Check it out Online or on Mobile
Being a new release with some unique special features and bonus rounds, we recommend that players try the game in fun play mode for a few times initially. This is a great way to get acclimatized to the fast tempo, the different symbols, and its many special features, and get a good command over the interface and controls. Once familiar with the games, game rules and bonus rounds, players can play for real money and thus minimize the risk of losing money due to unintended or inadvertent game play rather than just bad luck.
If you wish to play Sparky 7 for free, you can do so right here! Being a HTML5 and JavaScript game, the free play mode will work on most modern browsers with or without the Flash plugin.
Play Sparky 7 for Real Money at one of these Top Online Casinos
Game Features & Bonuses
Transferring Symbols
The transferring symbols feature is an authentic special feature of this game. It swings into action when the player lands any two 7 symbols in an active pay-line where the third spot on the pay-line is a blank space. A random symbol will then appear in the blank space to complete the pay-line and the wins are calculated depending on which symbol lands there. The wild symbol only substitutes the 7 symbols in such a round.
Multipliers                     
Sparky 7 slot is blessed with random multipliers and win multipliers. The win multiplier is awarded during the free games round and the random multiplier may be triggered randomly at any time. It is not uncommon to see win multipliers of up to 4x the win during the free games round.
Fun Play
This RTG game is available in fun play mode, which is always appreciated by ardent slot game enthusiasts. It is perfect to learn the ropes and fully understand the intricacies of the game before putting actual money on the line. The fun play mode at Sparky 7 offers a fun play balance of $1000 (ZAR 15,000 approx.), which is more than plentiful to let you play for hours on end and fully familiarize yourself with the game rules, symbols, special features and pay-lines in just one session. The session does have an inactivity timer and gets disconnected after a few minutes of inactivity.
Auto Play
The auto play feature has become a standard inclusion in most modern-day online video slot games. Many players prefer to use auto play instead of repeatedly pressing play hundreds of times. This comes in handy especially when playing for longer durations. The auto play button is located on the extreme right of the buttons row. When you click on the auto play button, a small vertical menu extends upwards and players can choose how many spins they want to automate. The options include 100, 50, 25, 10, 5 and even infinity. At any time, you can stop auto play by simply clicking on the play button which when auto play is enabled becomes the stop button.
Wilds
The wild feature is denoted by a large W symbol. The wild symbol acts like a joker in a deck of cards. It can be substituted for other symbols to make a winning pay-line with the expectation that it cannot act as a scatter symbol. During the transferring symbols special round, the wild symbol can only substitute a 7 symbol.
Free Spins
The scatter symbol is a golden symbol with a pink foreground with the word 'bonus' on it. If and when you land 3 scatter symbols on the reels (they can be anywhere, does not have to be on one of the 5 pay-lines), it triggers the free games round. 7 free games are issued and these free spins transpire automatically, you don't have to press play for each one.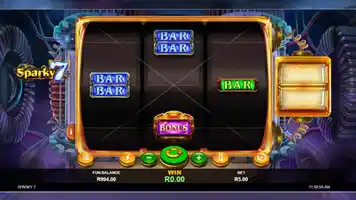 How to Play Sparky 7
Being a 3×3 reel set with just 5 pay-lines, this is a really easy game to play.
Load Sparky 7 slot on your internet browser on either PC or mobile
Adjust your bet amount to the desired bet per line using the "- "and "+"
Press the play button in the middle to set the reels spinning
Use the auto play function if you want to sit back and just watch the action unfold
Wins and total balance is displayed at all times at the bottom of the game window
Main Prizes to Be Won
Sparky 7 is not a progressive jackpot. The highest paying symbol is the red 7. The most exciting phase of the game is when 3 scatters appear anywhere on the reels and trigger the free games. During this round, the highest possible prize of 50,000 times the line bet can be achieved.
Why do South African Players Enjoy Playing Sparky 7 Slot?
South African players are particularly fond of classic slots and Sparky 7 is a great modern rendition of a 3-reel classic. The fundamental selling point is the fact that the game is super easy to play and understand. There are not many bells and whistles to complicate the game rules. South African players who like fast faced, high tempo slots will enjoy how quickly the game plays and the action inspiring background music.
Betting Range
The betting range of Sparky 7 can be adjusted by the player during game play. There are tree buttons that can be used to increase the bet, reduce the bet or set the maximum bet. The betting range starts at a minimum of $0.50 (approx. ZAR 7.50) and goes up to a maximum of $5 (ZAR 75 approx.). Apart from the minimum and maximum bet values, the only other bet value that can be set is $1 (approx. ZAR 15).
Mobile Friendly
Sparky 7 is one the latest Realtime Gaming releases and it comes as no surprise that this game is fully mobile compatible right out of the box. It can be played on a smartphone or a tablet mobile device with seamless performance as long as the device has internet connectivity. In fact, this is a particularly good game to play on mobile because it only has 3 reels and 3 rows that fits even on some of the smaller mobile screens while still remaining easily visible.
Progressive Jackpot
Sparky 7 does not feature a progressive jackpot.
Instant Play
Sparky 7 is an instant play slot like the vast majority of Realtime Gaming slot machines. Effectively, this means that you don't have to download a software or app in order to play this game. It can be played from within web browser windows on both PCs and mobile devices. Most modern web browsers such as Google Chrome, Safari, Firefox, etc, are compatible with the game. This game has been developed using web and mobile friendly front-end technology.
Similar Slots
There are thousands of 3-reel classic slot games, but not many, if not none, are comparable to Sparky 7. This is a unique game with an authentic teleporting 7s feature that we haven't seen before. We cannot really draw parallels to Sparky 7 from any other 3-reel slot out there. This game is truly one of a kind at this point.
Other Slot Games You Might Like
FAQs
Does Sparky 7 Slot Have a No-Deposit Free Spins Bonus?
Spark 7 is a virtual slot machine game from Realtime Gaming that you can play at online casinos. The game is compatible with various bonuses including free spins. The game also rewards players with free spins during game play. However, the question of whether or not no – deposit free spins bonus is offered is more relevant to the particular online casino at which you are playing. Depending on which online casino you are playing at, a no deposit free spins bonus may or may not be on the cards. Furthermore, even if a no deposit free spins bonus is offered, the free spins may not necessarily be applicable on Sparky 7 slot. This question can be posed to your online casino's customer support team for a more definitive answer.
Is a Free Play Version Available?
Yes, this game has both real money play as well as free play modes.
Can I Play Sparky 7 Slot for Real Money?
Yes, Sparky 7 is a video slot developed by licensed and regulated online game developer – Realtime Gaming. Its primary purpose is to serve as a real money video slot machine at online casinos. The fun play option is just an added feature. You can play Sparky 7 slot for real money as long as you are of legal gambling age and you have registered with a real money online casino which offers this game.
How Much Money Can I Win PlayingSparky 7 Slot?
Sparky 7 offers a maximum win of 50,000 times the line bet.
Unfortunately, Sparky 7 slot is not a progressive jackpot game. The maximum win is a fixed amount which is equivalent to 50,000 times your stake amount. If you want to play progressive jackpot slots, there are other options from Realtime Gaming such as Jackpot Pinatas, Aztec's Millions, Cleopatra's Gold and Megasaur.
What's The Theme of This Slot Game?
Spark 7 video slot's theme is not very specific or niche. Overall, it can be best defined as a modern take on a retro 3-reel slot which has electric blue elements and as the name suggests, there are plenty of sparks flying around.
What are some of the best features in this game?
This game is rich with features, especially considering that it is a simple 3-reel slot with just 5 pay-lines. Apart from traditional features such as wilds, scatters and multipliers, auto play and fun play, it also offers a unique transferring symbols special feature.
Get in on the action
Sign up now for the latest bonuses, promotions, and new online casinos.
Have You Found What You're Looking for?
Your feedback is paramount!