Pros
Unique theme
Progressive jackpot
Nostalgia-inducing graphics and sound
Cons
Not ideal if you hate trucks
How to Play Wild Trucks
While Wild Trucks is one of the most unique slots, the good news is that the gameplay is simple and intuitive. If you've any of the Spina Zonke collection of games over at HollywoodBets, you'll be right at home playing Wild Trucks.
But, if you're a newbie or the type of player who wants to know all the inns and out of a game before they play, just follow our step-by-step and you'll be ready to hit the open road and win big with Wild Trucks!
Make sure you have an account at the online casino where you're going to play Wild Trucks and login to your profile
Deposit funds to use while you play Wild Trucks
Find the Wild Trucks by either clicking on slots or typing its name into the search bar
Be sure to read the various information screens before you start playing by clicking on the "i" icon. You will be able to see the game's bet predictions, paylines, and the values of the different symbols
You can adjust the size you bet on each spin by clicking on the + or – symbols
Just hit the SPIN button every time you want to play
If you're feeling a bit lazy and don't want to hit SPIN every few seconds, you can always use the AUTOPLAY feature. With this feature, you can let the game handle the next 20, 50, 75, 100, or 200 spins for you
Wild Trucks Strategy and Tips
When it comes to HollywoodBets' Spina Zonke games like Wild Trucks, there is no guaranteed winning strategy. These games, just like every online slot, use a Random Number Generator (also known as an RNG). This system ensures that every spin is totally random.
Regulating bodies regular checks on these systems to make sure that online casinos aren't stacking the odds in their favour and that you stand a fair chance of winning. However, there are a few things that you can do to give yourself the best chance of winning big.
Know the game. Yes, it's tempting to think that all slots are the same and just start playing but that's far from the truth. Yes, in the end, you hit spin and hope for the best.
Before you start playing, we suggest that you study the bet prediction table that pops up once the game loads.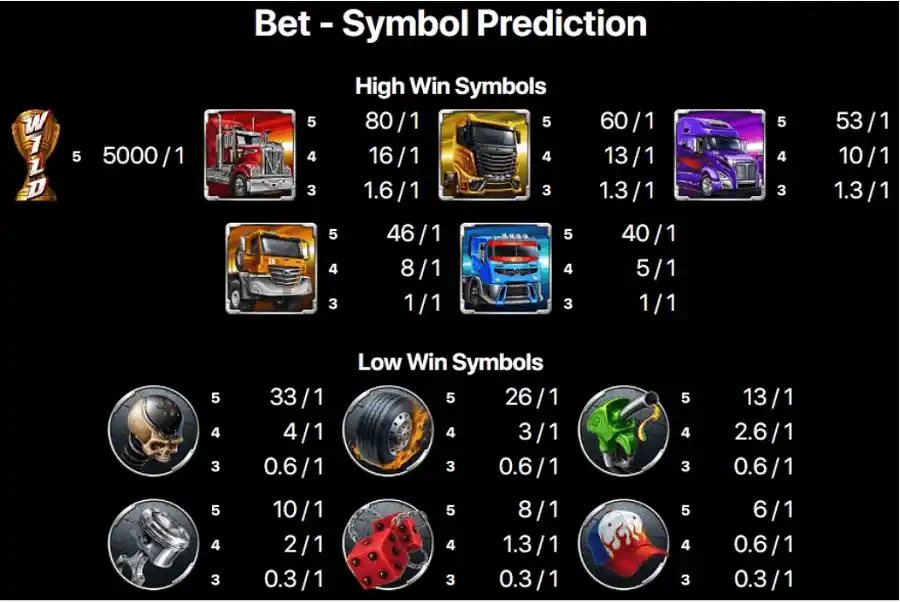 Set yourself a budget. We know how easy it is to blow through your available funds and just how tempting it can be to make another deposit. Especially when you feel like you're due. Before we start playing, we decide how much we're willing to spend and we stick to that budget, no matter what!
Spend some time playing the Wild Trucks demo before you start risking your hard-earned money.
Do your research. Wild Trucks is a high-volatility slot with an RTP of 96.71%. This means that Wild Trucks doesn't pay very often, but when it does, it's usually relatively large. The RTP is an average of how much you can expect to win off every R100 you play. The average RTP for a game like this is usually 95%. The smallest bets you can place are R0.30 per spin and you can go all the way up to R300 per spin if you're feeling lucky and your wallet can handle it. The jackpot on Wild Trucks is a pretty impressive R2 million.
Wild Trucks Demo
Want to give Wild Trucks a go before playing for real money? Play for free with the Wild Trucks demo version below…
Wild Trucks Symbols
When it comes to the symbols in Wild Trucks, it's all about trucks and trucking. The symbols in the game can be split into two categories – high-value and low-value…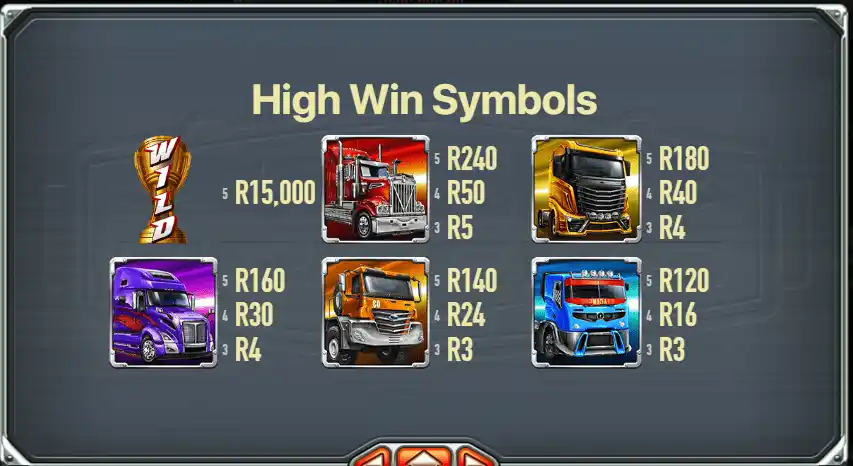 Wild Truck's high-value symbols are:
Golden wild trophy
Red truck
Gold truck
Purple truck
Orange truck
Blue truck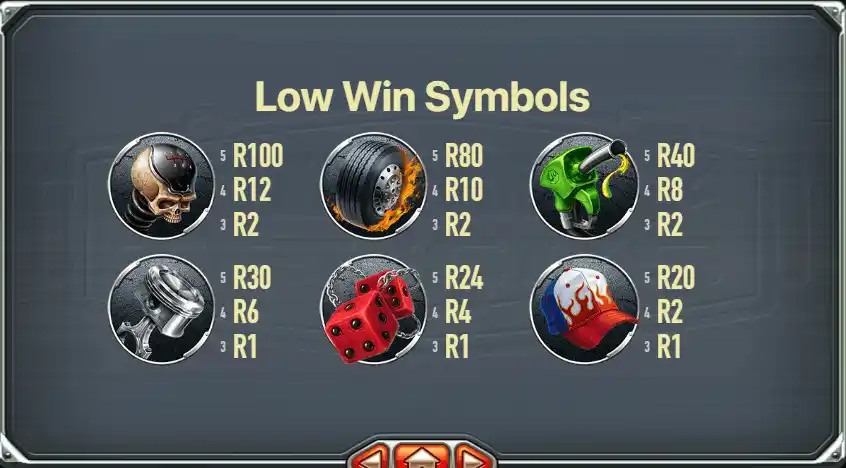 Wild Truck's high-value symbols are:
Skull gearshift
Flaming tyre
Petrol pump
Piston
Fluffy dice
Trucker hat
Wild Trucks Bonus Features
Now that you know what to expect, let's take closer look at what some of the features and bonuses you should be hoping to see the next time you play Wild Trucks at HollywoodBets…
Wild: The golden trophy is one of the best symbols you can hope to land. It's the wild symbol of the game. It can substitute all of the reel symbols. Land four truck symbols and the golden wild trophy and the wild will cover all of the symbols and give you a nice win.
Scatter: The golden trophy does double duty and also serves as the game's scatter feature. All of the trucks can also set off the scatter feature.
Payouts: Score three or more trucks, skull gearshifts, flaming tyres, petrol pumps, piston, fuzzy dice, and trucker hats and you will earn a payout. You can win larger payouts by matching four or five of these symbols.
Free Spins: Score matching trucks on the first, third, and fifth reels to score yourself free spins. The amount of free spins depends on the colours of your trucks and you can win 10 to 25 free spins. You can win 75 free spins if you manage to score three golden wild trophies.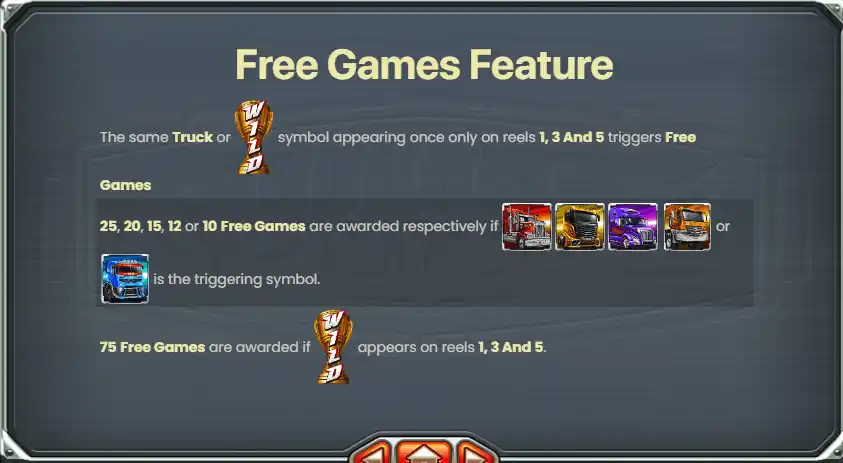 Wild Trucks Payout and Volatility
High-Value Symbols in Wild Trucks
Golden wild trophy
Red truck
Match 5 = x80
Match 4 = x16
Match 3 = x1
Gold truck
Match 5 = x60
Match 4 = x13
Match 3 = x1
Purple truck
Match 5 = x53
Match 4 = x10
Match 3 = x1
Orange truck
Match 5 = x46
Match 4 = x8
Match 3 = x1
Blue truck
Match 5 = x40
Match 4 = x5
Match 3 = x1
Low Value Symbols in Wild Trucks
Skull gearshift
Match 5 = x33
Match 4 = x4
Match 3 = x0.6
Flaming tyre
Match 5 = x26
Match 4 = x3
Match 3 = x0.6
Petrol pumps
Match 5 = x13
Match 4 = x2
Match 3 = x0.6
Piston
Match 5 = x10
Match 4 = x2
Match 3 = x0.3
Fuzzy dice
Match 5 = x8
Match 4 = x1
Match 3 = x0.3
Trucker hat
Match 5 = x6
Match 4 = x0.6
Match 3 = x0.3
Wild Trucks Graphics
We love the look and sound of Wild Trucks! And it's not because of our unfulfilled childhood dreams of driving our big rigs in convoy down the N1. Well, not entirely. It's mostly because the graphics and sounds took us back to the arcade games we loved playing as kids. The images are slightly pixelated yet you're never in doubt of what you're looking at.
With the high picture quality of today's screens and what technology is capable of, we can only assume that the developers were looking to hit that nostalgia button in players. And it's worked! We often have an issue with the repetitive and often cheesy soundtracks of today's slots yet the upbeat and almost urgent tones of Wild Trucks felt like it enhanced our experience by adding to the urgency and excitement we felt while playing. All game soundtracks will now be measured against the standard set by Wild Trucks!
Wild Trucks on Mobile
We played Wild Trucks on our iMac, laptop, iPad, and an Android smartphone, and the experience was identical every time. So that means that there is absolutely no difference between playing it on a top-of-the-line desktop or on a budget smartphone. The only difference is the screen orientation switches from landscape on computers to portrait for mobile devices. If we were forced to choose, we preferred playing in landscape because the game was presented on a much larger scale.
However, the graphics were perfect and the sound was identical across all devices. Gameplay was fast and smooth with zero pauses. In the end, it doesn't matter how you choose to play Wild Trucks, you will have the same great experience.
Should You Play Wild Trucks?
100%! Of all of the Spina Zonke games we have reviewed so far, Wild Trucks is our favourite. In fact, we love it so much that we've added it to our bookmark bar so that we're only ever a click away from playing.
Enough gushing, let's get down to the facts. Wild Trucks is a unique, exciting, and fun game. The quality of everything about it impressed us – graphics, sounds, bonuses, features, wager amounts, the jackpot… We could easily keep going. We can't actually think of anything that could put you off from playing this game. Unless you just hate trucks.
Best Casinos to Play Wild Trucks for Real Money
Other Online Slots You May Be Interested In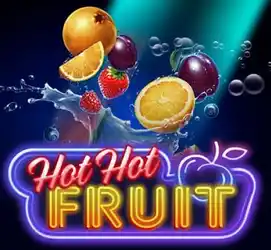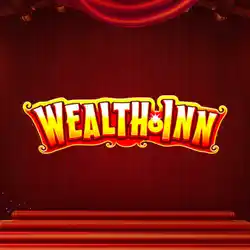 FAQ
Where can I play Wild Trucks?
Well, that depends - do you want to play for real money or do you want to play for free in demo mode? If you want to play with and win real money with the Wild Trucks Slots, your best bet is to head over to HollywoodBets. Once there, log into your account, hit the Spina Zonke button on the left, and scroll down until you find Wild Trucks. If you just want to play for fun or get to grips with the game before risking any money, just use the link to the demo you'll find in this review.
Spina Zonke is a collection of over 400 slots from several industry-leading developers that you can play at HollywoodBets. The best thing about these games is that playing certain titles enters you into the HollywoodBets Spina Zonke Jackpot Race where you can win big.
What are the minimum and maximum amounts I can bet in Wild Trucks?
The good news is that Wild Trucks is one of the cheapest games in HollywoodBets Spina Zonke collection of games with a minimum wager of just R0.15 per spin. The maximum you can wager per spin is a whopping R300. Remember, your odds of winning big improve dramatically the more you're willing to wager. That being said, always play within your budget. If you had a budget of R1,000, we'd suggest going with a wager of maybe R10 to R50 per spin. If you went with a full R300, you'd be done after just three spins!
How much can I win playing Wild Trucks?
The standard jackpot prize in Wild Trucks is R2 million. The good news is that Wild Trucks is a progressive jackpot slot, so the prize could actually be a lot more. It just depends on when the last time someone won the jackpot and how much players have spent while playing Wild Trucks. Either way, hit the jackpot and your life will never be the same!
Get in on the action
Sign up now for the latest bonuses, promotions, and new online casinos.
Have You Found What You're Looking for?
Your feedback is paramount!