Gambling is undoubtedly big business in South Africa, generating a whopping $2.5 billion in revenue in 2021 alone. However, as with any industry that involves large sums of money changing hands, there's always the potential for crime and other related problems. 
This is where the National Gambling Board (NGB) steps in. They're tasked with regulating the industry and ensuring that it operates in a safe and responsible manner. Let's take a closer look at what the National Gambling Board does and how they help to mitigate the potential negative impacts of gambling in South Africa.
A Long History of Gambling
Gambling, gaming, betting, and waging. People have been doing it for thousands of years. From friendly wagers on boxing matches to big bets on horse races. From tiny backroom poker games to massive 5-star casino resorts. Unfortunately, with gambling came cheating, stealing, match-fixing, and money laundering.
In a country with a complex history of gambling, it's necessary to have a governing body to make sure everything is above board. That body is the National Gambling Board (NGB). Let's look at what they do. But first, a quick history lesson. 
Believe it or not, gambling laws were first introduced in South Africa in 1673. All forms of gambling were banned, and anyone caught gambling was punished. In 1965, horseracing and betting on horse races were legalised, and in the 1970s, casinos began to open up all over the country. By the mid-1990s, at least 2,000 illegal casinos were in operation. This led to the National Gambling Act of 1996 and the establishment of the National Gambling Board.
A National Compliance Body
Since 1996, the National Gambling Board has overseen South Africa's gambling industry. They aim to create an environment for the industry to thrive and to keep it compliant. The Board promotes norms and standards throughout the country, so everyone follows the same rules. It provides a stable environment so that the gambling industry can grow for the benefit of all. In a nutshell, they oversee the regulation of the gambling industry throughout the country and work to preserve the integrity of South Africa as a responsible global citizen.
Now that we've looked at the broader aim of the NGB, let's take a closer look at some of the nitty-gritty tasks.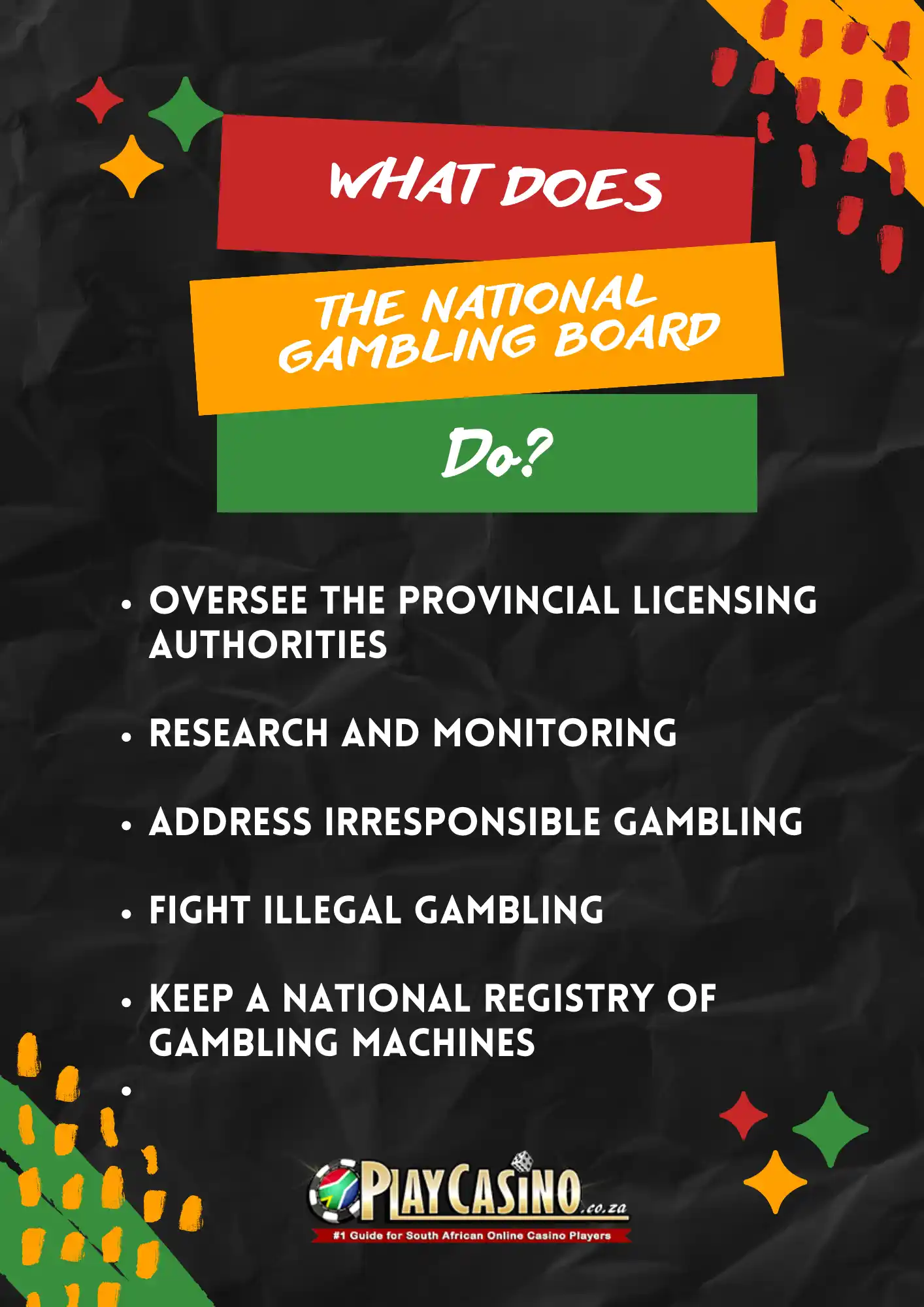 Oversee the Provincial Licensing Authorities
The National Gambling Board oversees the nine Provincial Licensing Authorities (PLA). Each has local authority to handle gambling enforcement, licensing, and taxation. These authorities are:
Gauteng Gambling Board
Eastern Cape Gambling and Betting Board
Free State Gambling and Racing Board
KwaZulu-Natal Gambling and Racing Board
Limpopo Gambling Board
Mpumalanga Gambling Board
North-West Gambling Board
Northern Cape Gambling Board
Western Cape Gambling and Racing Board
The National Gambling Board evaluates the licences issued by these PLAs and keeps an eye on the compliance of those who receive licences. It ensures that all nine PLAs follow the same norms and standards so that the same rules apply, no matter where in the county someone is placing a bet or applying for a licence. 
Research and Monitoring
The NGB also researches and monitors which provinces have the most gambling activities and bring in the most revenue. It publishes annual reports regarding the state of the domestic gambling market, with detailed statistics about revenues and contributions from individual sectors. The main sectors are casino gambling, sports betting, limited payout machines (LPMs), and bingo (both traditional and electronic machines).
Help Address Irresponsible Gambling
The NGB is concerned with irresponsible and addictive gambling. It identifies and watches patterns of gambling activity and looks at how gambling affects families and communities. It investigates the effects of compulsive gambling within each of the nine provinces and works to stop irresponsible gambling through information and support. 
Fight Illegal Gambling
The NGB works with the PLAs to find unlicensed gambling operations, shut them down, and fine them. The NGB shares information, investigates illegal activities and confiscates unlawful winnings. They also educate the public and ensure successful convictions for gambling-related crimes. 
In a situation where someone's winnings might be considered illegal, the NGB will hang onto this money until they know whether the winner won the money lawfully or unlawfully. If the High Court rules that the winnings were lawful, the NGB will pay it over to the winner. But, if the winners are ruled unlawful, the NGB will give the money to the state. 
Keep a National Registry of Gambling Machines
Part of how the NGB keeps track is through a national registry of gambling machines and devices. They give each machine and device a permanent and unique registration number. This makes it easier to keep track of and identify unregistered gambling machines.  
Advise National Policy
The National Gambling Board advises the National Gambling Policy Council (NGPC) on national policy and laws related to gambling.  
FAQs
Where do I report gambling companies?
If you have a complaint about a bet, you should go directly to the bookmaker you placed the bet with. If this doesn't work, you should lodge a formal dispute with the provincial gambling board in the province you placed the bet. 
Where can I report illegal gambling in South Africa?
You can report illegal gambling directly to the National Gambling Board of South Africa. You can get hold of them through their website at www.ngb.org.za, via email at info@ngb.org.za, or by calling 086 722 7713.
Is online betting legal?
Yes, as long as you are betting with a licensed South African bookmaker.
Do I pay tax on my winnings in South Africa?
Gambling winnings, including winnings from the lottery, casinos, or sports betting, are not taxable. However, you should still declare your winnings to SARS as non-taxable income.
How can I be excluded from gambling?
To be excluded from gambling, you can approach your provincial gambling board. Your particulars will be circulated to all licensed casinos. Once this is done, you can be charged with trespassing and even arrested if found on gambling premises. For online betting, simply ask the online casino to exclude you from their site.
Get in on the action
Sign up now for the latest bonuses, promotions, and new online casinos.
Have You Found What You're Looking for?
Your feedback is paramount!