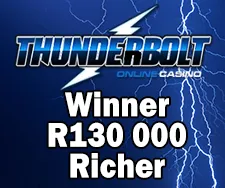 With just R25 to play at Thunderbolt Casino, one lucky South African winner probably didn't expect a few minutes of playing to turn out so profitable. Adriana, a Thunderbolt Online Casino player of just 27, had a hot streak at the casino a few days ago when she won over R130 000 playing three different games from Realtime Gaming. Of course, winning is nothing new at Thunderbolt and many players who are consistent followers of Playcasino have gone on to win both large and small sums of cash at the casino.
According to Adriana, a regular at the casino, she was engaged in one of her favourites when the first win came about. She tried her hand at Crystal Waters and had started to win larger and larger amounts, allowing her to make larger wagers of up to R100 per spin. It was after winning a great R50 000 that she decided to change machines at her favourite South African online casino and give Coyote Cash a try. Using about R60 for every spin of the reels, she emerged victorious with another R50 000 in her pocket. But that was not the end of her fun night. The lucky player took to the Cash Bandits where she spun the reels to win an extra R20 000, leaving her almost R130 000 richer than when she started the evening.
But this is not an anomaly according to the casino's manager, Alisa. The casino accepting rand (ZAR) is one of those that often has players strike it lucky and though winning big on three different games doesn't happen daily, players have won more often than you may think.
One of the casino's current promotions is certainly giving players the chance to win big with a R99 999 freeroll that players can be a part of until 29 February. The tournament is completely free with no need to pay to play and those who sign up can buy add-ons, should they choose to do so, at a cost of R100 each. The game being used for the tournament is a fan favourite, Achilles, and those players who've tried it out will agree the game is interesting as well as being rewarding.
But Thunderbolt is just one of the top-rated casinos you'll find on Playcasino. If you're looking to win big, take advantage of exceptional no deposit bonuses and welcome bonuses, and play games from a myriad of different developers, be sure to check out Playcasino's list of top casinos. You may be able to strike it lucky just as Adriana did and win hundreds of thousands of rand. Who knows? You may also be one of the exceptionally lucky players to become an instant millionaire. Visit Thunderbolt Casino Now! | Read our Thunderbolt Casino Review